Family Fun Activities in Honolulu
Gear up for some hot summer fun with family-friendly events in May and June.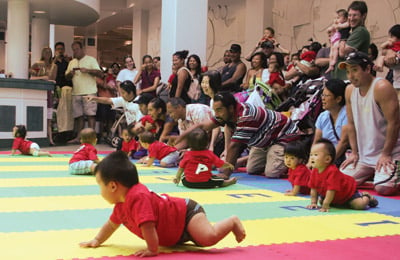 11th Annual Jamba Juice Keiki Fun Run
May 5, 7 a.m.
Ages 3 to 13
Children 3 to 13 years old race 500 meters and receive a T-shirt, a medal and participation in a fun, healthy activity. Enjoy balloon animals, bounce-house action, face painting and more. Registration closes May 3, $15. Ala Moana Beach Park, jambahawaii.com.
Annual Hawaii Book & Music Festival
May 5 and 6, 10 a.m. to 5 p.m.
all Ages
A family-fun celebration of story and song. Meet local, national and internationally celebrated authors and illustrators, enjoy good food, entertaining music and performances, storytelling and activities for kids. Honolulu Hale Civic Center Grounds, free admission and parking, hawaiibookandmusicfestival.org.
New Baby Expo
May 19 and 20, 10 a.m. to 5 p.m.
Ages 0 to 5
Stop by Hawaii's largest prenatal to preschool expo. Enjoy an assortment of exhibits, demonstrations and fun activities for the whole family. Check out the baby-crawling contest, on Saturday at 1 p.m., and Hawaii's largest baby shower, at Sunday at 1 p.m. Neal Blaisdell Exhibition Hall, general admission is $4.50. Children 5 and under are free. newbabyexpo.com.
Native Hawaiian Arts Market & Keiki Arts Festival
May 19 and 20
All ages
Enjoy a day of celebration of Native Hawaiian arts. Keiki will enjoy making lei and painting. The entire family will appreciate yummy food, great music and entertainment. Bishop Museum, $5 for kamaaina and military, bishopmuseum.org.
14th Annual Lantern Floating Hawaii Ceremony
May 28, 6 to 7:30 p.m.
All ages
Families who have lost loved ones can honor them by setting lanterns afloat at this beautiful sunset memorial. Ala Moana Beach Park, free event parking is available, lanternfloatinghawaii.com.
Aquarium After Dark
June 12, 7 to 9 p.m., and June 26, 7 to 9 p.m.
AGES 5 and over
Children 5 years and older, accompanied by an adult, will enjoy an after-dark flashlight tour, discovering if fish sleep and other great mysteries. Waikiki Aquarium, $14 adult, $10 children, waquarium.org.
Snooze in the Zoo
June 2 and June 23 5:30 p.m. to 9 a.m.
Ages 4 and over
Keiki 4 and older will enjoy sleeping under the stars. A night filled with pizza, tours, a campfire (and s'mores), plus breakfast and a morning stroll. Honolulu Zoo, reservations required, $60, ages 4 and older, honzoosoc.org.
Ke kani o ke kai, The Waikiki Aquarium Summer Concert Series
June 14 and 28
All ages
Bring the family and enjoy great Island music, entertainment and food on the lawn. Waikiki Aquarium, waquarium.org.



Honk! A Musical Fairytale
June 28 to July 15 (times vary)
All ages
Children will enjoy this musical adapted from the Hans Christian Andersen story, The Ugly Duckling. The lesson of tolerance and acceptance is reinforced in this family-friendly tale. Manoa Valley, theatremanoavalleytheatre.com.
For more events, visit honolulufamily.com/events.