Family Friendly Renovation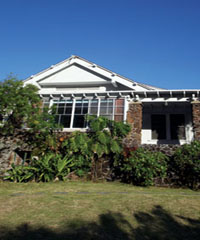 List Price: $2.395 million
The Property: "I've become a lover of sunrises because of living here," John McKinven says of the circa 1938 home where he and his wife, Lynn, and their children live, across the street from Lake Bluff's sublime blufftop Sunrise Park. The walk down to the beach takes just a few minutes, but the McKinvens can also watch the sun come up from their tranquil front courtyard or from the second-floor family room, which they have painted a lake blue.
That inviting room was the result of an extensive restoration and re-map that the McKinvens did on the house three years ago, when they bought it. Built in 1938 and expanded at least once over the years, the house had an awkward layout; for instance, you couldn't get from the old to the new part of the house without passing through a bedroom. "It had some foibles," John McKinven says, "but we saw it as a blank canvas." That is, a blank canvas in a picturesque neighborhood, among some of the oldest and prettiest houses in Lake Bluff.
They moved the kitchen from the front of the house, overlooking the courtyard, to the back, where its broad windows capture nice views of the ravine and where it opens onto a large living room and a dining room addition that the family calls "the bistro" for its cozy, colorful attitude. Upstairs, they converted a large family room that was part of an earlier addition into a large master suite set apart from the other three bedrooms, and put the sunny, lake-facing family room where a couple of small rooms had been.
As you'll see in the video, they now have a family-friendly house with an easy relationship between indoors and out. The former kitchen is now a second living room, with French doors out to the courtyard. There's an impressive, swooping main stairs copied from a picture they saw of Carla Bruni-Sarkozy's home, and colorful bird feeders outside many windows to bring winged neighbors close. Each of the three children's bedrooms has its own bathroom, and a large mudroom/home office/dog hangout is adjacent to the kitchen.
Inveterate remodelers who have previously re-done homes in Evanston and Winnetka, they've put this latest one on the market because, Lynn McKinven says, "we have our eyes on something else."
Price Points: The couple first put the house on the market in March, at $2.895 million; they've done a series of price cuts, including the latest two weeks ago. They would not divulge what they paid for the house pre-renovation, and the Lake County Recorder's information is not clear on that.