Family-Friendly Flying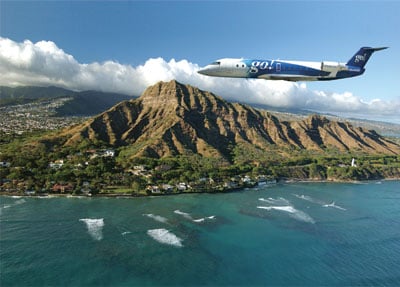 go!
Summer is here, the kids are out of school and it's time for that well-deserved family vacation. A popular choice is to enjoy a fun-filled holiday just a short hop away on a Neighbor Island, where you can visit friends and family, or check into a cool, family-friendly resort on a kamaaina rate.
So, book yourselves an affordable airfare and go!
Actually, that would be just go!Mokulele. For the past five years, Hawaii residents have been fortunate to have a local airline providing affordably low airfares all year long.
In fact, in celebration of its fifth anniversary, go!Mokulele is offering exclusive fly/drive Neighbor Island deals for the month of June. Details are available at pleasantactivities.com.
go! entered the interisland market in 2006, with the slogan "Hawaii's Low-Fare Airline." It has passionately adhered to that image despite the challenges of slumping national and local economies and rising fuel costs. From the beginning, the airline's intent has been to make air travel more affordable for local people, and the company says happily that this goal has been and continues to be met.
In October 2009, go! teamed up with local airline Mokulele and go!Mokulele was founded. The combined carrier flies 50-seat CRJ-200 jet aircraft to Honolulu, Kauai, Maui, Hilo and Kona, and nine-passenger Cessna Grand Caravan aircraft to Honolulu, Maui, Kona, Molokai and Lanai.
Jonathan Ornstein, chairman and CEO of parent company Mesa Air Group, credits go!Mokulele employees and passengers for the airline's success. "Many passengers continue to express their thanks to us because we've made it more affordable to travel more frequently to Neighbor Islands to visit family and friends and conduct business. We carry a disproportionate share of local passengers and we're very pleased to have such a loyal following. We have a wonderful family of employees that treat each other and our customers with aloha and are committed to improving the quality of life in Hawaii."
go!Mokulele involves itself in raising funds for many local charities and charity events, such as MDA Soiree, National Multiple Sclerosis Big Island Bike Ride, American Heart Association, Kapiolani Women & Children's Hospital, Hawaii Military Appreciation Week and Big Brothers Big Sisters Honolulu.
The airline also supports a multitude of University of Hawaii sports, as well as Pop Warner Football and youth programs for boys' and girls' soccer, basketball, baseball and softball.
Most popular among locals is the go! miles program. For each paid segment you fly, you accrue 500 miles (regardless of the actual distance of your flight). For every 5,000 miles you accumulate, you earn a one-way, interisland coach ticket to any of the four major islands. There is no limit to how much free travel you can earn.
"Our commitment remains unwavering," says Ornstein. "We feel privileged to be here and look forward to many more years of serving the Hawaiian Islands."
Don't wait. Book your Hawaiian vacation today on Hawaii's Low-Fare Airline! Visit iflygo.com.