Family-Friendly Beaches on Oʻahu
From Waikīkī to Ko Olina to Turtle Bay, O'ahu boasts family-friendly beaches perfect for languid summer weekends.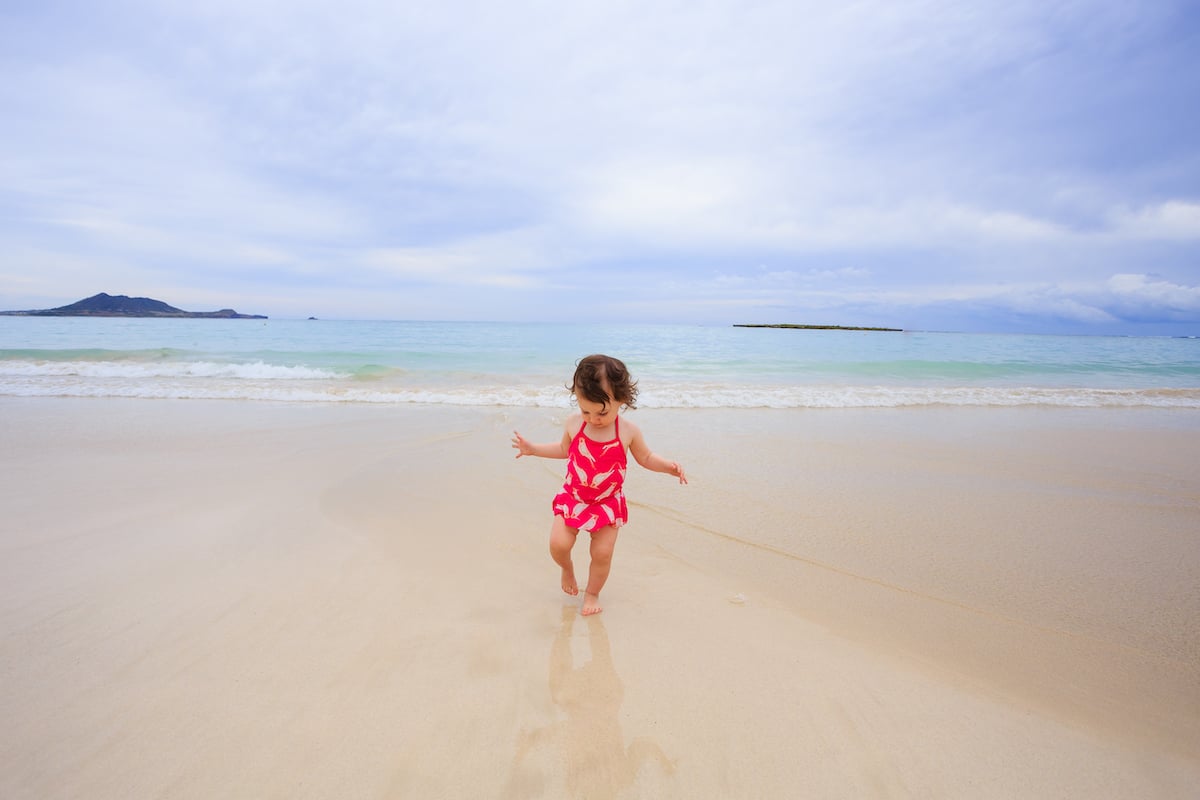 Editor's Note: This story was originally published in 2022 and has been updated to reflect the latest information.
There are dozens of family-friendly beaches on Oʻahu. In fact, along the 112 miles of coastline, there are beaches with lots to do for kids of all ages. You can take surf lessons in Waikīkī or camp at Waimānalo Beach Park, snorkel at Hanauma Bay or explore tidepools at Makapuʻu.
Though almost all of the beaches on O'ahu are beautiful, here are some of our top favorite family-friendly beaches on O'ahu.
---
SEE ALSO: ☀️ Kuli'ou'ou Beach Park: A Keiki-Friendly Beach on O'ahu
---
Waikīkī Beach
Yes, Waikīkī is often crowded with visitors, especially in the summer months. But there are so many family-friendly beaches in this area—from Duke Kahanamoku Beach on the ʻewa end near the Hilton Hawaiian Hotel to the less-trafficked Kaimana Beach on the opposite end—you can find a nice spot to spend the entire day. Kids love to jump off the Kapahulu Groin (aka Walls) into the ocean—check tides and conditions!—and there are several concessions along the shoreline that rent out surfboards, bodyboards and stand-up paddleboards too. Take a surfing lesson with your family or hop into an outrigger canoe and catch waves with the veteran Waikīkī beach boys.
If you have little ones, consider the lagoon fronting the Hilton Hawaiian Village. It's calm—no waves here!—and open to the public. There are tons of takeout shops and restaurants in Waikīkī to grab a quick lunch or snack, and if you forget something—reef-safe sunscreen, water, Spam musubi—visit a nearby ABC Store.
---
SEE ALSO: Kid-Friendly Reef-Safe Sunscreens Made in Hawaiʻi
---
Ko Olina Lagoons
Ko Olina on Oʻahu's West Side boasts 642 acres and a string of four white-sand, man-made lagoons connected by a pave path that fronts the hotels in the area. (If you've stayed at the Aulani, a Disney Resort & Spa, you'll know the lagoons we're talking about.) All four lagoons—Koholā, Honu, Naiʻa and ʻUlua—are open to the public, though parking can get full early, especially on weekends. ʻUlua usually has the most available parking.
Rock breakwaters protects these lagoons from the open ocean, so the conditions are always calm and great for kids. You can also take a stroll on the pathway, which meanders for more than 1.5 miles along the shoreline. There are no lifeguards here, and because Ko Olina is privately owned, you aren't allowed to bring alcohol, pets, tents, beach umbrellas, bikes, kites or Frisbees here. But food options are plentiful—you can eat at one of the hotels' restaurants or walk over to Ko Olina Center & Station for breakfast, açaí bowls, coffee and Mexican food. Don't leave without a stop at Black Sheep Cream Co. for its unusual ice cream creations.
Kualoa Regional Park
The 4,000-acre Kualoa Regional Park in Windward Oʻahu has everything you could want in a family-friendly beach: big grassy area, picnic tables, restrooms, showers, lifeguards and an expansive sandbar. Plus, older kids can kayak offshore—or even to Mokoliʻi Island and hike to the summit. For a nominal fee, you can get a camping permit for one of the more than 20 campsites at this park. As for food, stop by Aunty Pat's Café at Kualoa Ranch for local-style bacon fried rice or a loco moco, or grab ʻono Hawaiian food, hand-pounded poi or—our favorite—the Sweet Lady of Waiāhole (warm kūlolo and haupia ice cream) at Waiāhole Poi Factory.
---
SEE ALSO: 🥾 Oʻahu Hike We Like: Mokoli'i Island (Chinaman's Hat)
---
Baby Makapuʻu Beach
Baby Makapuʻu Beach is a fun spot to explore tide pools. If you don't know it's there, you might miss it. The kid-friendly spot is north of Makapuʻu Beach Park and directly across the street from Sea Life Park. Keiki can wade in the shallow water and look for pipipi or small fish. Older kids can bodyboard or surf in the bay. (North swells tend to hit this spot.) Maybe you can spot seabirds that nest on Mānana and Kāohikaipu, the islands offshore. There are no showers, restrooms or lifeguards, but you can find these amenities at the nearby Makapuʻu Beach Park. Stop in Waimānalo for lunch.
Keneke's Waimānalo
offers hefty plate lunches and refreshing shave ice;
Hawaiian Island Café
offers tasty
kalo
(taro) burgers, açaí bowls and smoothies.
---
Hanauma Bay Nature Preserve
One of the most popular snorkeling spots on Oʻahu is Hanauma Bay Nature Preserve. Residents often overlook this popular tourist attraction, but the protected bay makes for a great family-friendly beach, and it's free for residents (with a valid Hawai'i ID or license). The favorite fishing ground of King Kamehameha V has a shallow fringing reef just offshore, with depths up to about 10 feet. The reef flat extends about 100 yards, and numerous fish and Hawaiian green sea turtles can be found here. Bring snorkel gear and look for butterflyfish, wrasse, goatfish, tangs and the state fish, humuhumunukunukuapuaʻa. (Download this helpful fish ID card.)
And if snorkeling isn't your—or your kid's—thing, no worries. The beach is great for building sandcastles too. Head into nearby Hawaiʻi Kai for shave ice, pitaya bowls and bubble drinks at Kokonuts Shave Ice & Snacks, poke bowls and edamame from Hanapaʻa Market or omelets, Benedicts and waffles from Koa Pancake House.
---
Kuilima Cove
Situated next to Turtle Bay Resort on the North Shore, Kuilima Cove is an oft-overlooked spot with calm waters and sandy shores. It's a great place to snorkel too, especially for beginners and kids, with lots of fish—butterflyfish, parrotfish, wrasse, tangs—swimming in the protected bay. Splurge at one of the dining options at Turtle Bay Resort or stop at Kahuku Farms for pizzas, paninis, freshly squeezed lemonade, smoothies or—our pick—grilled banana bread topped with vanilla caramel and vanilla haupia.
---
SEE ALSO: 🚜 We Tried It: Our Family Guide to Kahuku Farms Café in Hawaiʻi
---
Keawaʻula Beach
Well-known as Yokohama, Keawaʻula is a gorgeous, family-friendly beach on the island's West Side. While it's not always the safest place to swim—check with lifeguards first—it boasts a wide and often uncrowded stretch of sand that's great for lounging, playing and picnicking. Look for dolphins offshore and in the winter months, you can often see migrating humpback whales. More adventurous families can hit the 3.5-mile (one way) Kaʻena Point Trail and see nesting seabirds, albatross and the occasional Hawaiian monk seal.
---
Pūpūkea Beach Park
Pūpūkea Beach Park is divided into several sections—and the northern end is great for kids and families. Shark's Cove (above) is a great place to explore the tide pools, especially at low tide. (Kids should never be left unattended.) Further south is Three Tables—its name comes from the three reef formations that are visible during low tide—where you can snorkel or wade to find reef fish or crabs.
Winter brings huge surf, which can make these areas dangerous, so summer is a great time to venture anywhere on the North Shore if you want to enjoy the calmer water, as surf is small. Stop at Foodland across the street for snacks and beach essentials.