Everything You Need to Know About Superpower Academy
The subscription kit was designed to boost your little one's EQ. Here's what happened when we asked four kids to test it out.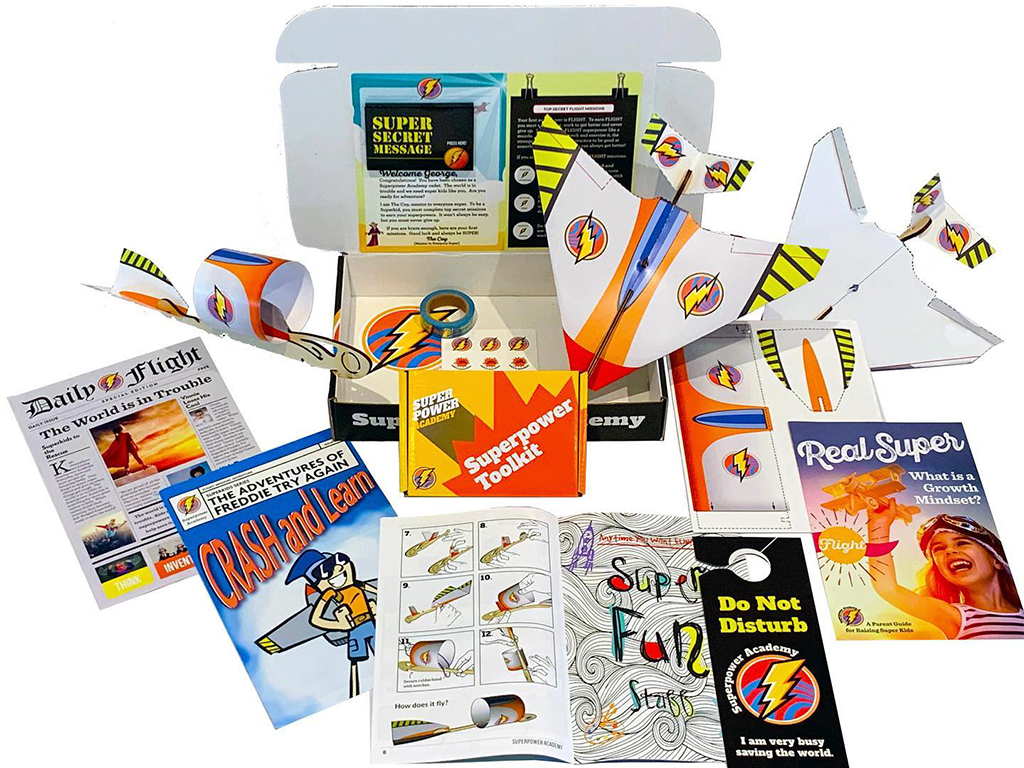 Photo: Courtesy of Superpower Academy
---
Children of this generation are so lucky. Thanks to technology, they may never know what it's like to open a mailbox filled with credit card statements and utility bills. My daughter thinks our mailbox is a fun place to find Amazon packages and monthly subscription kits!
Recently, the children of HONOLULU Family's staff received samples of a new subscription-kit program called, Superpower Academy. It's the brainchild of Pamela Joe, a Honolulu mother and former corporate attorney who left her full-time career to launch the company in fall 2017. Unlike the many STEM-focused boxes on the market, these kits provide hands-on lessons in social-emotional skills, also known as SEL. The traits—such as empathy, emotional stability, teamwork, strong communication, resilience and problem-solving—are critical to growth and development.
Finally, a subscription-box service to curb toddler tantrums and tween door-slamming!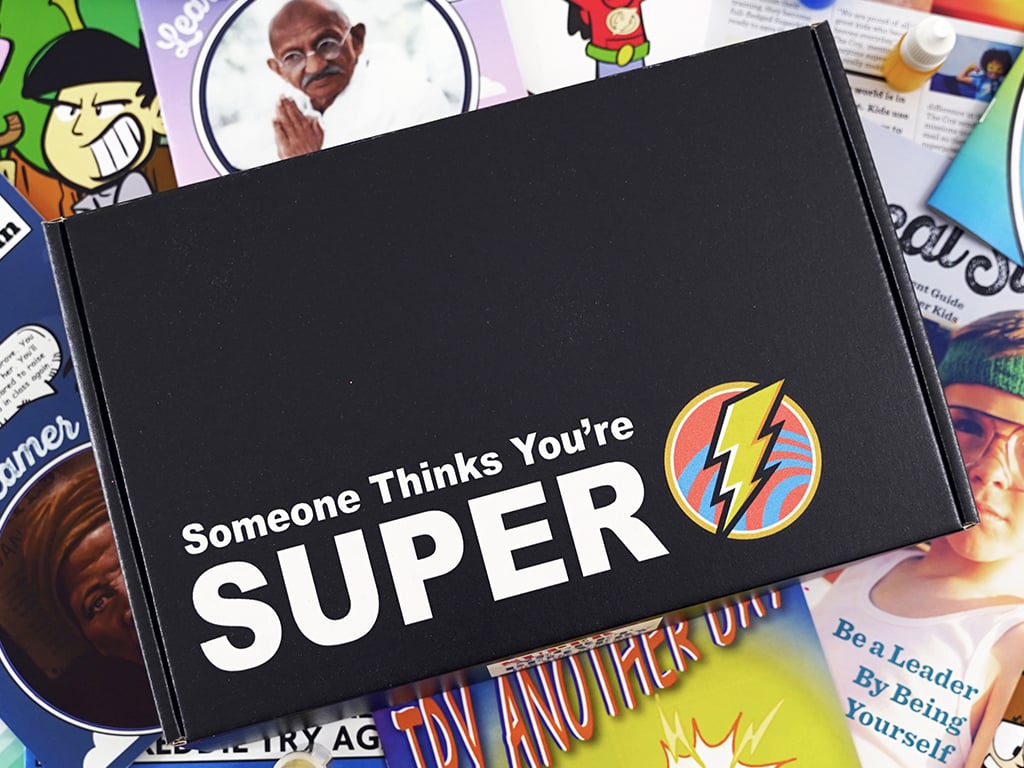 Photo: Courtesy of Superpower Academy
Each monthly kit arrives in the mail with art supplies, books related to a theme and instructions for a DIY project.
Joe, whose children were 2 and 7 when Superpower Academy rolled out in 2017, says schools tend to overemphasize technical skills. "STEM (science, technology, engineering, and math) is important, but kids also need the ability to manage and apply social-emotional skills as they matriculate into our next generation of leaders, entrepreneurs and social movers," she says.
In the initial launch, more than 1,000 Superpower Academy kits were distributed locally and nationwide. The program targets, but is not limited to, children ages 5 to 10.
A typical kit contains art supplies, DIY projects with instructions, and books related to a lesson and theme. Super Sight Box No. 2, for instance, comes with craft supplies to build a color-changing "Mood Lantern;" a battery-operated remote control for the lantern; a Mahatma Gandhi comic book about peace; and an activity book featuring Evie, an animated character who explodes when angry. The mood lantern has various settings to help kids meditate and deep-breathe. To successfully complete each kit, children must embark on a "secret mission" to earn superpowers dubbed "flight" (facing challenges), "super sight" (understanding of emotions), "mind reading" (empathy) and more.
"Our 'Save the Trees' box was inspired by the Rapid ʻŌhiʻa Death (ROD) disease that is threatening our native ʻŌhiʻa trees," Joe says. The box features comic character Macho Mike and his friends, who think they know everything about dinosaurs—until they encounter one and fight with the big beast. "It turns out that the T-Rex is named Rosie, is a vegetarian and is terribly allergic to flowers!" Joe laughs. "Mike and his crew and the dino become fast friends, but amid the chaos, no one stops to think about the trees in the background who are the real victims."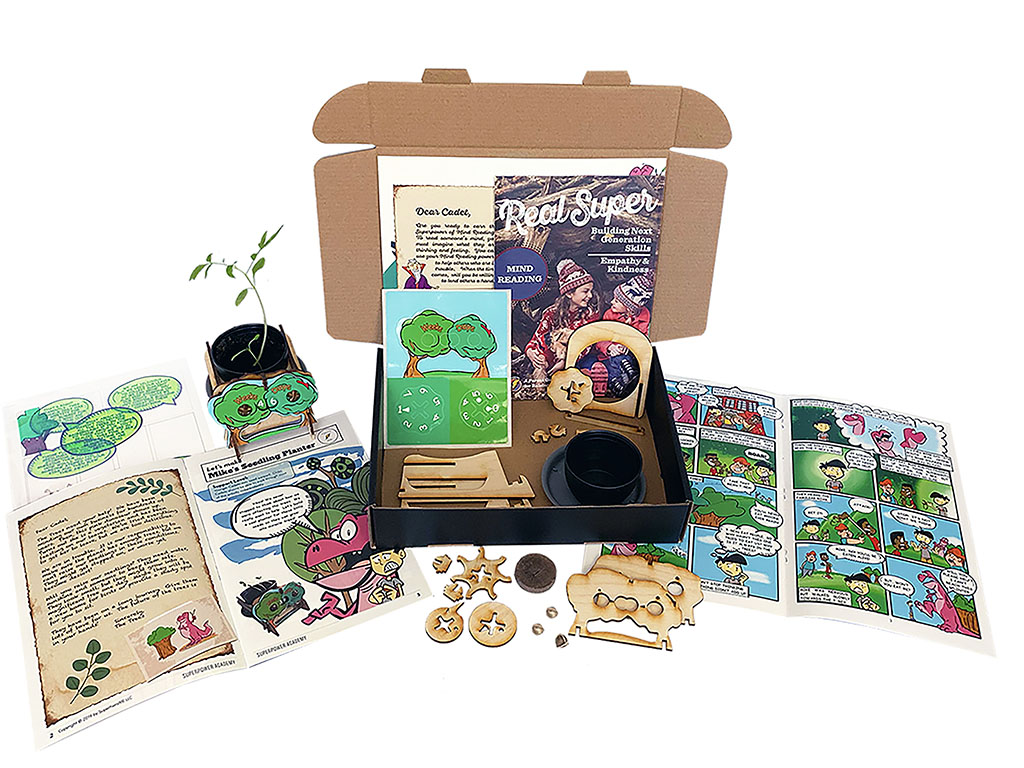 Photo: Courtesy of Superpower Academy
Cartoon characters in the "Save the Trees Box" use empathy to save ferocious, scary-looking dinosaurs.
She continues, "Our 'Hero Me' Box helps kids to find their Best Hero Self by bringing together all their best qualities. As kids build the parts of a HERO ME Robot, they consider what makes them unique." A few, simple electrical circuits bring this robot to life.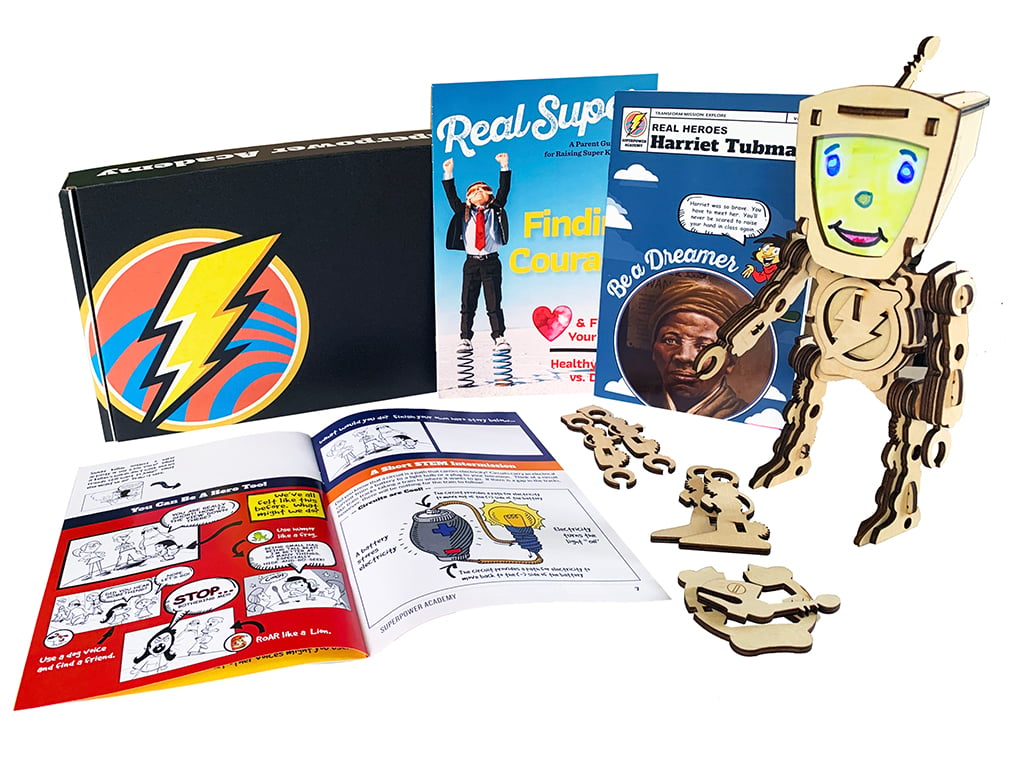 Photo: Courtesy of Superpower Academy
The "Hero Me Box" encourages children to explore their own talents and unique qualities.
HONOLULU Family's staff members asked their own kids, ages 6 to 9, to test out the kits. Each kit was personalized with the child's name on it, so it felt like a gift just for them. All four keiki testers spent at least half-an-hour reading the comic and putting together their crafts. As parents, we appreciated that at the end every child was able to easily explain the verbal or social lesson learned.
Here are their unfiltered reactions.
Jace, 6-Tried the Flight kit with Freddie Try Again.
Jace's activity was to build a paper airplane with wood and pre-cut paper. His family read the comic together, and his mom said he understood the story and told his family, "Let's never give up" when working on the plane. Jace's little sister also liked the book and helped cut out the pieces. The kit comes with an audio recording of The Coy, a mentor character in the series.
"I like that we made a paper airplane!"
"Press the button and he tells you something."
"It was like a present inside. I like the color, and the paper airplane looks cool! It flies really gently, and it spins."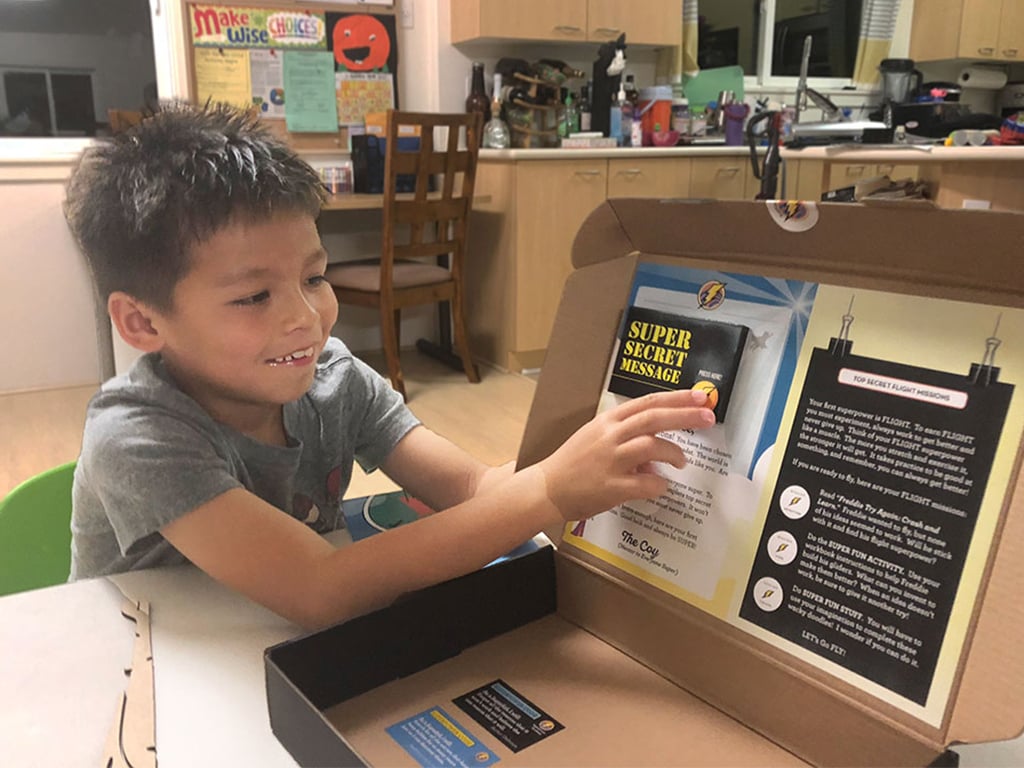 Photo: by Christi Young
Superpower Academy Box "Flight" has an audio message from The Coy, a mentor in the series.
Cassera, 8-Tried the Super Sight No. 1 kit with Evie Explosion
Cassera's activity was to mix colors and glitter into a "Mind-O-Scope." She swirled them in a tube and watched the beads grow.
"Evie's emotions were getting all mad. Her emotion temperature went up every single second when we shook the tube. Your emotions get all panicky, excited, but when it goes down, it is like your temperature going back down."
"If I get super mad, I'll look at my emotions."
"I liked it because I got to add glitter and color, even if I added too much color and it was brown!"
"I can't wait to see the beads grow tomorrow!"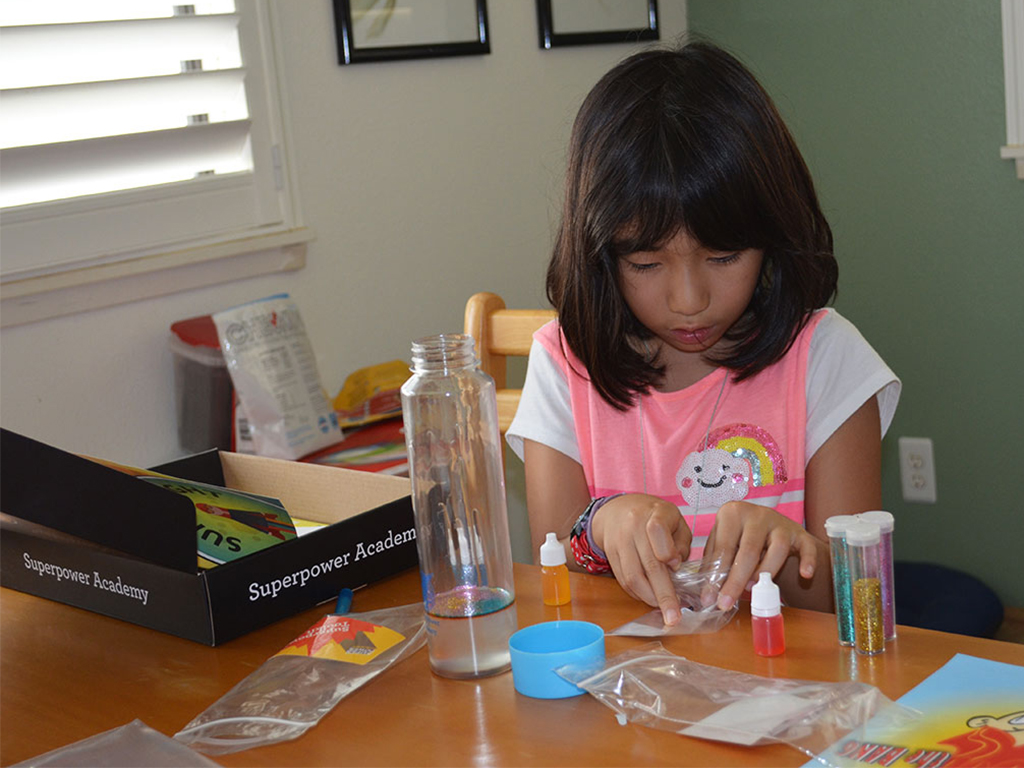 Photo: by Christi Young
The Super Sight Box #1 includes materials to build a "Mind-O-Scope."
Crystal, 8-Tried Super Sight No. 2 with Evie Explosion.
Crystal's activity was to build a "Mood Lantern" using stacked wooden pieces, a velum sheet and lights. She changed the lantern's settings using a supplied remote control.
"I screamed and ran away when I first opened the box, because I heard a loud bang, and then a girl's voice inside the box started talking. Boxes don't talk!" (The voice belongs to Evie Explosion, a character who explodes when angered.)
"On a scale of one to 10 with 10 being the best, Superpower Academy is 1,000."
"I liked drawing and coloring myself into the rainbow, and I liked building the mood lantern."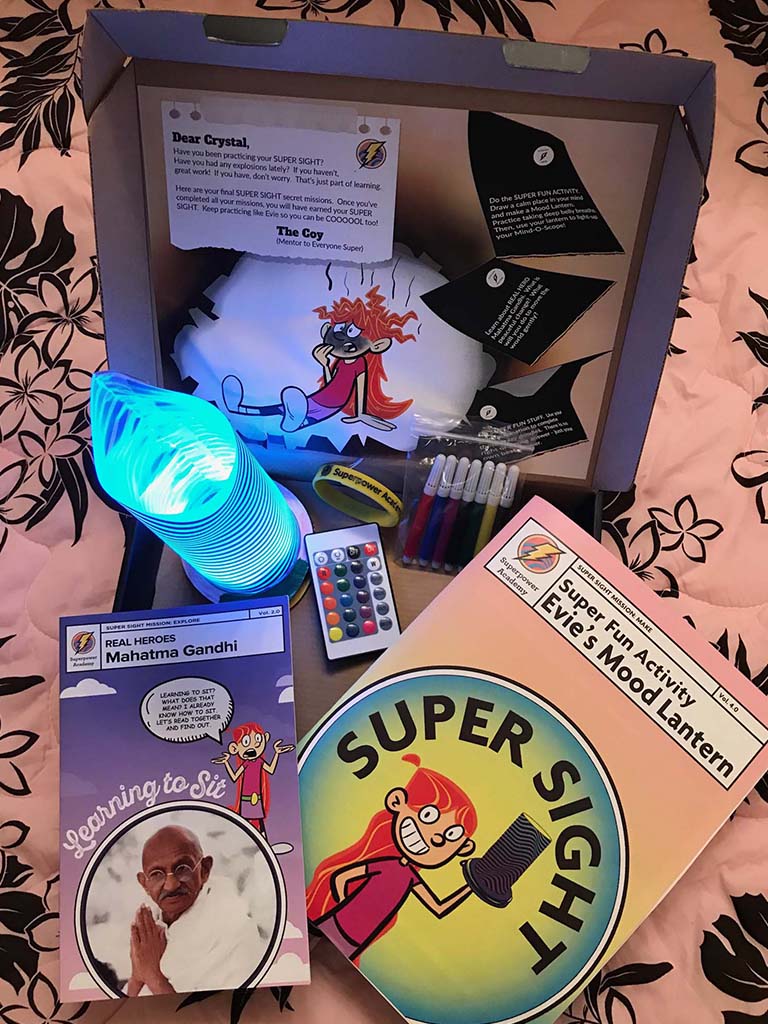 Photo: by Cathy Cruz-George
Kids learn relaxation techniques, using a color-changing mood lantern and activity books.
Aidan, 9-Tried the Courage kit with Nancy Not Today.
Aidan's activity was to build a tower out of thin wood puzzle-like pieces. He placed stickers on a "dice" and perched it on top of the tower. It rolled down as part of a game to teach courage.
"It was cool. It was cool how they made the courage tower. It was like a dice roller."
"I learned it takes time to build up courage."
Photo: by Christi Young
The "Courage" box encourages kids to speak up and take risks.
$29.95 per box, $175 for a six-month subscription. superpoweracademy.org