Everything To Know About Saturday's Oktoberfest at Aloha Stadium
Try 20 different kinds of German brews, play beer bucket and other outdoor games, and listen to live music.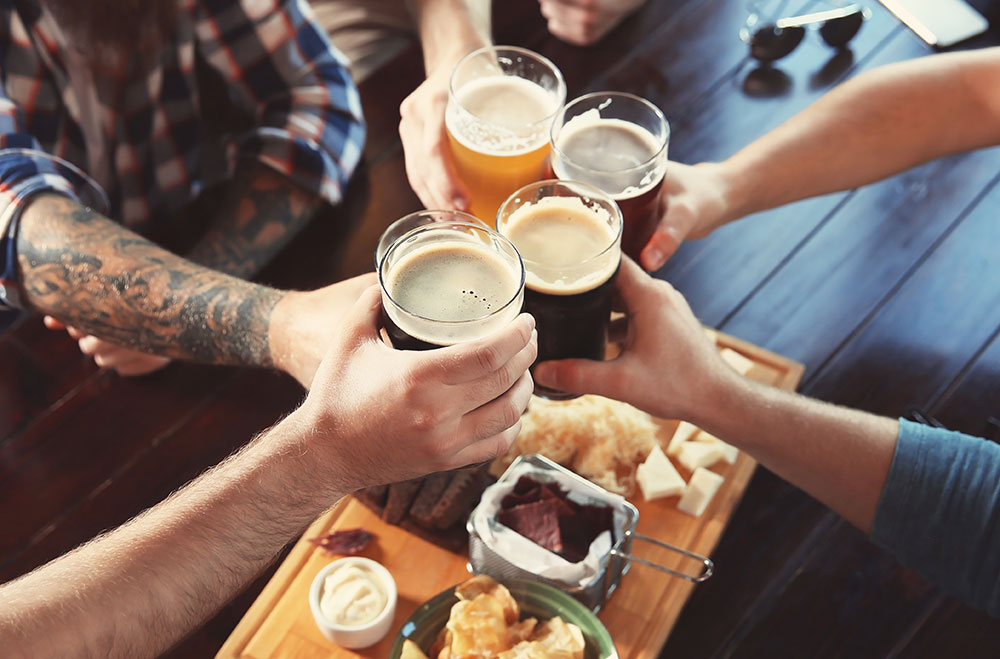 Prost! Here's to an entire day of drinking German beers and eating bratwurst and pretzels to your heart's content. We've put together everything you need to know about this year's Oktoberfest at Aloha Stadium, happening from noon to 9 p.m. on Saturday, Sept. 24. Here's what you can eat, where to park, who'll be performing, and of course, what you'll be drinking.
What It Is
A full day of tasting 20 different kinds of German brews, listening to live music, sampling food from local vendors, taking home commemorative mugs and playing oversized outdoor lawn games.
When
This year's festival will be from noon to 9 p.m. on Saturday, Sept. 24, at Aloha Stadium. Entry is split into intervals of nearly three hours to help cut down long lines. Guests are, however, welcome to stay longer than their entry times.
Where to Park
Before 3 p.m., parking at the stadium for kama'āina with ID is $1 for every person in the vehicle. You can also swing by the swap meet as well. After 3 p.m., the flat rate is $9 per car.
How Much It Costs
There's a variety of ticket prices and packages. Here's the gist of it:
The cheapest tickets are priced at $35 and are available online only; they provide entry and a commemorative beer mug. General admission is $55 per person, which includes a 5-ounce tasting cup and 10 drink tickets, plus access to outdoor games. The drinking pass at $35 includes the tasting cup and five drink tickets. The tasting pass at $70 includes the tasting cup, 15 drink tickets, a collectable pin and a complimentary bottle of water. The VIP passes are sold out.
If you don't plan to drink and your friends have enlisted you to be the very kind, designated driver of the group, you can grab a $20 designated driver pass – only one pass is available per group and it's not available for single admission. Note, if you're purchasing online, there's a $3 booking fee and a $1.79 Hawai'i state tax fee.
What to Eat, Drink and Buy
Here's a list of breweries:
● Stella Artois
● Spaten
● Franizkaner
● Kona Brewing Co.
● 10 Barrel
● Elysian
● Four Peak
● Goose Island
● Breckenridge
● Waikīkī Brewing Co.
● Honolulu Beerworks
What's on the menu:
The Butcher & Bird—grilled bratwurst and meats
Island Sausage from Restaurant Row—TBD
Bavarian Delights—pretzels & Bavarian dishes
Olive Branch—charcuterie & chocolate treat
Throughout the event, you and your friends can play fun outdoor games like beer bucket (similar to beer pong), Connect 4, Jenga, Portuguese horseshoes and cornhole.
What to Watch
There will be live performances by award-winning bands like the Hot Club of Hulaville, Bobby Moderow, TheBrewz, Robi Kahakalau, Kala'e Camarillo and The Matterhorns.
Tips
1. We know drinking's the name of the game, but safety comes first. Make sure to have a designated driver or go the Uber route. If you buy tickets online, you can get a $5 off Uber code.
2. There's also an option online to add a donation to your ticket purchase and all proceeds will be given to Nā Koa Football Club.
3. This year's Oktoberfest is partnering with auto detailer Between Detailing, so you can drop off your car for professional exterior detailing while you enjoy the event.
4. Don't forget to bring plenty of water to stay hydrated and remember, entry is limited to folks 21 and older.
For more information, visit oktoberfesthawaii.com.