Ethel's: Kalihi's Greatest Hole-in-the-Wall
Ethel's Grill on Kalihi Street: Worth Finding. If only for the deep-fried turkey tails.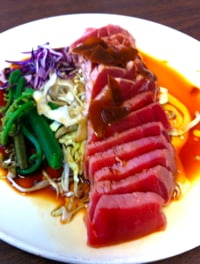 It's hard to find–tucked under an apartment building on lower Kalihi Street.  There are only half dozen or so parking stalls, most filled all the time.
It has only 24 seats, which, like the parking slots, are filled most of the time, so please wait on the sidewalk. 
And it's only open for breakfast and lunch, so if it's after 2 p.m., you're out of luck.
 Welcome to Ethel's Grill, one of the greatest hole-the-wall restaurants in Honolulu.  Most of the menu is posted in signs on the wall.  You could call it local food, but it's not exactly.  It's cuisine d'Ethel's, dishes you are unlikely to find anywhere else.
The legendary dish here is the ahi tataki, barely seared, served in a sesame-shoyu sauce, the shoyu infused with garlic.  To underscore that this is hardly your standard plate lunch fare, it comes with a side of warabi fern shoots.  An appetizer portion costs only $5.  Order it immediately, before you even read the rest of the menu.
There are more or less standard items here—salmon in butter sauce, garlic pork chops, mochiko chicken–but what you have to love about Ethel's is its adventurousness.  The "holiday special" was deep-fried turkey tails.  My diet has been remiss in turkey tails, deep-fried or not. I couldn't help but order them.
The turkey tails, although not particularly photogenic, were pleasurable eating–crisp, rich, dusted with five spice.  Think of them as malassadas, spicy protein malassadas.  OK, so you have to eat your way around the fat and the little bit of tail bone, don't be a wuss.  The tails come with an onion-vinegar dipping sauce, because what else would you eat turkey tails with?
Also on the menu that day was tripe stew, in a Filipino-accented tomato sauce  and plenty cilantro.  Tripe's eaten in every food culture but the American.  It's tasty, but there's no use my trying to talk anyone past their food prejudices.  Candice, my otherwise reliable lunch companion, refused a bite.  Just let it be said Ethel's tripe is so well-loved, the restaurant has a list of patrons it calls on tripe day.
Still all the food is so good and so stunningly inexpensive here, you're likely to find something you love.   Candice got serious about the mochiko chicken and, to her credit, was game to eat a whole turkey tail.  Plus we both devoured the free andagi the restaurant gifted us with for dessert.
Candice insisted on treating me to the $26 lunch, but then I had to give her $26 because Ethel's doesn't take credit cards, a fact you should perhaps keep in mind.
My only disappointment: There is no Ethel.  There was an Ethel decades and decades ago, but Ryoko and Yoichi Ishii took over the little eatery in 1978 and just kept the name. 
Ryoko (that's her on the right) still waits tables and charms the customers.  Much of the work is now shouldered by the second generation, Robert and Minaka Ishii-Urquidi, both of whom previously worked at Sam Choy's.  I talked to Robert.  You have to love a chef who insists, "The tail is the best part of the turkey, by far."
232 Kalihi St., (808) 847-6476.  Open Monday-Saturday 5:30 a.m.-2 p.m.