Escape into Play at Dave & Buster's
As soon as you are ushered through the double doors of Dave & Buster's, your senses come alive.
As soon as you are ushered through the double doors of Dave & Buster's, your senses come alive.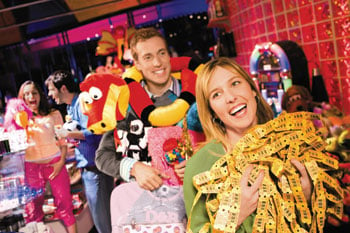 Winners at D & B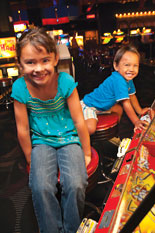 Kids Win at D & B
You can feel the energy pulsate through your body. Your children squeal with anticipation.
Dave & Buster's is not only every kid's dream of an arcade, but every parent's dream. The popular restaurant, bar and game arcade offers hours of entertainment for the whole family.
After a great meal in the downstairs dining room, it's time to head upstairs. Load up your Power Cards and "Escape into Play." This catchy tagline is ideal for the Million-Dollar Midway, a spacious arena buzzing with action where you can play Skee ball, shoot hoops, and enjoy a host of other interactive games.
Since opening its doors at Victoria Ward Center nine years ago, this national franchise has become popular with Hawaii's families as a safe, fun, affordable place to eat, play, hangout and celebrate.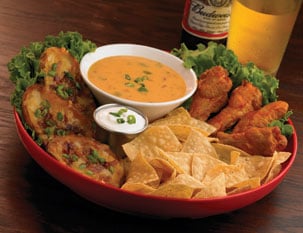 Appetizer Trio at D & B
Eat & Play
For $16.99, you can choose from one of nine tasty entrées and score a $10 game card. Select from yummy options, such as the Black Jack BBQ Chicken, Build-Your-Own Chicken and Shrimp Tacos, and Blackened Chicken Pasta. You can choose to eat in the relaxing atmosphere of the downstairs dining room or enjoy your meal surrounded by the fun and adrenaline of the Million-Dollar Midway.
Healthy kids' meals make it an easy choice for parents. Kids can feast on linguine with marinara or butter sauce, grilled chicken with rice, or favorites such as cheeseburgers, macaroni and cheese, goldfingers (chicken nuggets) and fries.
Breakfast with Santa
Don't miss your date with Santa! Mark your calendars for Sat., Dec. 18 from 8 a.m. to 10:30 a.m. For $16, enjoy a breakfast buffet, face painting, photo with Santa and a complimentary VIP Power Card. Bring a gift for "Toys for Tots" and receive a gift from Dave & Buster's. This event sells out, so reserve your space now. Call 589-2215.
Host a Party
Celebrations are memorable for all age groups at Dave & Buster's, which can turn ordinary occasions into extraordinary events. With private rooms, team-building activities and chef-crafted menus, Dave & Buster's has something for everyone. Whether you're celebrating a first birthday or Sweet 16, the staff will do all the work, so you can have all the fun.
Birthday Party Package
As you plan your next birthday party at Dave & Buster's, ask for the "D&B Celebrations Buffet." For $24.99 per person, 18 years and under, the buffet includes bar burgers, goldfingers, pizza bites, cavatappi pasta with Marinara Sauce and unlimited soft drinks. In addition, you score a $15 Power Card.
Just For Kids
If you have a kids group of 10 to 24, $15.99 per person gets each guest, 12 and under, a kids menu item, unlimited soft drinks and a $10 Power Card.
Teen Spirit
For your group of 10 to 24, 13- to 18-year-olds, get your choice of 10 entrées, unlimited soft drinks and a $10 Power Card for $18.99 per person.
The Gift That Keeps on Giving
Do you know someone who needs a little more "fun" in his or her life? With the holidays right around the corner, you can give Dave & Buster's gift cards to friends and family. They are perfect for any occasion; use them for lunch or dinner, drinks or cocktails, or to purchase Power Cards that can be used on any interactive and video games in the Million-Dollar Midway.
Dave & Buster's offers the best venue in which to spend some quality family time and/or host a special event. The atmosphere is fun, the food is delicious and the drinks are plentiful. It's a great place to unwind and let the kids loose.