Education Cheat Sheet: Navigating the Preschool Program Maze
What is Montessori, Waldorf and Reggio Emilia? An expert helps us understand the similarities and differences in these programs for kids.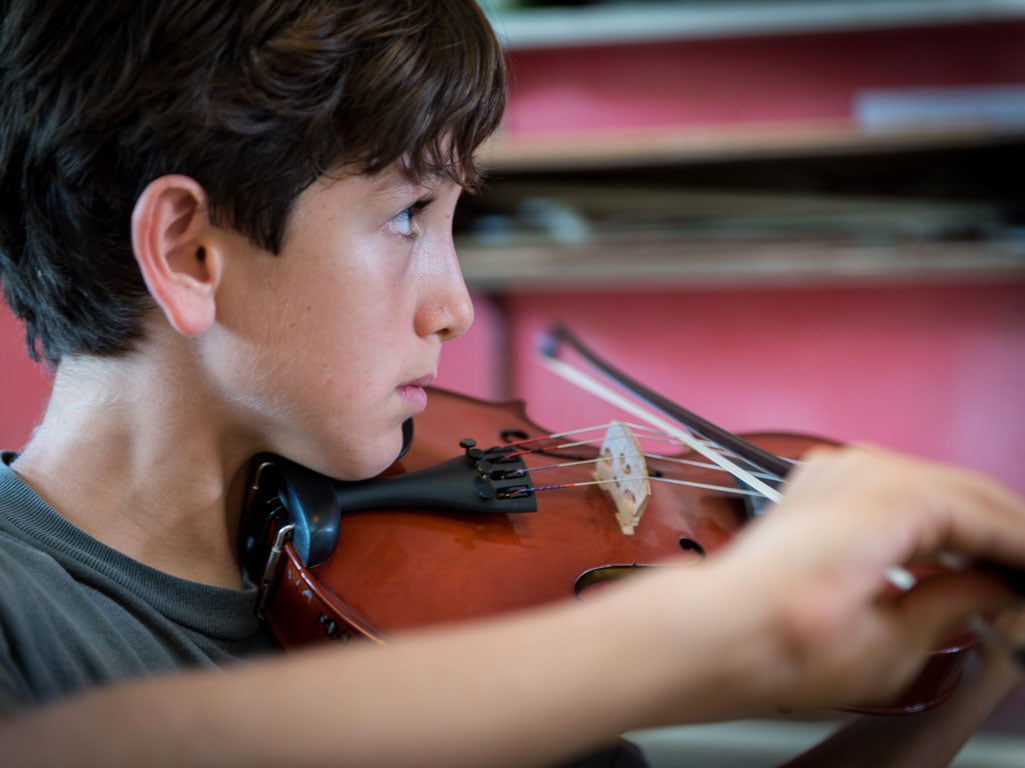 Photo: Courtesy of Honolulu Waldorf School
Editor's Note: My daughter's first day of preschool was an emotional day for me. I cried watching her walk away, barely pausing to wave at me over her shoulder before she dove into blocks, books and play time. I was also immensely relieved. My search for a preschool was over. Searching for the right school for your child is difficult, but looking for a preschool for your baby can be even more stressful. While you wonder if your little one will be safe, be happy and thrive, it is easy get buried under research, unfamiliar educational terms and information. What is Reggio Emilia? What is Waldorf? What does it mean, to educate the "whole child"? Chaminade University's director of early childhood and Montessori programs and assistant professor of Education, Elizabeth Park, Ph.D., helps us navigate the programming maze.
Finding the very first school for your child can be a daunting task.
Should my child go to a private or public school? Faith-based or nonsectarian school? Should the school follow a particular approach to teaching and learning?
Before you even start asking these questions, it is best to start by considering your family values. What do you want your child to value in life? What do you value as parents? Once you determine these, consider the the practical factors including location, cost, starting time and ending time.
Now you can start looking into different types of schools and the various educational philosophies of each school. You can explore options for private schools, public schools, public charter schools, faith-based schools, nonsectarian schools and every other preschool under the sun in Hawai'i, by visiting the following websites:
When it comes to preschool, the National Association of Education for Young Children (NAEYC) recommends in their article that a good program for your child is one that promotes developmentally appropriate learning in various domains and provides an integrated curriculum. So, which type of preschool is best for your keiki?
In navigating the program maze, it is important to first understand the various educational philosophies. The three commonly known "alternative approaches"—Montessori, Waldorf and Reggio Emilia— have more similarities than differences. They all believe in educating the whole child, encouraging respect for each other and striving to create a society that promotes harmony and peace. However, there are some differences in their methods.
Montessori
Origin. The Montessori approach was developed by Maria Montessori in Rome in the early 1900s. Dr. Montessori was interested in becoming an engineer but eventually became one of the first female physicians in Italy. She began her medical career working with institutionalized and mentally disabled children and eventually started the first Casa Dei Bambini (Children's House) for young children living in tenement housing in the San Lorenzo district of Rome, Italy. She used her scientific observation skills and educational knowledge to design learning materials and environments that foster intrinsic motivation to learn.
Philosophy and Methods. The Montessori approach centers around the harmonious relationships between the child, the teacher, and the environment. Similar to the other two alternative approaches, Montessori believes in educating the whole child and follows the interests of the child at the pace optimal for the child. The teachers in a Montessori classroom are often referred to as a "guide" or "directress" as their primary role is to guide the child to navigate through the "prepared environment". The foundation of this philosophy stems from nine fundamental learning principles that are often considered today's 21st century skills, according to Dr. Angeline Lillard, Professor of Psychology at the University of Virginia.
The principles include:
Movement and cognition are closely entwined.
People thrive when they have a sense of choice and control over their lives.
People learn better when they are interested in what they are learning.
Extrinsic rewards reduce motivation over the long haul.
Children learn well from peers.
Learning is more effective when situated in meaningful contexts.
Teachers should find a balance between being overly authoritarian and being overly permissive.
Children learn better in an ordered environment.
Self-regulation is the most important characteristic to develop in young children.
Montessori schools today serve children from birth through high school and there are approximately 4,000 certified Montessori schools in the US, and 7,000 worldwide. While the majority of the Montessori schools are private, there are about 400 public Montessori schools in the US today.
Who is the Montessori approach for? Parents who value Montessori education are often looking for learning environment that foster independence and leadership skills that best fit their child's interest. Parents may also be interested in the mixed age group environment as well as developing intrinsic motivation to learn.
The Waldorf (Steiner)
This information was contributed by Dr. Jocelyn Romero Demirbag, Administrative Director of Honolulu Waldorf School.
Origin. Waldorf education was started in 1919 at the end of World War I when the owner of the Waldorf Astoria Cigarette factory in Stuttgart, Germany wanted to start a school for the children of his employees. He asked Rudolf Steiner, an Austrian philosopher, "What kind of education do children need so that they do not think that war is the answer to conflict?" Steiner answered by developing a curriculum that is experiential, holistic, and developmentally based.
Philosophy and Methods. The method uses the arts as a medium of instruction, and goes well beyond teaching "reading, writing, and arithmetic." The result is a curriculum that integrates subject matter and that parallels the psychological development of the child. Almost 100 years old, Waldorf education can be found everywhere across the planet with well over 1000 schools worldwide. China is currently the fastest growing site for Waldorf education.
Who is the Waldorf approach for? Parents who value Waldorf education are looking for an education that serves "the whole child," that values the unique individual, and that values relationships and community—all in addition to academic preparation.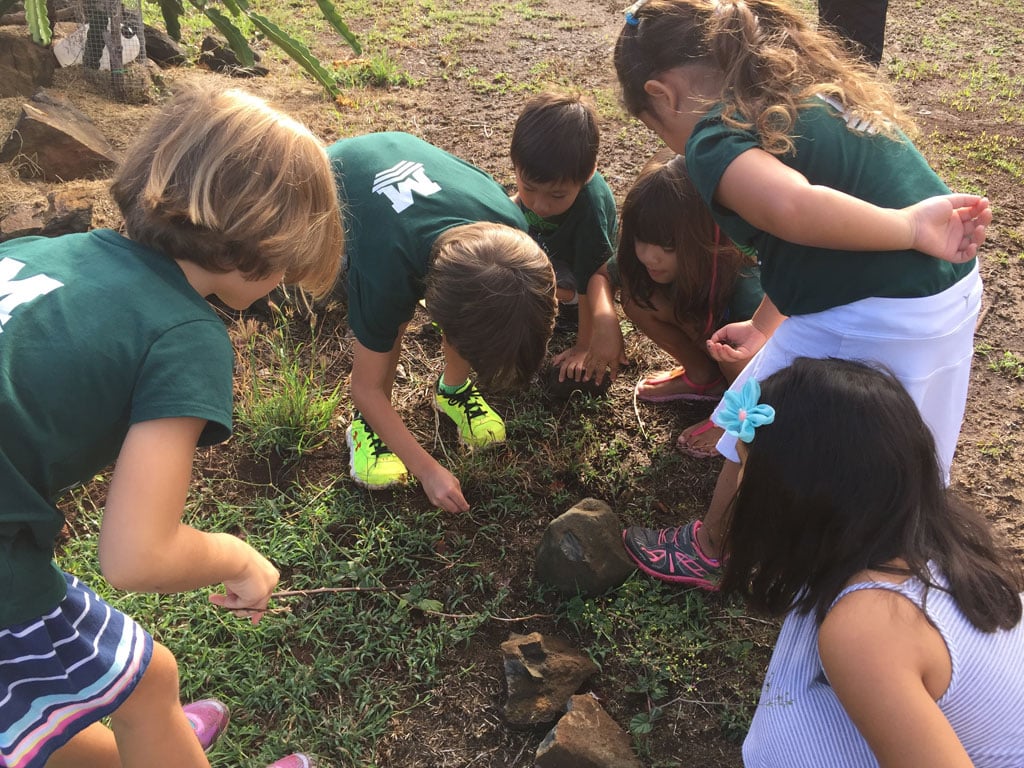 Photo: Courtesy Mid-Pacific Institute
Students at Mid-Pacific Institute.
Reggio Emilia
This information was contributed by Dr. Edna L. Hussey, Preschool and Elementary Principal of Mid-Pacific Institute.
Origin. The Reggio Emilia approach was developed by Loris Malaguzzi shortly after World War II as a response to fascism that destroyed the social, political, economic and cultural fabric of Italy.
Philosophy and Methods. Reggio Emilia is a municipality in Northern Italy known worldwide for its child-centered and inquiry-based approach to early learning and its system-wide support of over 30 infant, toddler, and preschool centers. Drawing upon progressive educational theorists and psychologists such as Dewey, Piaget, Vygotsky, Bettelheim, and Erickson whose work focused on an active pedagogy, Reggio Emilia opened its first public schools in 1963 and established its "rule book" of the identity of Reggio Emilia's principles and traits. While the concept of relationship-building is at the core of the approach, fundamental to Reggio Emilia are the following concepts:
An image of children as highly capable and intelligent
Co-constructing meaning of an experience (children with one another and children with adults) in an environment respectful of children and one that provides contexts for learning.
The "hundred languages of children" are the tools (e.g., clay, wire, watercolor, music, dance, photography, natural materials) and methods (e.g. painting, drawing, performing, building) for experiencing learning. The documentation of learning and professional learning is tantamount to the generative nature of the Reggio Emilia approach.
Who is the Reggio Emilia approach for? Parents who value Reggio Emilia approach are often interested in collaborative, community-based environment that build on their child's interests. Parents may also seek inquiry-based and continuously evolving curriculum which mirrors the interest of the child.
Some schools in Hawai'i also combine different approaches so familiarizing yourself with each school's particular philosophy is important. One of the best ways to see a school's philosophy in action is to visit and observe what is happening in the classrooms.
When shopping for a preschool, it takes time to identify a program and curriculum that best fits your child's particular learning style. Every child is different, and there are a variety of different curriculum approaches to choose from. Thus, the most important consideration is knowing your child's learning styles. The absolutely perfect, optimal educational setting is hard to find, so there will be some compromises as you prioritize by family values, child's learning style, and the school philosophy.
Parent Homework:
Know your family values and needs.
Be mindful of your child's need in light of the program you are considering.
Be mindful of your child's learning style to find the best fit.
Research the educational philosophy of the programs you are exploring.
Ask your friends and other families who have experiences with the schools.
Take time to visit the schools you are considering. Observe the environment, teachers, and children within that environment and, if possible, have your child experience the classroom.
Draft a list of questions to ask during your school visits.
---
Elizabeth Park, Ph.D. is currently an Assistant Professor of Education and Director of Early Childhood and Montessori Programs at the Chaminade University of Honolulu.