Education Cheat Sheet: Service Learning
Why creating change makers is one of the most important things we can do.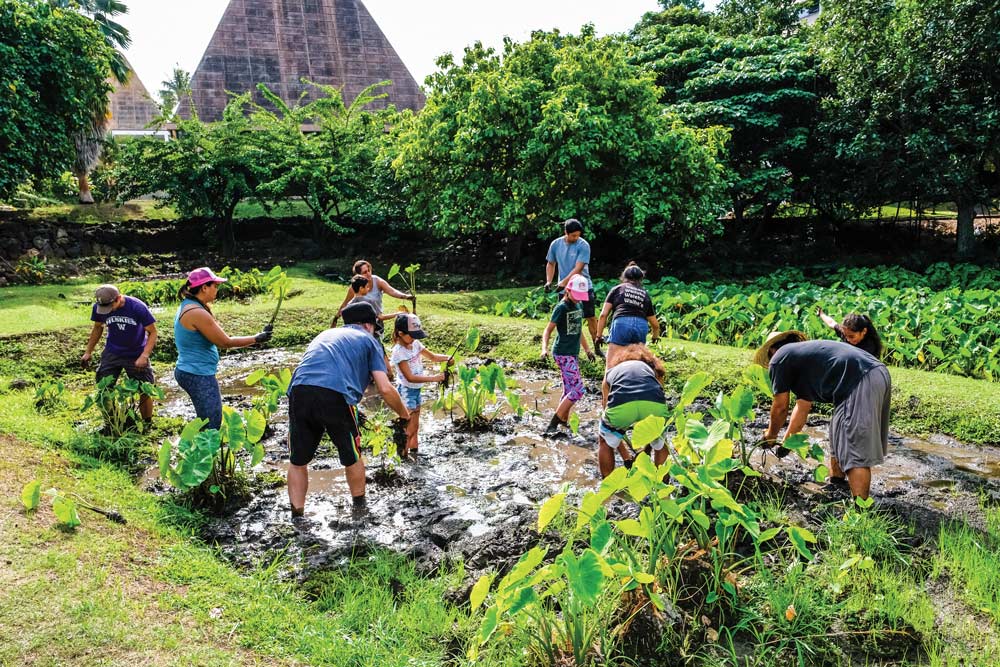 Photo: Tien Enga
Families helped clear a lo'i at Ka Papa Lo'i O Kanewai in Mānoa as part of the 2017 HONOLULU Family Volunteer Day.
What is service learning? Punahou School's Dan Kinzer gives us a deeper look.
In short, we'll learn:
How it can initially affect a child's perspective and, eventually, his or her motivation and creativity to identify and solve problems.
Four examples of projects students are working on to make a difference.
Three simple and fun things your family can do to inspire service learning.
---
My oldest child just started kindergarten a few months ago, laying claim to her spot in the high school graduating class of 2030. The Hawai'i and the world she will graduate into will likely be filled with challenges born out of generations of broken social, political, economic and environmental systems. It will also be a world of extraordinary possibility and potential, fueled by rapid technological advancement and bound only by the limits of our natural world and collective imaginations.
When I try to imagine my daughter heading out into this future world, I often ask myself, "What do I hope for her? What gifts, values, attitudes, habits, skills and dreams will I wish her to have?"
Most importantly, I hope that she has grown to think and act independently and interdependently, and that she is pursuing the kind of happiness that comes from a deep sense of purpose and high degree of comfort in her own skin. Then I would wish that she has all the qualities of a change maker: that she sees her power to co-create the best, most peaceful and sustainable community and world that she can imagine.
As the co-director for Punahou's Luke Center for Public Service, I have the same hope for all students across the island and around the world. One path to this awareness is through service learning. Some schools have designated service learning programs. Others require or simply encourage community service. Many young people are actively engaged alongside their families, faith-based groups, or other local organizations in serving their communities.
The journey begins early, when a child first starts school. At its most basic level, service learning fosters empathy and perspective, and nurtures a person's desire to help create a better world. Think of this as growing our sense of "Why?" Through Punahou's Outdoor Education program, our youngest students learn that "if you take care of nature, nature will take care of you." We might take a walk up Rocky Hill, or Pu'u o Mā noa, on the back of campus to learn about native plants and birds; or travel out to Kualoa Ranch to follow a stream from mauka to makai and learn about water systems. We bring these experiences back to the classroom and explore the things we noticed, and how we were impacting the world around us. Many times, change making projects are born.
The real potential of service learning comes when we begin to focus on the deeper learning that comes with engaging with a community. The most powerful experiences are when children begin systems and design thinking with new friends throughout the community. Systems thinking requires students to dive deep into a complex issue or problem so that they can understand all of its parts and their interconnections. Design thinking transforms learners from consumers of information to producers of valuable products, services and information. Punahou fifth graders recognized that their school photographer was in a wheelchair. They began to learn about the causes and consequences of his disability, and disabilities in general. As their empathy and perspective grew, they began brainstorming ideas and building actual prototypes to create a more inclusive and easier-to-navigate community for those with disabilities.
In recent conversations at Hawai'i Association of Independent Schools "Schools of the Future Conference" with SEEQS founder and school leader, Buffy Cushman-Patz; Compass educator and head of school at Colegio Maya in Guatemala, Mike Johnston; and co-founder and president of Institute of Humane Education and author of The World Becomes What We Teach, Zoe Weil, I was blown away by examples of young children looking and acting in their communities and taking action to affect their communities in profound ways, and by the school programs and educators that are supporting them.
Mike shared a story from Singapore where fourth-grade students noticed construction on a nearby condominium was pushing wildlife out. After several days of classroom work, talking with local experts and interviewing community members they put together a proposal creating nature corridors through their community.
Right here in Honolulu, the students at SEEQS, a charter middle school located in Kaimukī, spend nearly every afternoon examining an "essential question of sustainability," working in teams on projects tackling problems on O'ahu. This past semester they were exploring and designing sustainable ways to feed our island population. Seventh graders in Punahou's "Designing the Future" club spend time in the kindergarten and first grade neighborhood. They want to find more opportunities for play in our communities and figured observing the younger students would give them valuable insight.
Many young people here on O'ahu, across the state, and around the world are already becoming change makers through their service learning experiences. They are diving into our biggest systemic challenges and finding the root of the problems, and bringing entirely new possibilities to the surface. They are confident, not only in who they are and what they care about, but in how they are able to change the world. For a few moments at least, I could see into 2030 – when my daughter and her friends around the world are stepping out of school and already making the world a much better place – and be incredibly optimistic.
Parent's Homework
Expose your children to the various issues in their communities and to the amazing people trying to help make things better. Help them find an avenue into their community—a non-profit, social enterprise or community group—that matches their passions and interests. Aloha United Way is a great place to start to find organizations to contact.
If your child is a younger elementary school student, build a sense of place and connection to the people and environment around them. Practice observing the world closely and sharing wonders. I love grabbing some markers or paints, or sometimes even a camera, and documenting the world with kids. Keep a journal with your child about their observation and questions, or create a wonder wall at home where your child can place their most interesting observations and compelling questions.
If your child is an older elementary school or middle school student, join them in doing some playful systems mapping. Start by placing an observation, issue, or problem in a circle at the center of an empty page. A photo could help spark inspiration. For example, your child might notice a lot of trash on the beach during a weekend outing, which you hopefully helped to gather and throw away. Start filling the page with all of the different people, organizations and places that connect with the issue, placing each one in a circle. Once you've done that, start drawing lines and arrows between these circles to represent connections. As you do this, you and your child will probably have lots of questions that are going to take you well beyond a beach cleanup. This is the beginning of changemakers journey.
Dan Kinzer is co-director of the Luke Center for Public Service at Punahou School. You can find him huddled with students scheming up plans for a better world, or out exploring all corners of O'ahu and the world looking for adventure.
---
Education Cheat Sheet is a collaboration between HONOLULU Family magazine and Hawai'i Association of Independent Schools to help Hawai'i parents understand the educational trends and terminology in today's classrooms. You can find a new column on honolulufamily.com every third Monday of the month. Click here to read more.