Education Cheat Sheet: Preparing for College, Beyond the SATs
Colleges are looking for much more than a textbook-style well-rounded resume. So what are admissions officers looking for beyond the test scores and grade point averages?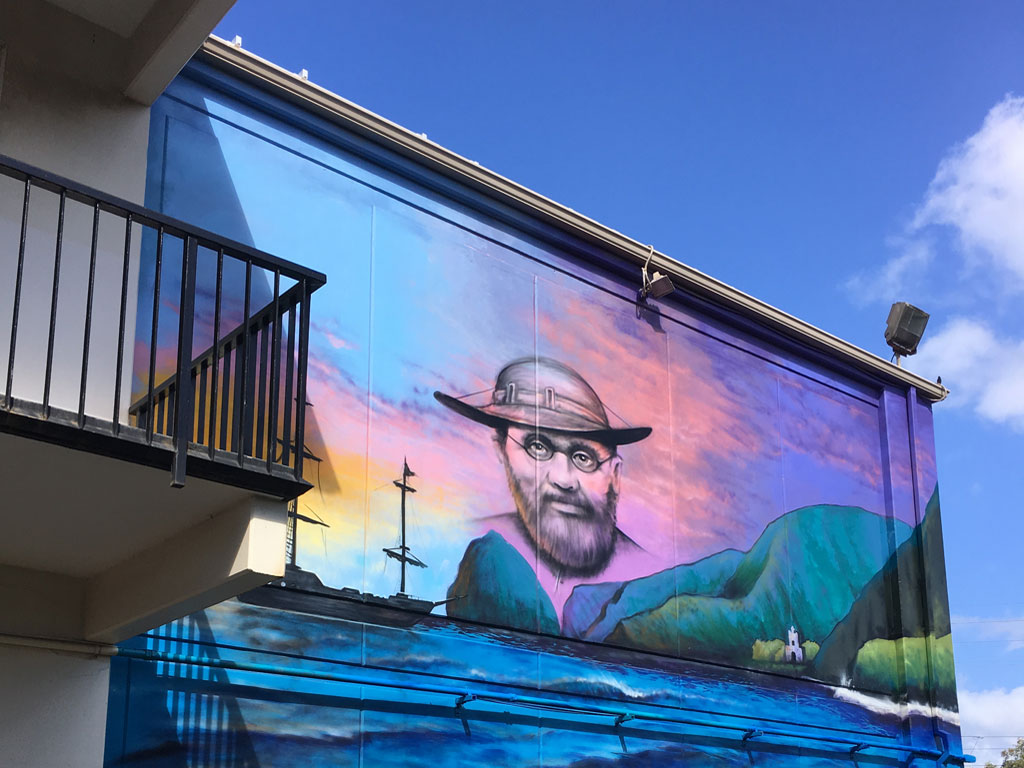 Photo: Courtesy of Damien Memorial School
This mural on the Damien Memorial School campus is an example of creative, goal-oriented student thinking that is what colleges are looking for in prospective students.
Editor's Note: When I was applying to college, my friends and I followed a formula: 4.0 grade point average, or as close as we could get, three to five extracurricular activities chosen to demonstrate a range of interests, and a personal essay calculated to highlight all of the above. We were all sure we could present the correct profile, the right answers to gain entry. Today, colleges and universities are looking for more than kids who look great on paper.
Damien Memorial School president and CEO Wes Reber Porter takes a closer look.
When speaking with parents during open houses, campus visits and other school events, our conversations often turn to one of the consistently most popular topics in high school: how best to prepare students for higher education.
Many parents are well aware that college graduates typically earn far more than students who don't progress beyond high school. They also know that enrolling at America's top colleges and universities is highly competitive.
So, what's the best way to prepare for the admissions process? What do colleges and employers look for?
The answer has changed over the years. Today, preparation for college extends beyond grades, test scores and a laundry list of extracurricular activities that purportedly demonstrate "well-roundedness."
Colleges and employers instead seek curious, dynamic team players with essential skills needed in the 21st Century. They want students who demonstrate interest and passion; who take calculated risks, experience failure and learn from it. They want individuals who hold–and even defend–original ideas.
In a time when kids can quickly find any information they need on the Internet, memorizing facts and figures has become obsolete. Now the challenge is learning how to effectively harvest, organize and present that information. Students must ask the right questions and find the right data to support their contentions.
At Damien, information gathering sits secondary to framing a problem and effectively communicating a solution. This type of interactive learning–which often involves teamwork and hands-on activities–engages students at a much deeper level than listening to long lectures or memorizing information for never-to-be-read-again exams.
Passion about the subject matter is also key. When students truly care about what they're studying, and understand its importance to themselves and others, their learning can transform into a powerful and indelible moment.
An example of an immersive education experience is our Damien Design Team.
The design students begin with brainstorming sessions on how to reimagine and beautify spaces on our campus. Then they listed their favorite ideas on a school-wide survey presented to classmates. Recently, this process led the Design Team to propose a two-story mural of our school's namesake, Saint Damien of Moloka'i, on the side of a classroom building.
Much like those budding entrepreneurs on the "Shark Tank" reality TV show, the students pitched the mural idea to me.
I had lots of questions. Where will the mural be painted? What will it depict? How long will it take? How much will it cost? How will we pay for it?
The students responded promptly to some of my questions. If they didn't know the answers, they regrouped, conducted more research and came back with solutions.
They communicated with each other, with me and the entire school. They engaged in critical thinking. They experienced setbacks and learned from them. They worked as a team. And they were passionate about their project from start to finish. They solved the problem of a blank wall more spectacularly than I could have ever dreamed.
That's the kind of learning experience that makes a positive and lasting moment in a student's educational experience. And it's the kind of experience that helps students excel in college, careers and life itself.
Parent Homework
Help your children discover their passion. Let your kids experience a wide variety of activities at any age and see what resonates. Maybe it's playing the piano. Maybe it's robotics. Maybe it's martial arts.
It's never too early to starting planning for college. Aside from visiting with their college counselor, your childrenshould collect and be able to discuss their unique educational experiences and the skills they applied along the way.
Get involved. Faculty, counselors, coaches and even school administrators help students succeed, but nothing duplicates involved families. Studies show that the more involved parents are in the educational process, the greater the likelihood their children will excel.
Keep your eyes on the prize – preparing your kids for college is worth it. Surveys show that college graduates are more satisfied with their lives than people who don't progress beyond high school. College graduates also enjoy much higher lifetime earnings and a much lower risk of unemployment.
Wes Reber Porter is Damien Memorial School's President and CEO. He previously served as an assistant U.S. attorney in Hawai'i, as a judge advocate general for the U.S. Navy, and a senior trial attorney for the U.S. Justice Department in Washington, D.C. Porter was a law professor in San Francisco and still teaches as a visiting professor at the University of Hawai'i William S. Richardson School of Law.
---
Education Cheat Sheet is a collaboration between HONOLULU Family magazine and Hawai'i Association of Independent Schools to help Hawai'i parents understand the educational trends and terminology in today's classrooms. You can find a new column on honolulufamily.com every third Monday of the month. Click here to read more.