Editors' Picks: Great Classic Books Every Kid Will Love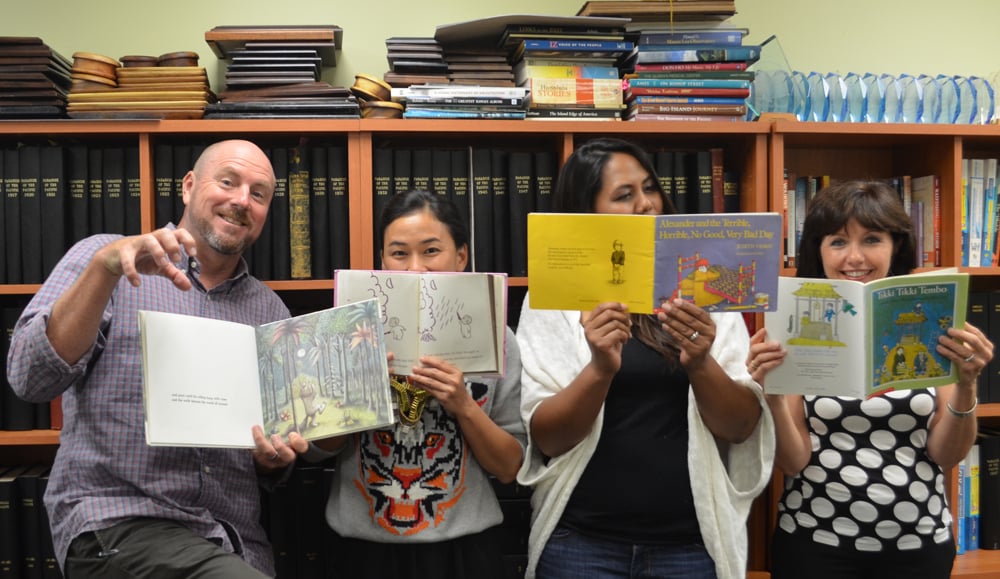 Editor's Note: This was first published in 2014.
When our team decided to come up with a list of great books for the summer, we decided why should the adults have all the fun?
So we asked the editors of HONOLULU and HONOLULU Family for their favorite children's books of all time.
You can find most of these stories at the Hawaii State Public Library.
What books did our HONOLULU team suggest for the adults? See the almost 50 picks at honolulumagazine.com.
---
The Day the Crayons Quit, by Drew Daywalt
This was a gift from HONOLULU's managing fashion editor Brie Thalmann and I laughed out loud while reading it to my daughter. This collection of letters from some fed-up crayons colors to the boy who is abusing/not using them are clever and quirky. Plus, once you read this book, if you ever see a naked child yelling "peach crayon", you will know why.—Christi Young, HONOLULU Family editor
Tikki Tikki Tembo, by Arlene Moser
My daughters' and I love Tikki Tikki Tembo because of the compelling story of the two brothers who didn't listen and what happened to them. To this day, someone needs only to begin to say the long and fabulous name of the older brother and any one of us will happily finish it. This book does not strive to sugar-coat life — as so many children's books do — and includes both a near-death experience and an old man who doesn't particularly want to be bothered with the children. It's an adventure not easily forgotten.—Robbie Dingeman, HONOLULU Magazine editor
Urashima Taro, by Robert B Goodman
I heard this story in fourth grade and the classic moral—dreams of riches, beauty and immortality can never replace home and loved ones—has stuck with me ever since.—Stacey Makiya, senior fashion editor
The Phantom Tollbooth, by Norton Juster
I love books that grow up with you. This adventure of the oh-so-bored Milo through the worlds of Digitolpolis and Dictionopolis in entertaining even for elementary students. But it wasn't until I was older that I understood all the nuances of Juster's fantasy: Milo's escape from the land of Doldrums, the Humbug, subtraction stew and the world's tallest midget.—Christi Young, HONOLULU Family editor
A Series of Unfortunate Events, by Lemony Snicket
Because of the dark themes, hidden tunnels and intelligent Baudelaire orphans.—David Thompson, HONOLULU senior writer
The Little Prince, by Antoine de Saint-Exupery
Heartwarming and heartbreaking, with lessons for everyone, from age four to forever. —Martha Cheng, HONOLULU food and dining editor
Where the Wild Things Are, by Maurice Sendak
Because it speaks to my primal 5-year-old.—David Thompson
Charlotte's Web, by E.B. White
Because I like everything by E.B. White.—David Thompson
The Sleep Book, by Dr. Seuss
It puts my daughter Alex to sleep like magic!—Alyson Helwagen, publisher
The Dark, by Lemony Snicket
I was one of those kids who was totally afraid of the dark—I needed the bedroom door open, a night light, a constellation projector, you name it. Lemony Snicket is one of my favorite authors and I was so excited last year when I saw he wrote a kids book. The Dark follows Laszlo as he searches for where the dark lives and hides—in the closet, in a drawer, in a basement—until he eventually overcomes this universal fear. The illustrations are adorable, too.—Loren Moreno, HONOLULU senior writer
Ronia the Robber's Daughter by Astrid Lindgren
You're probably familiar with Pippi Longstocking, but did you know Lindgren wrote about another little badass girl? This story's set in the forest, with two feuding robber clans, and it's got everything from no-holds-barred brawling to forbidden preteen romance. Now that I think back on it, Ronia is a lot like a young Katniss from the Hunger Games, except with more attitude.—Mike Keany, HONOLULU managing editor
Ramona Quimby, Age 8, by Beverly Cleary
This was the book that sparked my love for reading and writing, which eventually led to me majoring in Journalism. I wanted to be an author, just like Beverly Cleary!—Lennie Omalza, special projects editor
Fancy Nancy, by Jane O'Connor
A book about being fancy, but more importantly a book about family. What's not to love!
—Shanelle Naone, account coordinator
Love You Forever, by Robert Munsch
I love this book because it's so sweet and shows timeless, unconditional love between kids and parents.—Caryn Yu, advertising executive
Harold and the Purple Crayon, by Crockett Johnson
A friend gave me a box of purple crayons all in different shades with a notepad, knowing that one of my favorite childhood books was Harold and the Purple Crayon. I loved the gift and used it immediately to draw everything I could imagine.—Stacey Makiya
Trump-O-Moto, by James Clavell
A disabled, slightly lonely, home-schooled little girl named Patricia from the Australia Outback befriends an apprentice wizard boy from Japan who accidentally astral projects into her backyard. Patricia travels with him to Japan and defeats the evil demon that is responsible for her disability. I love the gorgeous, full-page illustrations, the cross-culture adventure theme, the sweet earnestness of the characters, and the empowering idea that you can fight to overcome your obstacles and boundaries with the support of friends and loved ones, just as Patricia did.—Natalie Schack, associate fashion editor