Editor's Page: Standing On a Busy Downtown Honolulu Street Waiting for a Sign
Sign of our times: In February, our work was especially illuminating.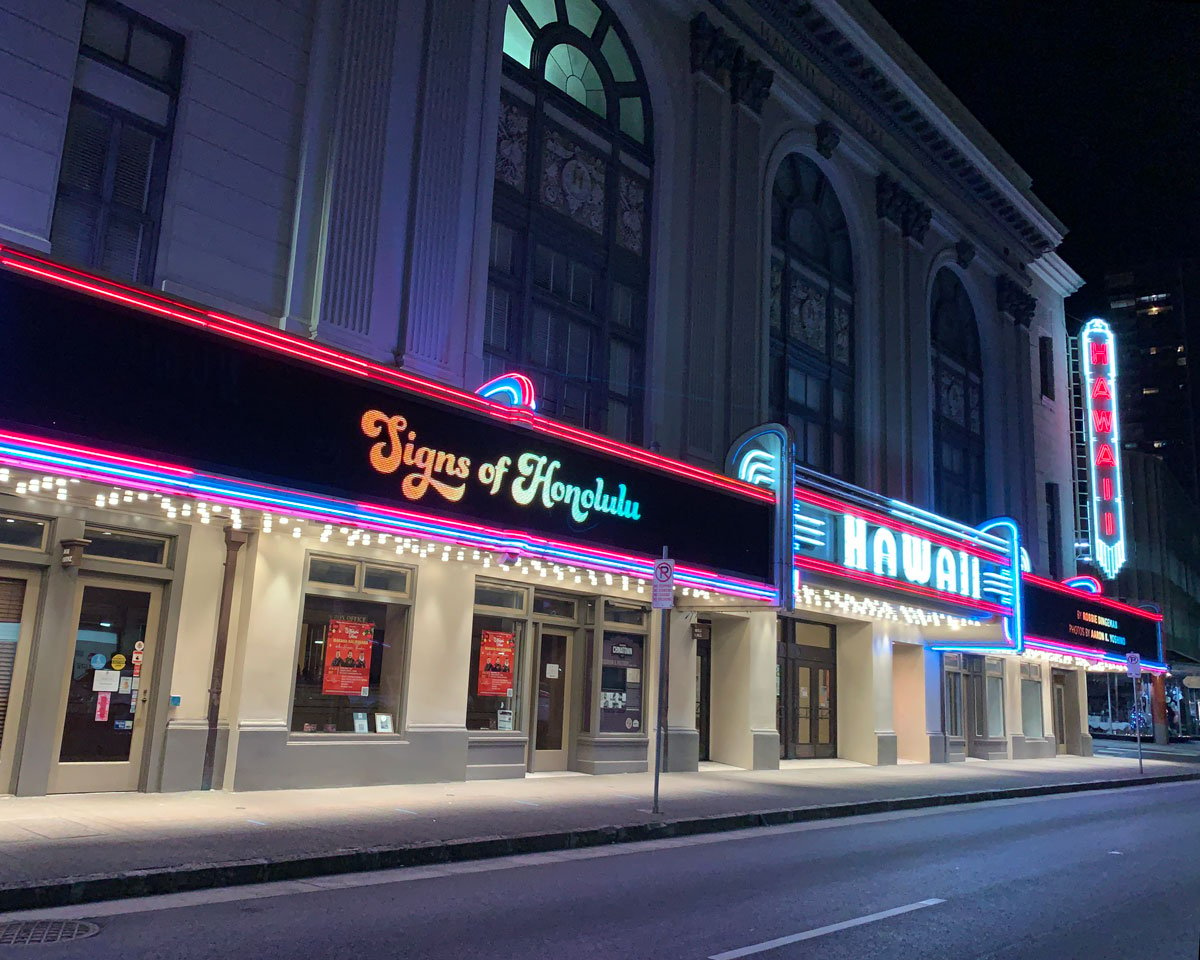 Just before sunset one evening, three HONOLULU co-workers stood on a busy Downtown Honolulu street waiting for a sign. The Hawai'i Theatre marquee, to be exact. As the daylight faded, the trio—editor at large Robbie Dingeman, senior art director Christine Labrador and staff photographer Aaron K. Yoshino—watched as the oft photographed historic sign lit up with our words (and their names) written on it. Watching a HONOLULU story title come to life in lights—what a wonderful way to start a new year.
Of course, the tale behind the image goes far beyond that. It includes a few technical snafus, an invitation for Aaron to climb into a truck bed from the friendly stranger who had snagged a well-placed parking space and more encounters. (Robbie tells us about that unusual evening) It's a fitting way to open our piece about the stories behind well-known, well-worn and hidden signs across the island.
That glance into the past is a welcome respite from the blaring headlines of the present. We've all been stunned by the rising cost of, well, everything. Now that the startling logjam at West Coast ports has cleared and the retail flurry of Christmas is over, will all those prices that went up finally come down? It turns out our sticker shock was a long time coming. We turned to contributing editor Don Wallace to dig into the big picture outlook for 2022.
The first issue of the year would not be complete without us asking, "Why did the cattle cross the road into Makakilo?" We ponder that and all the outrageous and outlandish news that made 2021 (with barely a mention of COVID-19!) in our annual Sour Poi Awards.
Welcome to our 134th year of HONOLULU and thank you for joining us for another journey.
Read all of these stories in the February issue of HONOLULU Magazine. Available on newsstands in October, or purchase the issue at shop.honolulumagazine.com. Subscribe to the print and digital editions now.