Editor's Picks: 5 Great Books for Kids
Our editor's picks of new books for keiki of all ages.
See our editor's picks of new reads for kids and enter to win a copy.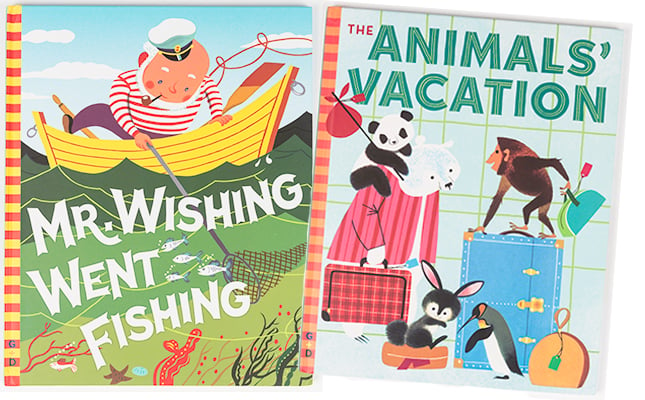 Preschool
The vintage illustrations and simple tales of these re-releases from G&D Vintage create timless storybooks that kids and parents will enjoy together.
Mr. Wishing Went Fishing, by Irma Wilde
Mr. Wishing wanted a little fish for his glass bowl. But when his formerly cheerful pet got lonely, Mr. Wishing went back to the ocean to find it a friend. What will it take to make his fish smile again? Ages 3-5 years. $7.99, G&D Vintage.
The Animals' Vacation, by Shel Haber
Zoo animals pack up and take off for holidays around the world. Travel with the deer and bear to the forest, polar bears to icy areas and more as they take some time to frolic in their own native habitats. Ages 3-5 years. $7.99, G&D Vintage.
Grades 3 and Up
My Brother the Superhero, by David Solomons
Luke and his brother are playing in a treehouse when a bathroom break changes both of their lives. Suddenly Zack, a studious older brother, gains superpowers that only his comic-book-loving younger brother can appreciate. This amusing story follows the kids as they deal with challenges and jealousy while they try to save the world. Ages 8 to 12 years. $16.99, Viking Books for Young Readers.
Grades 4 and Up
Circus Mirandus, by Cassie Beasley
There is a magical circus that only believers can see. Grandpa Ephraim told Micah about the invisible tiger, a flying woman and the Man Who Bends Light. When Grandpa gets sick, Micah is on a mission to find the powerful magician he believes can save his beloved grandfather. Ages 9 to 12. $17.99, Dial Books.
Grades 5 and Up
Last in a Long Line of Rebels, by Lisa Lewis Tyre
12-year-old Lou has anything but a regular life. Her father is a garbage man. Her mother is an enviro-artist and she is the target of the popular girls at school. Now, she is in danger of losing her 175-year-old home to developers unless she can find the Civil War gold legend says is buried somewhere near her house. Ages 10 and up. $16.99 when on sale September 29, Penguin.
Middle School
The Stars of Summer, by Tara Dairman
Gladys is the newest food critic for a major New York newspaper. But no one knows that she is just 11 years old. Now, as she tries to keep her secret life and new assignments from her parents and deal with sabotage from an envious newspaper writer, a new complication pops up. How is she supposed to deal with summer camp? Ages 12 and up. $17.99, G.P Putnam's Sons.
We're giving away one copy of each of our editor's and kid reviewers' picks. Click here to enter by September 14.