Editor's Page: Fun Times
Ever wonder about all the effort and money we put into planning our kids' parties?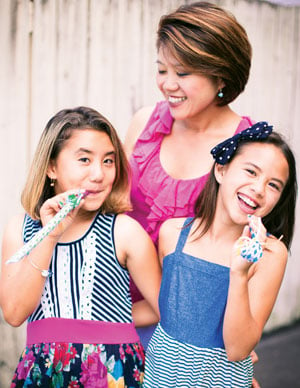 For fun, I did a few unofficial calculations. A typical two-kid household hosts an average of 36 "kid-friendly" parties in a lifetime. Three will be extra-special events celebrating a baby's first year, a teenager's sweet 16 and a you're-off-to-college graduation party. Let's assume you spend double the amount you would for two out of the three big parties ($1,000 each) and $500 for all subsequent events. Your cash investment: $20,000.
What about the time you invest in planning every detail? Preplanning: guest list, invitations, purchasing crafts, decorations, booking entertainment and buying/ordering food (five to six hours). Executing: cleaning the house, decorating, setting up games/entertainment, cooking, etc. (six to seven hours). Hosting: running every detail of the show (two to three hours). Your time and energy investment: 468 to 576 hours. This may seem like a lot of time, money and energy to spend on balloons, jumpy houses, cakes and a house full of screaming kids, but what are you getting in return? Without sounding too cheesy, how about a lifetime of precious moments your family will cherish forever? As MasterCard would say, the cost: priceless. My advice? Start planning now and look for ways to save money. Book your location and/or entertainment early and scour the Internet for sales and deals. Need a little inspiration?
Check out our party feature.
We all want our children to be well rounded, but what does a well-rounded child look like and how do we help shape him or her? You'll find the answers you're looking for on page 35 in our magazine.
It's almost time to get dressed up and go trick or treating. Have a spooktacular and safe Halloween.