Editor's Page: So It Begins
It's back-to-school time and this issue is here to support you.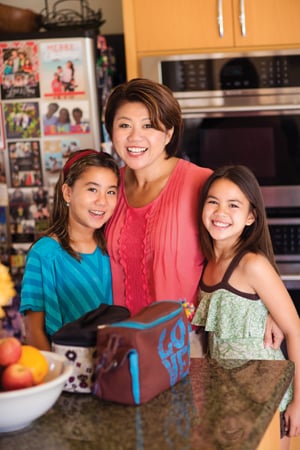 The alarm goes off. It's still dark outside. Shuffle to the kitchen. Grab a cup of coffee. Prep a hearty breakfast, a healthy snack and a well-balanced lunch. Get the kids fed, cleaned and dressed. Coordinate schedules, check homework folders, sign permission slips and pack after-school bags for soccer, basketball or various other extracurricular activities. At the end of the day (a full workday for most of us), pick up the kids, spend quality time together, eat dinner, finish homework, get everyone cleaned, brushed and ready for bed. Read a story, share highs and lows, tuck tiny heads in beds. Hugs, kisses, lights off. It's dark outside. Smile. Repeat.
It's back-to-school time and this issue is here to support you. We've got great back-to-school looks for you to consider as well as stories that will help you deal with key issues—from discipline and homework woes, to what to pack in your child's lunch that is both healthy and tasty.
Ever wonder if boys learn differently than girls? The answer is a resounding "yes." Find out what you can do to help your son or daughter learn better.
Remember to make time for your family. Check out the places to go and things to do in "Out & About."
Also, visit calendar.honolulufamily.com for a more comprehensive look at family-friendly event options.
Check out and plan an unforgettable camping trip your kids will love. Let the fun continue.