Editor's Note: Let The Good Times Roll
Throw a party, take a hike, ride a bike, eat healthy.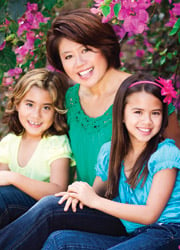 I must have been a party planner in a past life.
The thought of pulling together the ultimate party guide for this issue seemed daunting at first, but I quickly found my groove and the inspirational ideas (more than we had room for) began to flow. I'm sure it helped that I had a birthday shindig to plan for my 9-year-old twin daughters! In this issue, you'll find a host of fun and unique party themes, for girls and boys and baby lūʻau.
While party times often include sweet treats, most parents encourage healthier eating of foods such as kale, beets, quinoa and hummus, and seek ways to make them more appetizing. Check out "Good Eats" for great healthy-to-go dining options.
It is comforting to know that private and public schools in Hawai'i are making efforts to improve our children's diets and the amounts of daily activity recommended for good health. For an in-depth look at childhood obesity and what you can do to prevent it, please read "Why are Hawaii Kids Too Big for Their Britches?
Keeping your family healthy is important and being active together is a great way to do it. Exercising with your kids in pursuits such as biking and hiking provides the extra bonus of spending quality time together and teaches them at an early age to make physical fitness a part of their daily lives.
It is up to you to set the example. Let your children see that you eat well and work out to stay healthy, to be strong, and to have more energy and stamina (to keep up with them!)