Editor's Page: Jump Start the New School Year
Prepping for the new school year is always an exciting time.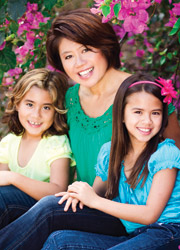 Prepping for the new school year is always an exciting time. Shopping for new gear and supplies, picking out new outfits and pairs of shoes to replace ill-fitting, worn-out favorites (for exciting inspirations you and your kids will love, check out our back-to-school fashion and shopping guide). Then there's the anticipation of discovering the classroom you are assigned to, the teachers you will have and, of course, the new friends you will make and the old ones you'll see again soon.
As our keiki eagerly await the fun, parents prep for the back-to-school frenzy and the familiar act of juggling work, school, extracurricular activities, homework, medical and dental appointments, haircuts, play dates and quality family time. It can be a challenge, but not an impossible task and even an enjoyable one if you have an orderly plan of action. Make it a point to get yourself and your household organized before school begins, from the front entryway to the "command center," where bills are paid, papers are signed, schedules are laid out, and so on. To help make your task a little easier, read this month's feature, "Keeping It Together: Organization and the New School Year," for great tips and solutions. I was inspired to get my act together and I'm sure you will be, too!