Eddie Wen' Go at the Hawaii Theatre
Giant puppets bring the story of Eddie Aikau and the Hokulea to life onstage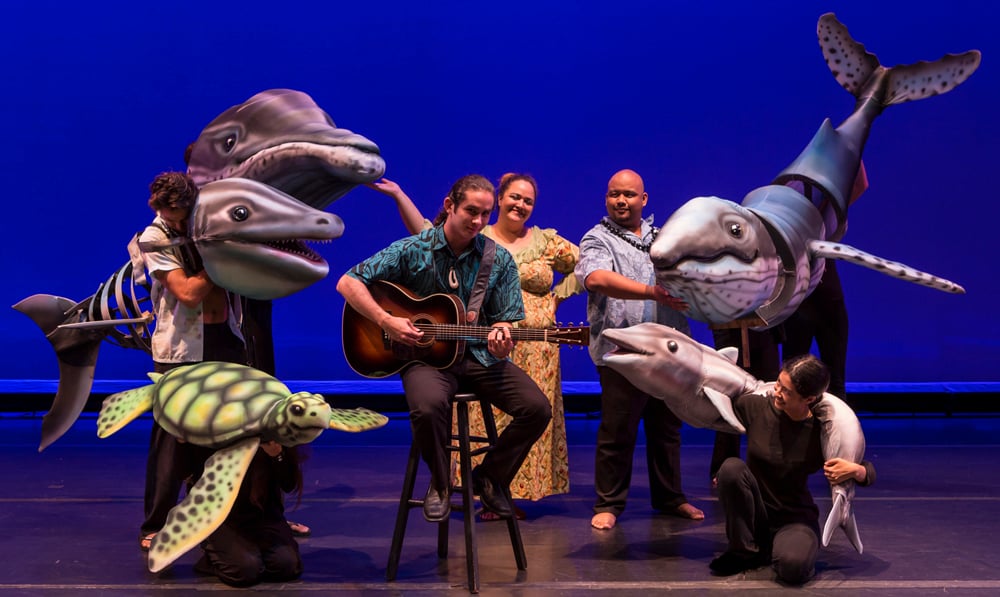 Hawaii Theatre Photo: Kaveh Kardan
It takes up to seven people to operate Tutuwahine, a large whale puppet in the upcoming play, Eddie Wen' Go: The Story of the Upside-Down Canoe, at the Hawaii Theatre. But, after a few minutes, you won't even notice them. You'll think you're underwater as sea creatures gather totell the story of what happened to Eddie Aikau when the Hokulea capsized on its journey to Tahiti in 1978.
"I originally imagined the sea creatures as very adept actors who, with a simple dorsal fin hat, a turtle shell on a back or arms outstretched like a soaring bird, would become the creatures," says Marion Lyman-Mersereau, who adapted her children's book of the same name for the stage. But with the help of Hawaii Theatre Center's education director, Eden-Lee Murray, UH's Department of Theatre and Dance got involved. Professor Mark Branner became director, and his students of the Theatre for Young Audiences program designed the masterful puppets. "I never dreamed of the brilliantly conceived and gracefully animated puppets which have been created for the show!" Lyman-Mersereau says.
Five graduate students not only designed the six puppets, they also worked on everything from lighting and video projections to the educational packet that goes along with the play. "At first we were only going to project images from the book, which are quite nice, and have actors read the lines," says Branner, but as they explored other, more engaging ways of the telling the story, they decided to go all out with giant puppets. Finding the right people to actually put them together, however, was a challenge, until they recruited the McCall family of Theatre Design & Productions to construct the puppets. It took several months.
Tutuwahine is made of five segments that stretch a total of 24 feet long. Mr. Mano, a shark in the play, is 8 feet long and worn by a single actor. Three people operate Kaleo, a 12-foot-long whale. It takes a cast of nine people, both from the UH's Department of Theatre and Dance and the community, to bring the production to life.
"It's all been a very great process," Branner says. "There are incredible elements in there," so even though it's meant as a children's story, "we as adults are just kind of in awe."
In addition to the puppets, Eddie Wen' Go has all-new original music by Danny Carvalho, who also provided music for the audiobook. "Between the whole new collection of scenes, the new cast and the added enhancement of lighting and giant puppets, it felt like I needed to create something new to help bring this one to life," he says. He will perform live with the cast.
As part of the HTC Ohana Series, Eddie Wen' Go is directed toward keiki in grades Pre-K-8.
There will be two performances: Friday, Sept. 19 at 7 p.m. and Saturday, Sept. 20 at 2 p.m., with tickets ranging from $5–$10. Children under 4 are free.
Call 528-0506 to purchase tickets or learn more about school matinees Sept. 16–19 at 9:15 a.m. The Hawaii Theatre is located at 1130 Bethel St. hawaiitheatre.com