Education Cheat Sheet: To Screen or Not to Screen
How to tackle the challenge of limiting smartphone and tablet time at home.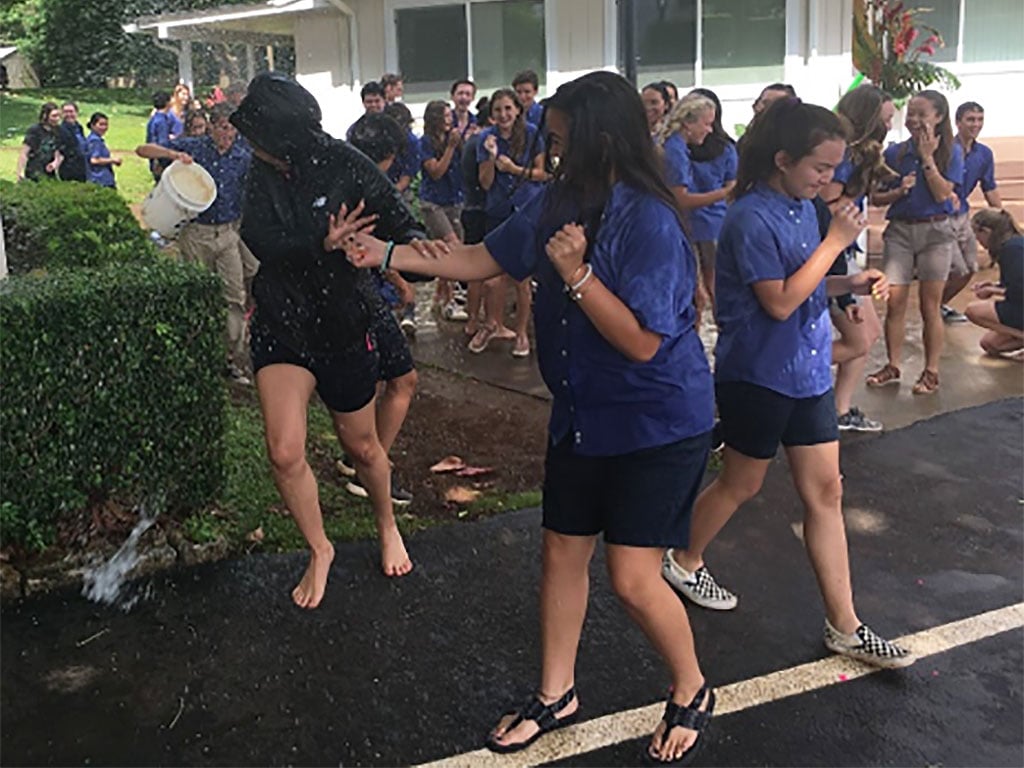 Photo: Courtesy of Trinity Christian School
Trinity Christian School students during in 2018 Senior Soak Day, a tradition that is best practiced without a smartphone.
We certainly all know that our children can live without 24/7 access to the internet—that had been the case before this last decade and the advent of the smartphone. But as most things with child rearing, the "right" answer is not always simple. Additionally, as the world becomes more technologically savvy, and familiarity with technology becomes a basic job skill, managing screen time well becomes more complex.
Schools struggle too, with finding the right way to restrict or use smartphones. There is no shortage of available technologies to enhance learning. The ever popular Khan Academy is available as an app, along with Kahoot!, Quizlet, and Algebra Touch, to name just a few. Finding ways to use technology appropriately in the classroom while keeping kids focused on the lesson at hand will continue to be a challenge. And as if that was not enough to worry about, research shows long-term daily use of tablets, computer and other tech can cause vision trouble, posture concerns and issues with sleep disruption for kids. There are also reported links between social media and increased anxiety and depression among young people.
Because of these concerns, at Trinity Christian School we have taken a strong stand on smartphone use. That is not to say we are anti-technology. Our elementary students have both an iPad lab and a computer lab, and our secondary students bring their own laptops to school each day. However, except for specific times when a teacher allows it (i.e. Kahoot! quizzes, photos of the board, outdoor pictures on Science Walkabouts, etc.), students may not use their smartphone at any time between the hours of 7:45 a.m. and 3:00 p.m. We believe strongly in giving students a break from the constant presence of that particular screen.
Deciding how to measure and balance screen time as a parent brings its own unique challenges. As with most decisions, the right answer will be different for each family—maybe even for each child. Researchers recommend parents avoid blanket proclamations and take the time to discover the relationship your child has with social media. There are parents who open social media accounts just so they can keep tabs on their children's social media life. I even know teens who have decided to opt out of social media use altogether. Maintain an open dialog with your child and ask specific questions about social media. Your teens still value—and need—your opinion (though they may never admit it!). Every family can make the time to research and intentionally create a balanced plan for their children.
Parent's Homework:
Schedule a specific time to sit down and ask your children what they think of social media and its impact on their lives.
Discuss and draft a family agreement about smartphone usage at home and enforce it like any other family decision.
If you are worried about your own ability to stick to your family's convictions, watch this interview with Simon Sinek. It will encourage you to make a plan and stick to it.
Jeanne Wilks is the Makai Campus principal (grades 4-12) at Trinity Christian School in Kailua, tcskailua.net/. She and her husband have launched four children into adulthood and live in Kailua with their two red dobermans.