Eat This Now: Stuffed Zucchini Blossoms, Vino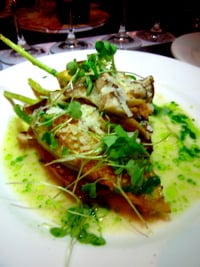 Biting Commentary couldn't resist the Pink Wine Tasting at Vino last night. (For more on that, see this previous post.)
Learned a lot about rosé wines from Master Sommelier Chuck Furuya. Especially enjoyed the rare Tuscan rosé, the 2010 Castello di Ama Rosato, so if Vino still has any left, enjoy a glass.
Wine calls out for food. After the tasting, we couldn't resist ordering dishes from chef Keith Endo's invariably tasty menu. In the process, we came across something Biting Commentary thought you might enjoy.
Delicate zucchini blossoms—they look like orange flowers, smell like fresh zucchini—are in season. And Endo has a "woman in Chinatown" who gets them for him.
What do you do with zucchini blossoms? Endo, who makes all his own pastas, is now making his own cheeses as well.
In the back walk-in, wrapped in cheesecloth, he makes ricotta out of buttermilk, cream and salt. It's fresh and it's creamy, with none of the grittiness that sometimes ruins commercial ricotta.
Endo (left) stuffs the blossoms with his ricotta, batters them in a Doré (that's simply an eggwash and flour), and gently sautées them.
The flowers are soft, so to add a bit of crunch to the dish, they come out atop a slice of toasted baguette, surrounded by a simple white wine-cream sauce with fresh Hamakua mushrooms.
The best way to eat them is pick them up by the stem and just let the flavors fill your mouth bite after bite. You wouldn't want to waste the sauce, so we sopped up every bit with the bread.
And wanted more.
The appetizer, four stuffed blossoms, is $14. Note that zucchini blossoms are rare, the season's short and if you want any, you should get them now.
Should the blossoms all have been consumed by luckier diners, you might try Endo's other housemade cheese, a creamy mozzarella called burrata, in pesto with a concasse of local tomatoes. It may console you for missing the stuffed zucchini flowers.
Vino, Restaurant Row, 500 Ala Moana Blvd., (808) 524-8466, www.vinohawaii.com