Eat Local and Support Our Keiki
Dine out this month to support the Hawaii Agricultural Foundation's Veggie U program.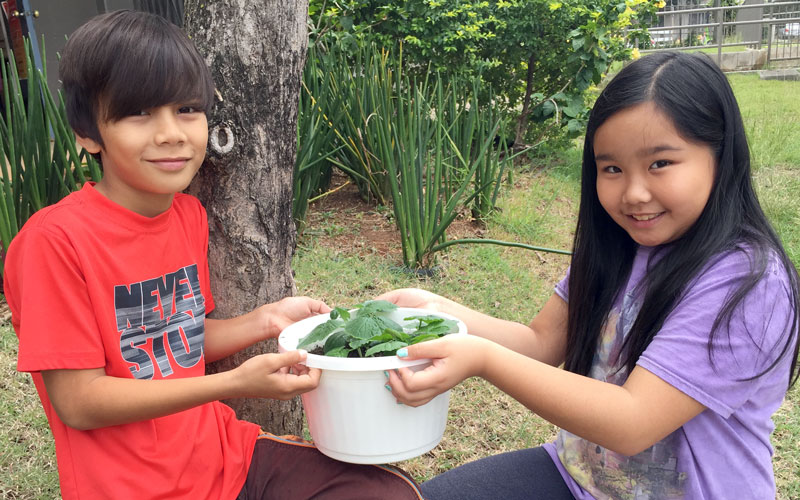 Eating locally is a delicious way to support local farmers. This month, not only will it be easier to find locally sourced dishes, but you'll be helping to educate our keiki.
The Hawaii Agricultural Foundation (HAF) has launched its second annual Localicious Hawaii promotion to raise funds for agricultural education in our public schools. More than 126 restaurants will participate in the campaign this year by asking patrons to order a Localicious dish, which will be made with a locally grown, caught or raised product. Each time the dish is ordered, restaurants will donate one dollar to HAF's Veggie U educational program.
Last year, 58 restaurants participated, raising $31,000 for 65 fourth-grade classrooms across our beautiful state. The 2015 goal is to raise $50,000 and extend the Veggie U program to 100 classrooms. HAF currently has a teacher on staff that has worked with the Department of Education to align the Veggie U kits with Hawaii State science and common core standards. Funds will be used to purchase the kits, provide stipends, arrange ground and air transportation, and develop training materials for teachers. Initially offered only to fourth graders, HAF hopes to expand the Veggie U program to other grade levels in the future.
As part of this year's campaign, HAF and Hawaii Gas are sponsoring a new Art and Essay Contest to expose young children to where their food comes from. Titled "My Favorite Dish and Where it Comes From," the contest is open to students in kindergarten through the sixth grade. There are two categories: an art contest for students in grades K to 3 and an art and essay contest for students in grades 4 through 6. A winner from each category will receive a class party with a celebrity chef and an Apple ipad mini.
Contest rules and entry forms are available here.
For more information about the Veggie U contest, visit www.veggieu.org.