Eat Local: Alan Wong, Chuck Furuya and Richard Ha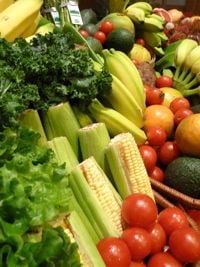 At its latest lunch meeting, the Hawaii Society of Business Professionals had three speakers with one message: It matters what you eat.
The speakers (pictured right to left, below) were chef Alan Wong, Hamakua Spring Country Farms' Richard Ha and master sommelier Chuck Furuya, all of whom made the plea that small personal choices could add up to a major revolution in Hawaii.
Wong pointed out that since Hawaii imports 80 percent of its food, the state has only a two- to three-week food supply if a disaster closes the ports. "The boat no come, you lose plenty weight," said Ha.
According to state Department of Agriculture figures, if Hawaii replaced just 10 percent of foods we import with locally grown and manufactured foods, that would generate $94 million for farmers, an economy-wide impact of $188 million in sales, $47 million in earnings and $6 million in state taxes. Not to mention 2,300 jobs.
Furuya issued a plea to local produce was worth paying more: fresher, more nutritious, better tasting.
But Ha summed the situation neatly: "If farmers make money, farmers farm. If farmers no make money, farmers no farm."
To some extend, the three were preaching to the converted. Waikiki Prince Hotel's chef Khamtan Tanhchaleun had provided a luncheon full of local ingredients: sustainably caught mahimahi, Hamakua mushrooms ("The best," he said), Big Island hearts of palm, Nalo greens, local red potatoes.
In the audience was Foodland CEO Jenai Wall with a large contingent from her executive team, Foodland having sponsored the luncheon to underscore its own commitment to local produce.
The door prizes for the event? A chance to fill a large recyclable shopping bag with fresh Hawaii produce from the vast display in the lobby.
Furuya concluded with a call to action: "Just think of the change we can make in this generation, all through individual choices. Restaurants are championing local farmers and ingredients, but restaurants can only buy so much. It's up to everyone, you."