Dressing Up for Halloween and the Benefits of Pretend Play For Kids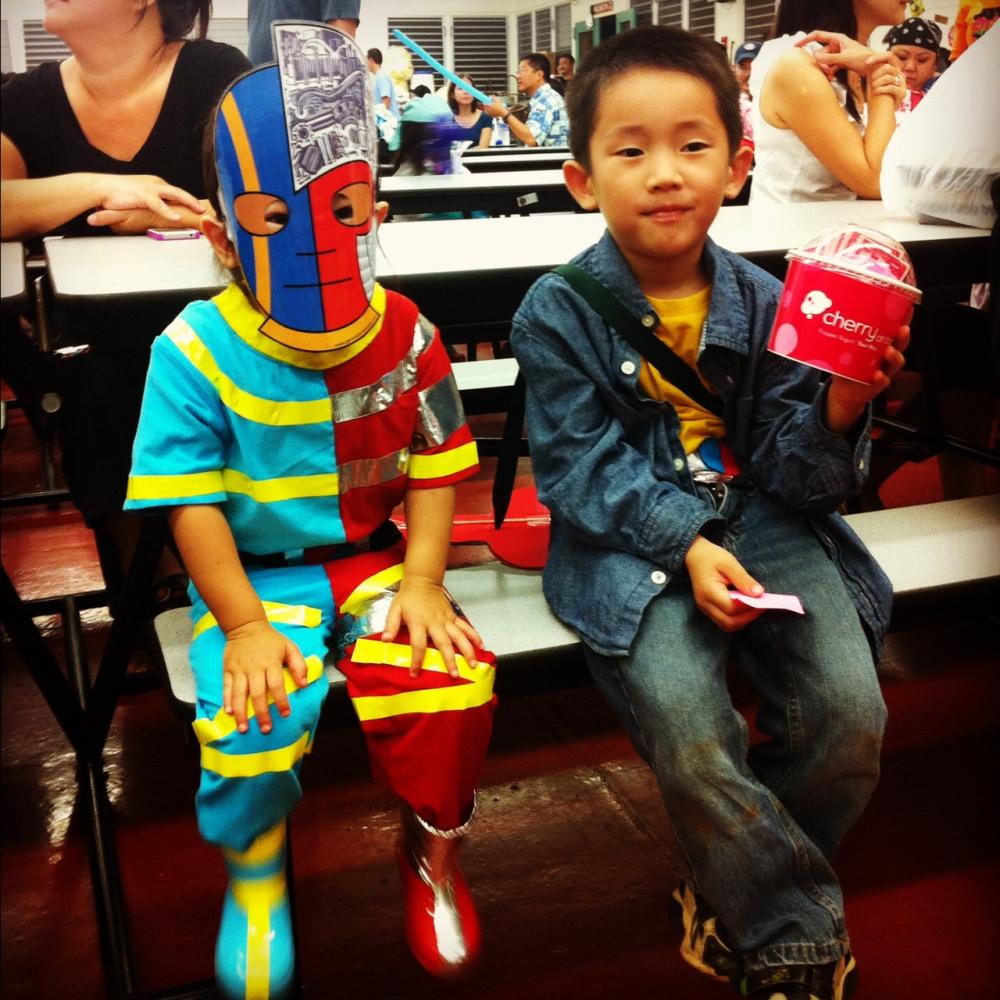 I'm honestly not sure who's more excited about celebrating Halloween—the kids or me?
As you've heard me say over the last few weeks, Ensen and Avery have been anxiously prepping for Halloween and getting into the holiday spirit—eagerly waiting to don their costumes and reading Halloween books at bedtime. Kelly (a.k.a. costume seamstress) has been busy shopping, measuring, cutting and sewing away as she creates the kid's Kikaida costumes. As you can see in the photo above, her hard work has produced awesome results.
So why am I so excited? As a proud husband and father, I've really enjoyed watching the excitement and joy all the preparation has brought our family as we celebrate one of our favorite times of the year (Christmas and New Years will always rule). It's also the one day of the year we can take the kids out all dressed up and not get any funny looks. Yes, we're often THOSE parents who let their kids wear anything, anywhere and for good reason. I'll come back to this in a moment.
Kelly's been sewing custom costumes for the kids since Ensen was born and it's become somewhat a family tradition. Once the kids chose to dress up as their favorite super heroes—Jiro and Kikaida, this year, I couldn't wait to see the final product. In true Kelly fashion, she didn't disappoint. There will be more priceless photos added to the family album for sure.
Back to my "wearing anything, anywhere" comment. Kelly and I have always believed in letting Ensen and Avery's creative imaginations run wild. They both love to pretend play together and by themselves, which usually results in some incredibly delicious make-believe meals and dressing up in some wild outfits. At one point, Avery was into layering her clothes…shirt, shorts, another shirt, a skirt, then another shirt and another skirt…cute in the oddest way, but she was proud of her style and we let her run with it.
I recently came across a great read about the Importance of Pretend Play on Scholastic's website that highlights the benefits of this kind of activity in a child's life. The benefits include development of social and emotional skills, language skills, thinking skills and nurturing the imagination.
Pretend time is one of the most precious and memorable moments our kids share with us, while at the same time providing a reality check on how we're doing as parents. Just listen to the things your kids say when taking care of their pretend baby. Are they nurturing and loving or mean and impatient? Watch and listen as they negotiate and compromise when an item such as a stuffed animal is involved. Does that scenario sound and look like you?
The bottom line for Kelly and me is as long as Ensen and Avery are happy, we're happy. Even if that means dressing up like Woody from Toy Story while we go furniture shopping (I swear, this really happened!)
Wishing everyone a safe and very Happy Halloween!!
Nathan Kam is a Honolulu public-relations executive, husband and a proud daddy of two incredible kids, Ensen (5) and Avery (2), who enjoys cooking, gardening, traveling, blogging and golfing. You can reach him via email, Twitter, Facebook, LinkedIn or via his personal Kam Family Blog.