Downtown Honolulu Welcomes New Store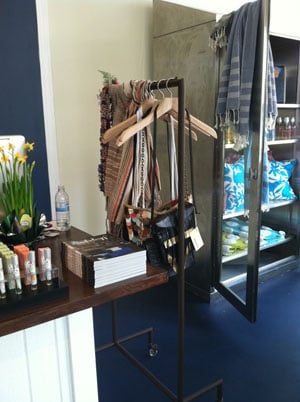 A new boutique has finally blown the dust off The Stack Building in downtown Honolulu. Owens & Co. offers a fresh blast of products you haven't seen elsewhere and an adorable, blue and yellow décor. I've been rooting for this historic building, located on Nuuanu at Pauhi Street, as it's been empty since 2004. The original was constructed in 1905; it collapsed in 2001 and then was lovingly reconstructed in 2004, and then… nothing, nada, just "for lease" signs. Owens & Co. has arrived at last, a worthy use of the space.
Inside, you'll find owner Missy Owens Mull, presiding over a carefully culled offering of home and fashion items. Colorful steak knives from a French company, for example, sit alongside coverlets printed by the Otomi Indians of Mexico. Vintage, refurnished chairs cozy up to robes and handbags. "I pick things that I love," says Mull. "Linens, fragrances… I source from all over. I'm trying to feature things that other stores don't have." Mull says she'll be introducing new products monthly.
If you're looking for a great gift for an office mate, Mull says you can't go wrong with a potted succulent from Lanikai Pot & Plant. The desk-size plants require little care and are potted in reclaimed pots, or, in handmade porcelain containers. Another clever gift idea: Turkish towels, which are thin enough to use in many ways: as a shawl, a beach blanket, a sarong, or patting yourself off after a dip in the ocean.
It took seven years to fill this historic downtown space, but Owens & Co. was worth the wait.
1152 Nuuanu Ave., 531-4300.