Dollars and Sense: The Importance of Kids' Savings Accounts (Sponsored)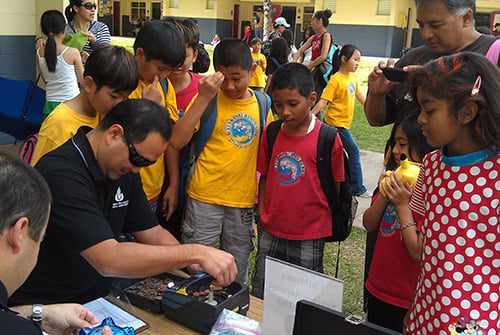 We've all heard the saying "Money doesn't grow on trees." In fact, it seems most kids believe it grows, instead, in their parents' wallets!
Learning to save is one of the most important financial lessons a parent can teach. However, it is one that often falls through the cracks. Now a local credit union is helping out.
In August of 2008, Dr. Michael Cheang, a University of Hawaii at Manoa professor surveyed parents of children at 17 public elementary schools across Hawaii to see how many parents helped their children save money. All of the schools surveyed had 50 percent or more of their students who qualified for federal lunch subsidies. Here is what he discovered:
1) Parents overwhelmingly (98 percent) said saving for the future is very important,
2) 99 percent want to save money regularly.
3) Yet almost 40 percent of these same parents were not saving, and one out of two of the parents had not started their children saving.
On the other hand,
4) 93 percent of parents like the idea of a school-based savings effort, and
5) 92 percent would help their children to save if a school based saving program was available.
Based on the results of the survey, Dr. Cheang partnered with a credit union to start the Hawaii Kids' Savings Project at one public elementary school on Oahu. The program provided $25 in seed money and a piggy bank to each child who opened a savings account. Within nine months, 68 first to fifth graders saved over $12,000. Four years later, the project has over 1,800 children from 28 public elementary schools across the State of Hawaii, and collectively, the children have saved over $223,000.
Dr. Cheang also learned on a national level:
Less than 10 percent of students from low-income families graduate from college.
The importance of the program is not how much is being saved. Rather, the ability to save enables people to think about what is possible for them.
Children with savings accounts are more likely to get better grades and complete more years of education regardless of their family's income level.
Youth with savings accounts are more likely to graduate from high school.
Among the youth expected to attend college, those with savings accounts in their names are four to six times more likely to attend college.
The Hawaii Kids' Savings Project reflects the national perspective because the accounts are established at a critical stage of development in a child's life, and the initial seed money provided to each child is instrumental in helping that child to get started with saving money.
Since 2009, Hawaii Schools Federal Credit Union has been an active partner in the Kids' Savings Project with Dr. Michael Cheang. Each month, credit union employees go to designated elementary schools to collect deposits and they enjoy helping the children count what they have saved in their piggy banks.
The impact of this savings effort for the children is not only measured in terms of dollars and cents. Parents are reporting that their children are becoming more aware of their money choices, and the parents are very appreciative of such an opportunity to help their children develop a life skill early in life.
Hawaii Schools Federal Credit Union is a full service financial institution serving the public education community (employees, volunteers, students and their families) for over 75 years. Members enjoy consistently competitive interest rates along with a full array of free and discounted benefits and services. For more information on how you can start a Savings Account for your child, or to have your child's school be involved in the Kids' Savings Project, please call Hawaii Schools Federal Credit Union at 521-0302.