Disney Hawaii Aulani Resort Makes a Big Food Move, Hires Top-End Chef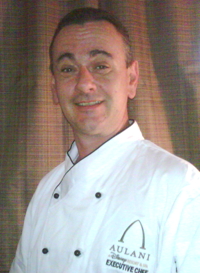 There's one thing that's never been magical in Disney's Magic Kingdoms—and that's the food.
Watching your youngsters squeal with delight at a college student dressed like Goofy while paying top dollar for a mediocre meal–that's the usual Disney culinary experience.
That may change in Hawaii.
The new Disney Aulani Resort in Ko Olina, Oahu, has hired Patrick Callarec as its executive chef. Trained in his native France, Callarec has had a long career at Four Seasons and Ritz-Carlton hotels, including nine highly acclaimed years as executive chef at the Ritz-Carlton Kapalua on Maui.
After the Ritz, he moved to his own small restaurant, Chez Paul, in Olowalu, a Maui town best described as "conveniently located on the way to nowhere." He won endless praise, including a Hale Aina award, for his classic French cuisine. The food was, in fact, precise, rich and powerful: lobster bisque with crème fouetté, foie gras on sauteed pear, fish in Champagne sauce.
When the recession took a bite out of the market for high-end French food on Maui, Callarec closed Chez Paul in 2009 and went to the Ritz-Carlton in San Francisco, where the Disney folks found him.
They asked if he'd consider moving back to Hawaii. He said, "I'm coming if I have to swim."
The new Disney Aulani will not open until August, 2011. It will have three restaurants–a poolside restaurant that will also serve food and beverages on the beach, a family buffet restaurant called Makahiki, and a high-end restaurant called Ama Ama, where Callarec is most likely to work his magic.
Ama Ama may turn out to be one of the most stunning beachside restaurants in the state. (That's an artist's rendering to the right.)
One of Disney's chief "Imagineers," Joe Rohde, took us on a recent walk-through of the site. "Ama Ama won't look like a new building," he says. "It will look like we found the family home of some fishermen on the site and refurbished it. It will look organic, as if it grew up here."
At the moment, the walls are up at Disney's resort, but not much more. Callarec is planning menus and hiring a staff. If you are interested in joining his team, you must apply online. Click here.