Dining Disaster, or How I Ended Up with Pizza for Supper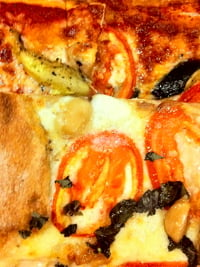 This weekend, Biting Commentary did something he's never done before: walked out of a restaurant. He likes restaurants, but usually you get something to eat.
Here's what happened: Praseuth "JJ" Luangkhot, the master pastry chef of JJ's Bistro and French Pastry, had re-imagined his new restaurant, a few storefronts from his original location.
He began the new restaurant as J2, an Asian fusion eatery. Biting Commentary thought it was an enjoyable menu (see the review here), but it never caught on with the eating public.
So JJ, applause here, changed direction, renaming the place Le Cacao Bistro: Home of the Warm Chocolate Cake.
Warm chocolate cake made Biting Commentary think of his older daughter, who, as a high schooler, actually mastered Roy's molten chocolate cake recipe. A family dinner was in order.
When Biting Commentary en famille arrived, the new restaurant was packed.
We ordered. Immediately after, Biting Commentary remembered he had to text something to a friend.
People get impatient in restaurants, sometimes insist they've waited a half hour when they've waited 15 minutes. But a text has a time stamp, and Biting Commentary knew he ordered by 6:45 p.m.
At 7:45 p.m, even the appetizers hadn't arrived, much less dinner. Biting Commentary is a patient man, but an hour is too long to sit hungry.
We walked out, drove to Whole Foods and bought $17 worth of pizza and drinks. Cheap, fast and good. Thanks, Whole Foods.
Talked to JJ this morning. Not anticipating the rush of new business, he had been short staffed. "The waiters didn't follow the system I set up, either," he said. "I was so busy on my side, nobody told me there was a problem."
There was a tense meeting after the restaurant closed that night. "It won't happen again," says JJ.