Decoding Robotics: Everything You Need to Know About Hawai'i STEM Programs
How to play the "sport of the mind" and have fun learning with science, technology, engineering and math.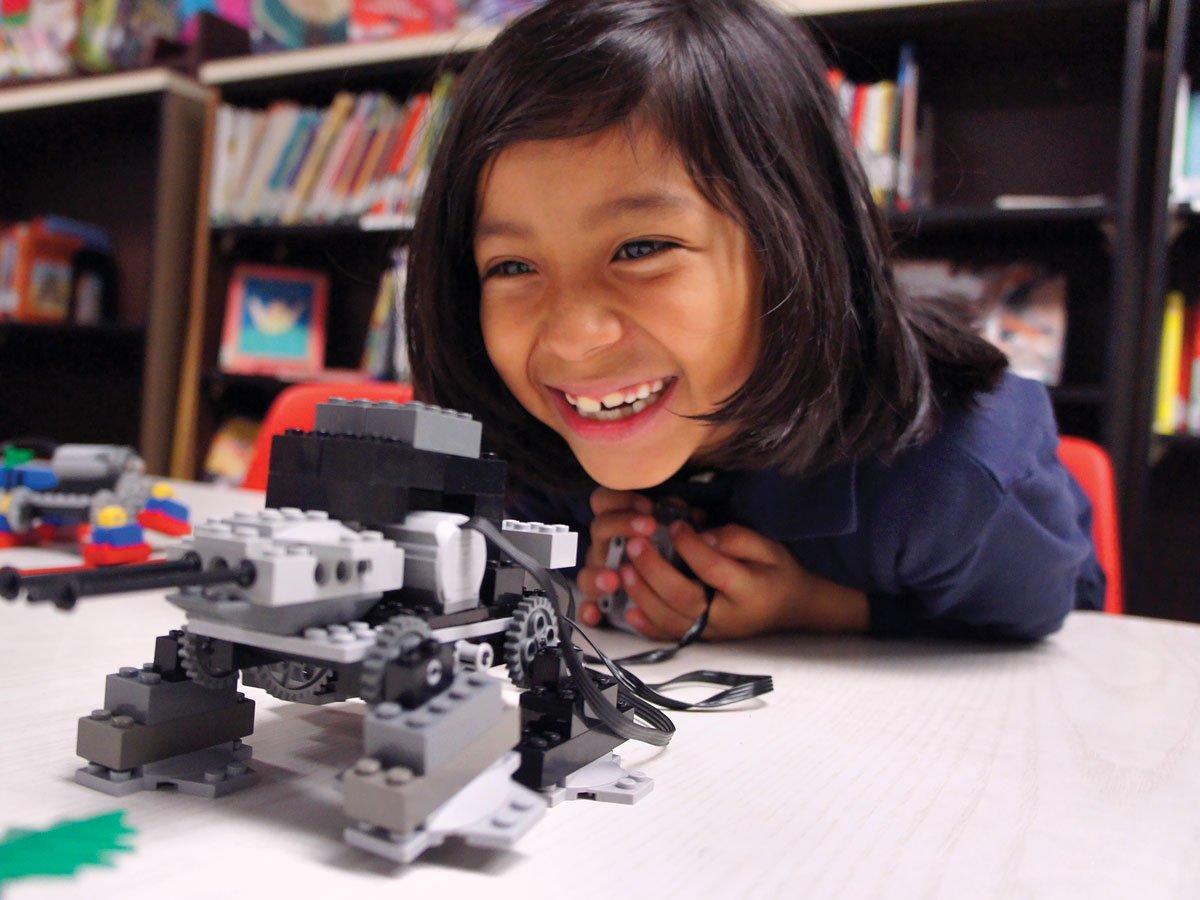 Photo: Courtesy of Play-Well TEKnologies
Play-Well TEKnologies
Visit Mānoa Elementary School any weekday afternoon and you'll find a couple of dozen students coding and driving robots on large tables in the library.
"We're making a 5-to-1 torque lift," says 10-year-old Jackie Furuta. It's pretty technical language for a fifth-grader, but her entire team understands as they work together on a robot built to lift and drop yellow and orange discs into goals.
Confused? So are many of us parents. Robotics and STEM (science, technology, engineering and math) programs are growing at an exponential rate.
This is not a niche activity. The toy aisles are filled with kits touting STEM activities. Last year, Little Tikes came out with a STEM line of lab equipment and tables designed for toddlers. And 20 years after the first robotics class launched in Hawai'i, more than 700 schools and community groups are now offering competitive programs. That's on top of the building and coding classes, camps and events for children in preschool through 12th grade. Here is a guide to help you get started.
The Competitions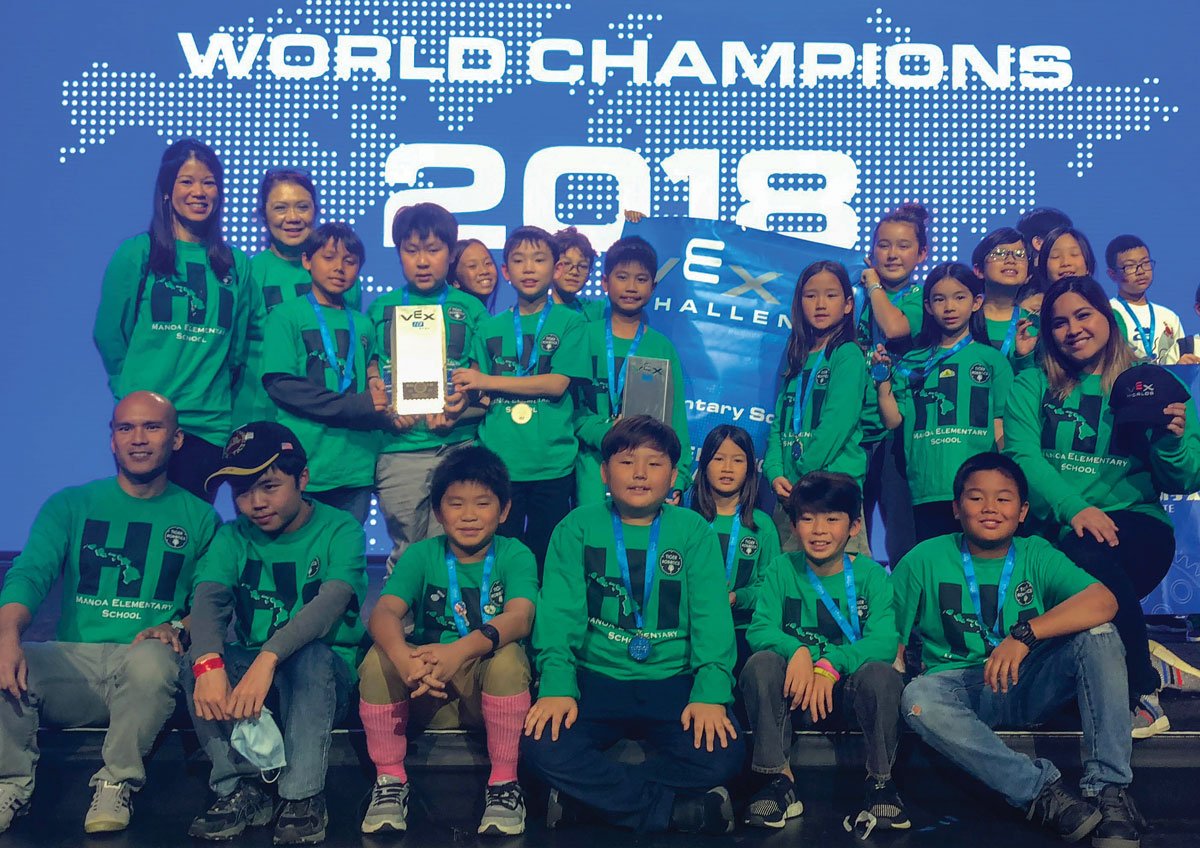 Photo: Courtesy of Mānoa Elementary
Mānoa Elementary
In schools, the two main competitive robotics programs are VEX, and FIRST. Each offers different levels of difficulty, its own building kits and organized competitions.
Mānoa Elementary has four VEX IQ Challenge Robotics teams made up of fourth- and fifth-graders. The teams build and program robots, create another STEM project and document their progress in detailed binders to submit to judges at competitions. These keiki are serious about their work—and good at it too: They beat 400 teams from around the world to win the world championship title in Louisville, Kentucky, last May.
"I love robotics," Furuta says. "It gives people a challenge in life and teaches you teamwork; to create a robot you have to work together."
At competitions, students not only engage with their teammates, they also form alliances with other teams. Pairs of teams work together to have their robots score as many points as possible in a game. The teams that score the most points advance to playoffs and championships, just like sports teams. "They call it the sport of the mind," says Glenn Lee, a Waialua High and Intermediate School teacher credited with bringing robotics to Hawai'i back in 1999. He now leads six robotics teams at the school.
"It's grown astronomically worldwide; you're talking about 30 countries that do FRC (First Robotics Competition) and 25,000 VEX teams," Lee says.
"A Real STEM Learning Environment"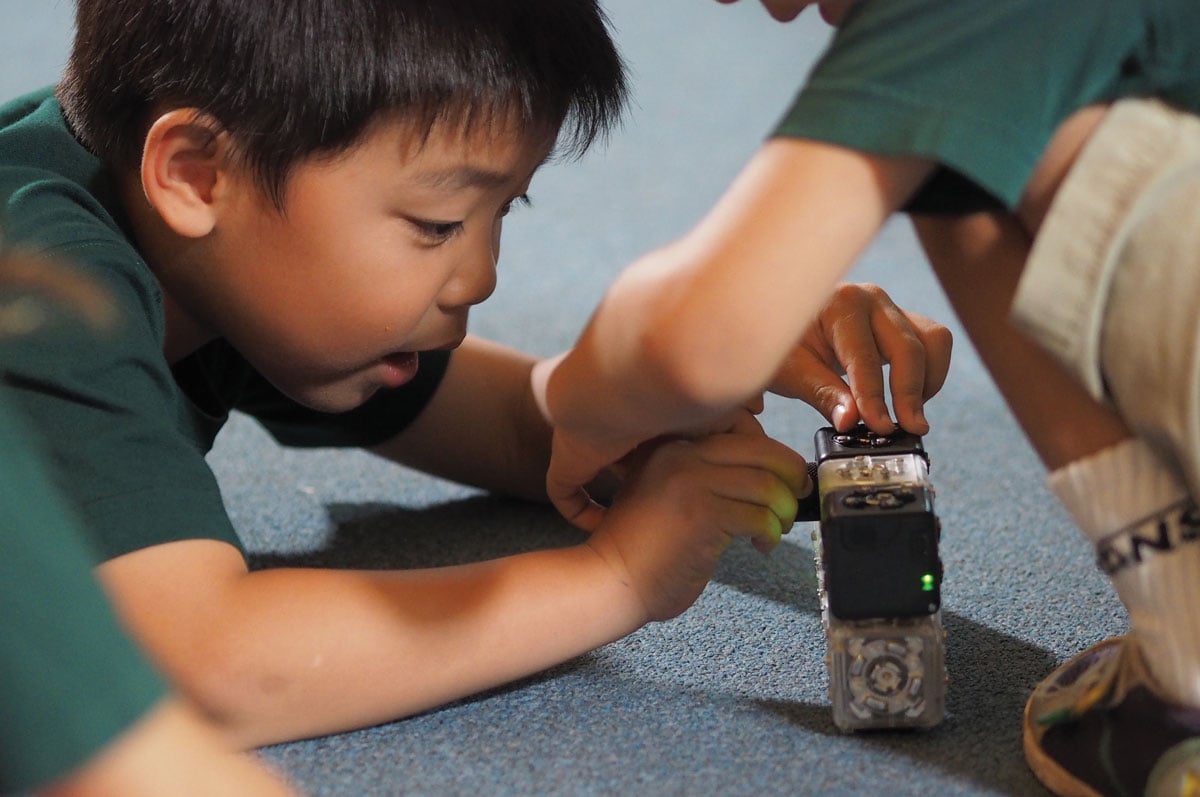 Photo: Courtesy of Mid-Pacific Institute
Mid-Pacific Institute
While students have fun building and competing with their robots, they have to learn dedication and persistence. Teams practice as many as 10 to 15 hours every week for almost the entire school year. The skills they learn along the way are valuable.
Some experts are saying "over 90 percent of the jobs in the future will be STEM-related, where you need technology skill sets," says Lee. "The job market is going to be in STEM so you want people to get that experience from kindergarten."
That may sound like an exaggeration. It isn't. At the recent Hawai'i Association of Independent Schools' Schools of the Future Conference, teachers from Mid-Pacific Institute gave a lecture on "Coding for Kindergarteners."
Since coding is a language, the earlier kids start, the more fluent they will become, they explain. Conference attendees were shown Scratch Jr., a visual programming language available as a free app, and Cubelets, magnetic cubes used to create modular robots. Five- and 6-year-old children at Mid-Pacific Institute use both, learning through play.
Lee, the Waialua robotics teacher, says hands-on STEM experience is essential for Hawai'i kids to keep up with the evolving worldwide job market. "The best place to get that, to me, is in a robotics program," he says.
Lee started as an electrical engineer. In the 1990s, he started teaching to make enough money to attend business school. He loved coaching students in electric vehicle and robotics competitions.
"Being able to create a real STEM learning environment has allowed me to teach," he says.
"If it wasn't for [the robotics and electric vehicle] programs, I would have left education a long time ago."
He now holds three part-time positions in addition to his full-time job as a career and technical education coordinator at the school. His dedication was rewarded last year when he was named the sole American finalist for the Global Teacher Prize by the Varkey Foundation. Lee attended an award ceremony in Dubai with celebrities including Al Gore, Trevor Noah and Charlize Theron.
While Lee is proud of the distinction and his teams' many successes on the robotics playing field, his main source of fulfillment is seeing more and more of his former students pursuing careers in STEM fields.
Thinking Big
Back at Mānoa Elementary School, robotics already appears to be influencing students' plans for the future.
"I want to be an aerospace engineer," says Furuta, the Mānoa Elementary fifth-grader. "Before robotics I wanted to be in the Army or be a pilot, but now I love robotics so much I want to continue and build things that go into outer space."
Fourth-grader Leland Hara wants to be a cardiothoracic surgeon while teammate fifth-grader Aidan Gia-Diep plans to become an anesthesiologist. Other students say they dream of becoming mechanical engineers, inventors or designers.
Several of these elementary school kids may end up in careers that have not yet been invented. For parents, the uncertainty can be unsettling. How can you prepare for something that does not exist? But for these kids, that's half the excitement.
Fifth-grader Brendan Kajioka says he wants to be a "YouTuber, playing video games" when he grows up. His teammates ask if he'd play Fortnite, to which he responds:
"No one will play Fortnite by then. There will be different games and it'll all be VR (virtual reality) by then anyway."
Classes and Camps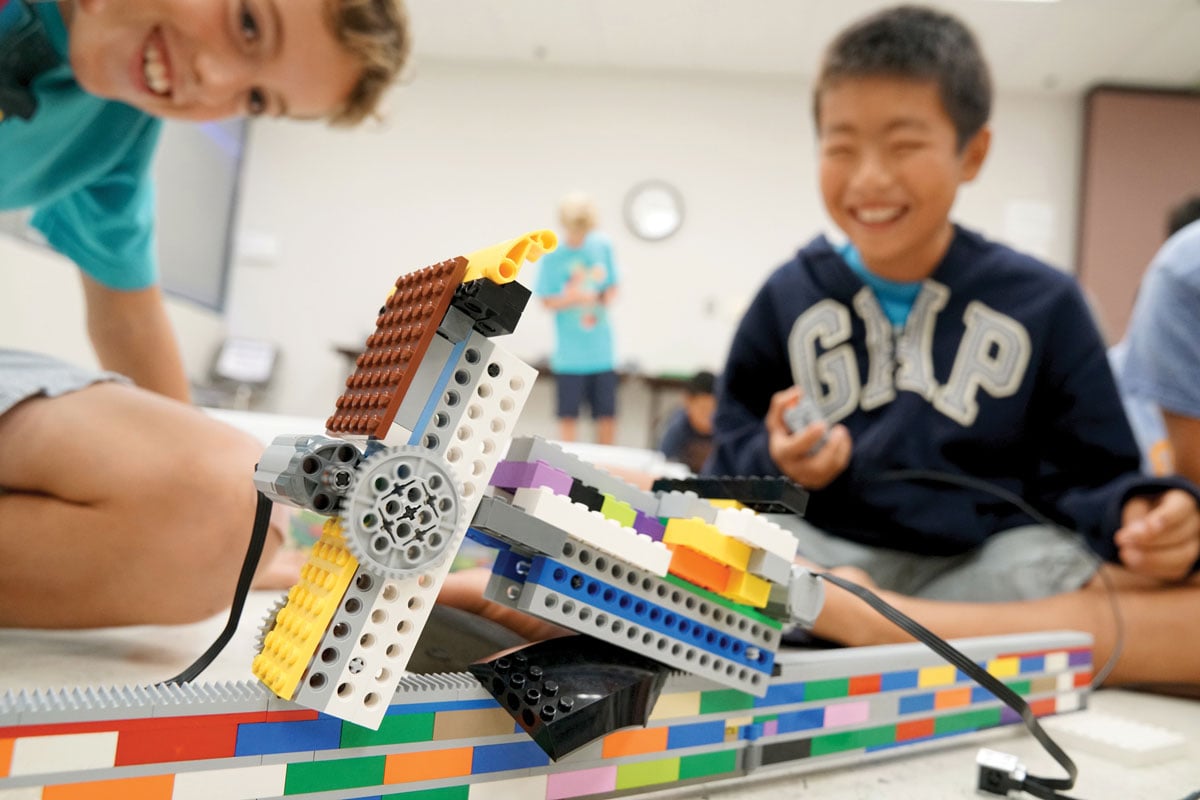 Photo: Courtesy of Play-Well TEKnologies
Play-Well TEKnologies
Younger children and students who don't want to commit to the rigorous schedule of competitive robotics, or attend schools where robotics is not offered, can hone their building and coding skills in a variety of extracurricular programs.
At Play-Well TEKnologies' after-school classes and school-break camps, you'll find keiki diving into more than 20,000 LEGO bricks and building everything from Minecraft and Star Wars characters to haunted houses and carnival grounds. Then, they add motors and pneumatics to make their creations move, light up or make noise. Some classes also use robotics with LEGO WeDo, EV3 and LEGO Teknics.
"LEGO is an amazing tool for learning through play and visualizing an endless amount of possibilities," says Wrenn Okada, Play-Well TEKnologies area manager.
"LEGOs are meant to be broken, rebuilt and improved upon with every version of your project," he says. So while keiki do learn to build specific items, they can also bring to life their own inventions.
Okada brought the program to Hawai'i after teaching classes in the Bay Area. Although his background is in design and fine arts, he speaks enthusiastically about first-graders understanding concepts, such as inertia and potential energy.
"I'm thinking beyond college and jobs," he says of his students' future endeavors. "I'm thinking about how these kids can create solutions for the world."
Getting Girls Involved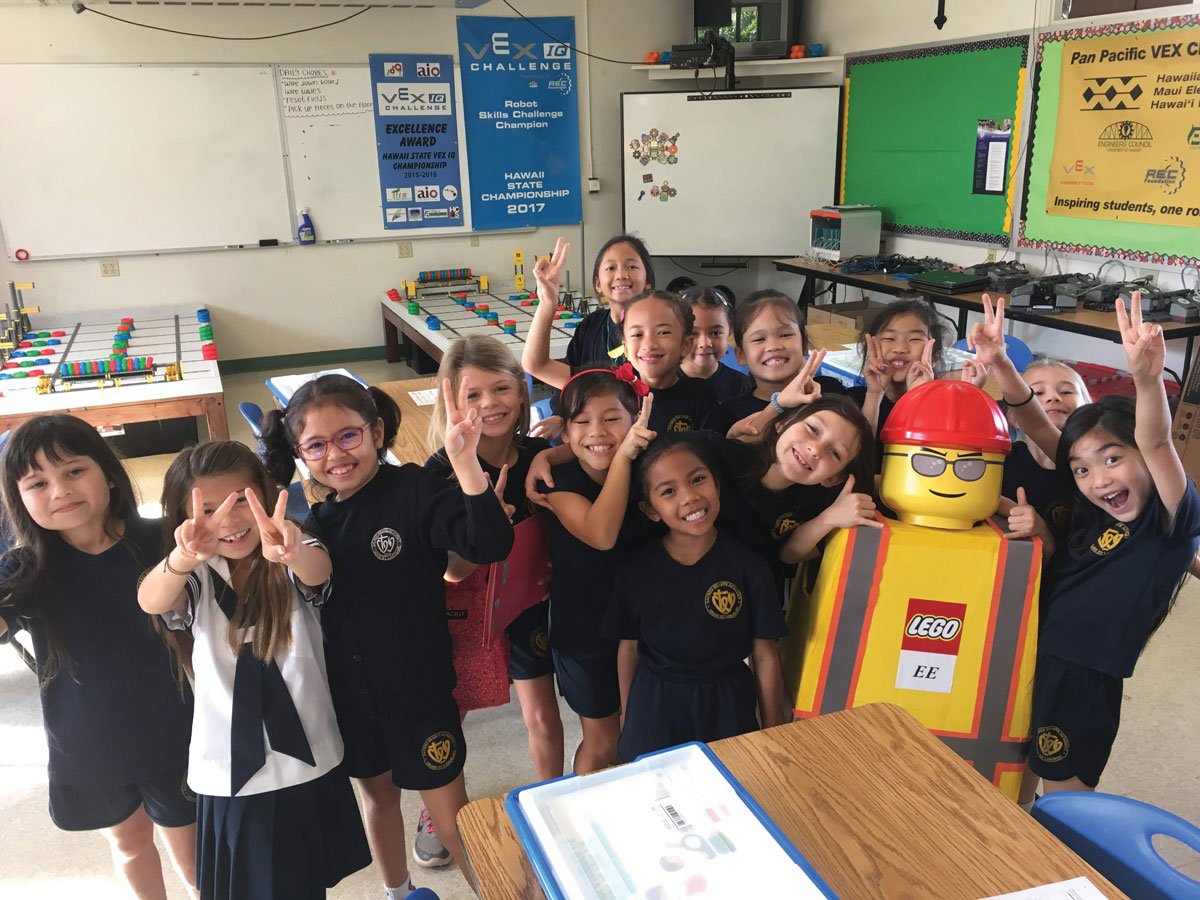 Photo: Courtesy of Sacred Hearts Academy
At a recent Play-Well TEKnologies school-break robotics camp, there were 18 boys and just two girls in the program. Both of the girls had brothers in the class.
While the male-female divide isn't always so drastic, "it is common knowledge that STEM fields have historically been dominated by men," says Betty White, head of school at Sacred Hearts Academy.
"One of the biggest fallacies about the lack of women in STEM is the widespread, incorrect belief that their brains just 'aren't made for it,'" she says.
Fewer women in STEM jobs is part of the reason women earn less than men. STEM professions pay 33 percent more than other jobs, but women hold only 25 percent of the nation's STEM positions, according to the U.S. Departmentof Commerce.
"The primary difference between girls' and boys' interest in STEM is not biological," White says.
Boys and girls have similar aptitudes for STEM, but girls, especially once they reach middle school, lack positive engagement and encouragement from parents, teachers and society, she says.
Girls also appear to have misconceptions about what STEM careers are. White points out that a Microsoft study found that 72 percent of girls polled said it was important for them to have jobs that directly impact the world, but only 37 percent thought of STEM jobs as making the world a better place.
"STEM careers are some of the most powerful ways to make positive change in our world," she says. "Think of cancer research, pure drinking water, or developing applications to support classmates with anxiety and depression."
To educate and inspire them, Sacred Hearts Academy offers free annual science and STEM symposiums for girls in fifth through 12th grades. The workshop days, typically held in February, gives students from both public and private schools hands-on learning experience from female STEM professionals. The popular events fill up quickly every year.
"Girls cannot be what they cannot see," says White. Getting to suture with a woman surgeon, practice coding or explore an art career using technology "opens an aperture to careers girls may not have known existed."
Mānoa Elementary coaches say that when they encourage girls to sign up for robotics, many of them say they're too busy with hula, ballet practice, sports or other extracurricular activities.
At Waialua, robotics coach Lee says his teams used to have more boys than girls but the numbers are now equal. Still, he says girls initially tend to opt for roles involving documentation, graphics and website design instead of construction roles. But even that can serve as a gateway to becoming a programmer or builder.
Lee is a father of two young girls, and says parents can make a big difference.
"When parents don't provide girls with experiences like working on car parts, they won't gravitate toward it naturally because they've never done it," he says.
---
STEM Classes and Camps
Here are six other local businesses that offer classes for kids.
Apple Store
Free coding classes with Sphero robots (for children 6 to 12 years old) and Swift Playgrounds app (all ages).
Locations in Ala Moana Center, Kāhala Mall and Waikīkī. apple.com/today
B3–Bricks, Bots and Beakers
LEGO brick building, coding and science experiment classes and camps for preschool through middle school students.
Offered in 10 locations on O'ahu. bricksbotsbeakers.com/index.php/hawaii
Brick 4 Kids
LEGO brick building and robotics classes, camps and parties for preschool and elementary school children.
Offered at 26 locations on O'ahu. bricks4kidz.com/hawaii-oahu-honolulu/
Center of Innovation
The Hale Pono 'Ewa Beach Boys & Girls Club has a dedicated STEM teacher and offers access to a variety of engineering and computer programming challenges for children 7 to 17 years old.
91-884 Fort Weaver Road, 'Ewa Beach. (808) 689-4182, bgch.org
Little Oha Bitty Bytes
Keiki use littleBits circuitry modules to learn about, build and experiment with electric circuits. Classes and workshops are for pre-K through elementary school children.
Classes held at Computational Thinkers, 4224 Wai'alae Ave. #2. (808) 230-6650, littleohabittybyte.wixsite.com/home
Sylvan Learning Center
Robotics, coding and engineering after-school and weekend classes for elementary and middle school students. Children work on individual projects with the help of a shared tutor.
4211 Wai'alae Ave, Suite 30 and 95-1249 Meheula Parkway, Mililani. sylvanlearning.com