David Nagaishi joins Il Lupino; Back with Chef Nick Sayada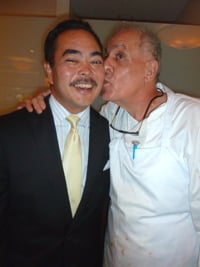 Here's the story.
Three days before Christmas, David Nagaishi, then manager of Ocean House at the Outrigger Reef Hotel, had a problem.
He called an old friend, chef Nick Sayada. "He says, 'I need you,'" recalls Sayada. "I ask him When? He says, 'Right now.'"
"He didn't hesitate," says Nagaishi. "He came and worked through Christmas, through New Year's. Just to help me out."
The two go way back, to the 1980s at Nick's Fishmarket and the Black Orchid. Sayada's career has since taken him through many stops: Duc's Bistro, Maharaja, Cascada, Tulips, personal chef to Carolyn Berry.
So has Nagaishi's, on his way to becoming one of most recognizable restaurant managers in town: Mariposa, Bali Room, Don Ho's and then a nine-year stint at Ocean House.
Sayada's time at Ocean House was necessarily limited; he agreed to become chef at Il Lupino, which opened this year.
"Still, I was grateful to Uncle Nick," says Nagaishi. "He was there when I needed him."
What Nagaishi didn't anticipate was the phone call six months later.
"I called him and told him I was having a nervous breakdown," says Sayada. Il Lupino had some growing pains, and Sayada wanted a new manager, an old pro, an old friend.
Despite a long career and a comfortable situation at Ocean House, Nagaishi couldn't resist. He became manager of Il Lupino last month.
"I had to return the favor," says Nagaishi. "Uncle Nick's got that passion. I remember him never letting anyone wash his lettuces, because he'd baby them with gentle hands. He's gentle with everyone, even his cooks. I'm the hammer."
It's a case of mutual passion for restaurants. "I can't believe it. I'm old, I can't sleep late, but when I got in this morning at 7 a.m., David was already here," says Sayada.
"Stuff to take care of," says Nagaishi.
What the two scent is a chance to become Honolulu's top Italian table. "Uncle Nick took me to Taormina and said, their pasta is better than ours, so we searched and found another Italian pasta, amazing, really expensive," says Nagaishi.
The kitchen is now humming. It seemed a shame not eat.
Stracciatella, fresh mozzarella in cream with balsamic vinegar caviar.
Mushroom pasta with both fresh and powerfully flavored dehydrated mushrooms.
Veal scallopini with capers.
White chocolate panna cotta with berries in orange rind compote.
Amazing flavors.
One other note: Il Lupino has added John Wilson, formerly of Chef Mavro, as sommelier, and he's working on improving the list with things like a reasonable SuperTuscan from Bolgheri.
Being a Mavro alum, he's also heavily into pairings, a natural from a Mavro alumnus. He matched the panna cotta with a Justin Obtuse, a match so unbelievably compex, the wine slipping underneath the dessert flavors and elevating them, that it seemed magical. Don't even get him started on old Spanish dessert wines and Gorgonzola.
Il Lupino now boasts a trio of talent, serious restaurant pros who still have a passion for what they do. Biting Commentary is anticipating some fine meals.
Il Lupino, first level, Royal Hawaiian Center, 2233 Kalakaua Ave. (808) 922-3400, website here.