Dare to Drink Pink: Rose Tasting, Vino, Aug. 3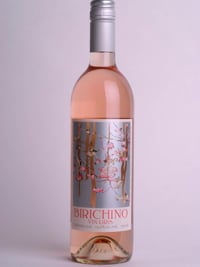 There's a prejudice against rosé wines.
"Pink wine? Pink wine?!" my father used to say, in the face of my youthful enthusiasm for Portuguese rosés like Mateus. "When are you going to grow up?"
I grew up, drank cabs and chardonnays. Then I tasted a French dry rosé on a hot day on the Big Island. It was perfect, low alcohol, food friendly, quaffable, cooling.
"You go along the Mediterranean in the summertime," says Master Sommelier Chuck Furuya, "and on every table in every café, you see a carafe of pink wine. It goes perfectly with summer weather and lighter summer foods."
Furuya's palate is somewhat more advanced than most, and in his view, there are only eight or nine rosés that are really worth drinking. "And I've got five of them to taste next Wednesday!" he says. "One of them I've waited six years to get."
The problem with most rosés is that they are a byproduct of making red wine. "The juice sits on the skins too long, and that's means it's either bitter or they add sweetness to mask the bitterness, but it's still there."
To Furuya, a winemaker has to set out to make a rosé, even though that's not a highly lucrative thing to do.
He sent me an email to explain: "To make a great rosé, you have to have thinner skinned grapes (Cinsault, Carignane, Sangiovese, Pinot), lighter soils (limestone is a really good one) and a lighter hand in the winery. That's why there are so few good ones."
Here are the five "good ones" Furuya is ready to uncork at Vino:
2010 Birichino Vin Gris, the only California wine, made by former Bonny Doon winemaker John Locke. That's Locke on the left, looking like a mad scientist, blending his old-vine wines.
2010 Corte Gardoni Bardolino Rosé "Chiaretto," a highly regarded rosé from the North of Italy, Romeo & Juliet country
2010 Castello di Ama Rosato, the superstar Tuscan rosé, hard to come by.
2009 Punta Crena "Pettirosso," which the winery brags is made only from its finest Sangiovese grapes, a rarity for a rosé.
2009 Bottex Vin du Bugey-Cerdon "La Cueille," a French sparkling wine with a hint of wild strawberries.
"These are wines you'll love," says Furuya.
Aug. 3, 6 p.m., five wines, 2-ounce pour, $39. By reservations only 533-4476 or email.
Vino, Restaurant Row, 500 Ala Moana Blvd., (808) 524-8466, www.vinohawaii.com