Da Secret Sauce: the right hot stuff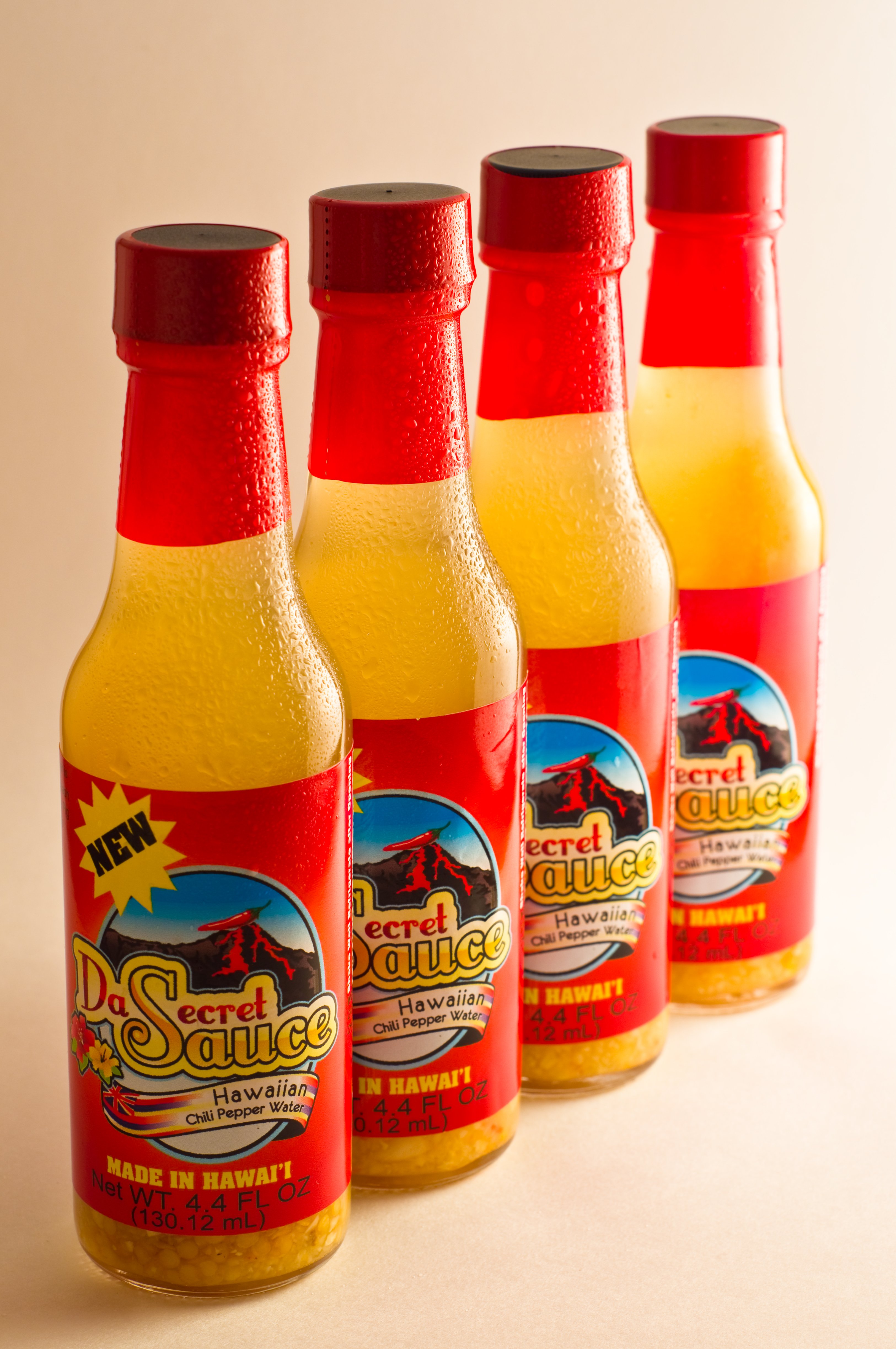 Until not that long ago, when it came to chili pepper water—one of Hawai'i's few completely original condiments (mango chutney is from India, dude)—there weren't that many commercial options. It was Parks Brand Hawaiian Chili Water in a plastic bottle (weak!), limited supplies from your favorite plate lunch spot (Karen's Kitchen's version is pretty good), or your uncle's concoction that he drinks with poke while watching football in the garage.
Then 2008 happened. With the tanking of the economy came an explosion of aspiring food entrepreneurs drawing on what seems like every family recipe on the island. Every once in a while I stumble across something that becomes a fridge fixture. At the last Food and New Products show, amidst all the infomercial-ready dust-collectors, I found Rex Moribe and his Da Secret Sauce.
The one-time pro bodyboarder has taken his family chili pepper water recipes and their heat preferences (mahalo grandma, auntie and mom) and "found the middle ground for everyone's tastes." Moribe reveals that as one of three sons, he was the picky eater, which made him resourceful. "When I got older I found out how I could tweak food so I could eat with the family," says Moribe, who works during the day as an IT guy. Using his survival tactics, and using Hawai'i Island-grown chilies, he has created a consistent, potent chili pepper water.
And the secret is the actually the lack of an ingredient. "No water! That's one of the secrets," says Moribe.
Moribe found the right ratios of garlic, chilies and vinegar. Da Secret has the perfect acid bite to cut the richness of laulau and add oomph to just about anything else. For a week I was addicted to slices of baked Okinawan sweet potato topped with just Da Secret Sauce—sweet and spicy.
His commitment to using only the highest quality peppers can come at a cost. At the Made in Hawai'i Festival in August, Moribe sold 700 bottles of Da Secret Sauce. "It took us three months to get enough Hawaiian chili peppers to make another batch," says Moribe.
Buy Da Secret Sauce online and at Diamond Head Cove in Kapahulu and Waialua Fresh in Waialua. Dasecretsauce.com
Watch an entertaining video on the development of Da Secret Sauce: http://www.youtube.com/watch?v=LyZiTyh_C1A&feature=share&list=UUdnMmKcdYZfjxcO8vIEoDjg
Lesa Griffith is a freelance food writer based in Honolulu. She intermittently updates her eatizenjane.com blog.