Custom Havaianas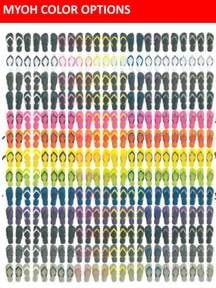 Classier than Longs black rubber slippahs, yet comfy enough to wear to a beach barbecue, Havaianas have long been a favorite on stylish Island feet.
What we didn't know is that Havaianas was holding back on us! Yes, at VIP events, the likes of Angelina Jolie and Natalie Portman have been able to custom create their own slippahs, or flip flops, as one might say in Los Angeles. They sip their champagne and trot off with cute sandals sporting their initials, or a tiny skull-and-crossbones. (We can only imagine that Jolie would pick something like that.)
Well, no more Hollywood secrets. Starting today, us non-famous people can now customize our own color combinations online, mixing and matching, or personalizing our slippahs with pins that go through the straps. Choose from 15 different straps and 15 footbeds, as well as 40 pin designs. Make Your Own Havaianas are $25 a pair, plus $2.50 for each pin. They'd make a great gift for bridesmaids at a beach wedding—even if Angelina isn't invited.