Curious Hawai'i Brings Life to Our Walls with Fun Shelf Designs
Living on a ledge.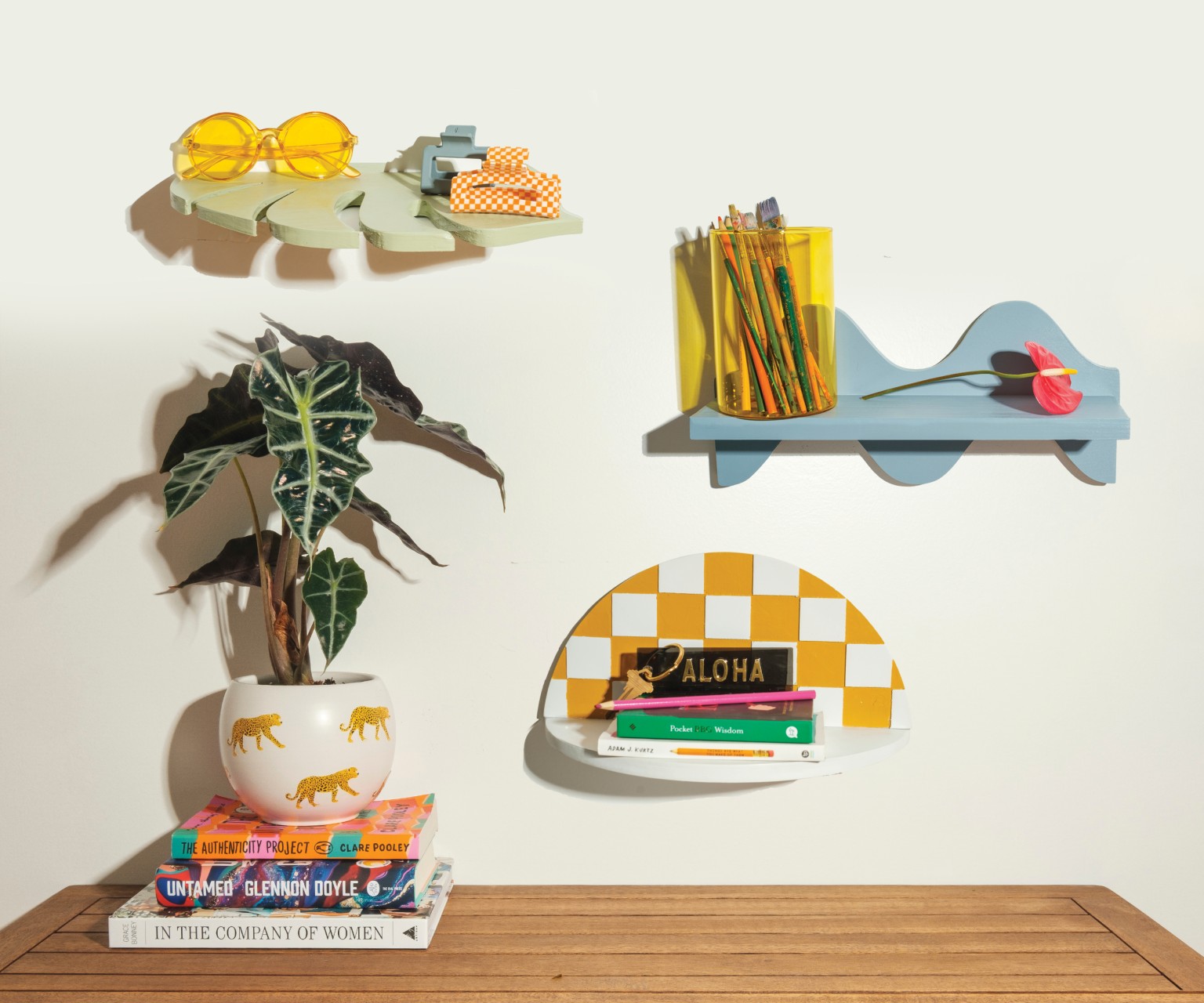 It takes Candyce Richardson  a few days to get back to us. Understandably, demand for her hippy-meets-happy floating shelves is through the roof and she's busy sketching, cutting, sanding, staining and painting. Day after day. The crafter connoisseur is a one-woman biz, and she's amazed that her pandemic "kitchen counter" idea is up on walls in all 50 states.
"I previously held jobs in accounting—no one believes this," she says, laughing. "My wife introduced me to woodworking. Slowly, I built the courage to take on jobs making displays and fixtures for retail spaces. 'Daisy' was my first floating shelf; I was obsessed with how it came out."
She wasn't the only one. Strong sales of her first prototype encouraged her to create more wood ledges in pine, poplar and Baltic birch. She expanded to other fun, retro shapes inspired by the feel-good '70s and Hawai'i's lush landscape. (Her monstera and checkerboard designs are home runs and sell out regularly.)
Now, the 27-year-old from Windward O'ahu is including planters and other home accessories in her lineup. Makes sense: A naked shelf should be dressed with cute eye candy. But Richardson had problems finding pots that offered the same groovy Curious vibe that fit on her shelves. So the "ferocious DIYer" found an amazing supplier and leveled up the look by painting her own designs. "I'll continue sourcing items that complement the feel-goodness of my shop," she explains. "It's physically demanding, but it's a total dream to create something with your own hands and see it come to life from an idea in your head, and have people love it. That drives me." In other words, a curious life isn't easy, but for Richardson, it's so worth it.
The shelves will frequently be restocked; other home décor items have short shelf lives. Check Curious Hawai'i's Instagram account for updates and fresh releases.