Creativity For The Win!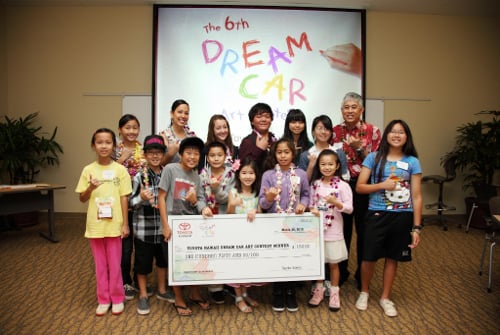 Artistic creativity. Kids are chock-full of it. Whether you've got an up-and-coming artist, photographer, or videographer in your family, here's their chance to show off their skills. There are a handful of fun art contests going on now, with opportunities for anyone from tots to teens to win some recognition and prizes for themselves and their classrooms. And with focuses on health, animal conservation, and engineering, hopefully they'll also learn a little along the way, too – and that's a win-win situation.
[*Disclaimer: Please see links to the official contest pages for full rules and details.]
The contest: AlohaCare's 11th annual statewide children's art contest



The mission: "Promoting healthy habits for children ages 4 to 12." --AlohaCare
The scoop: Ages 4 to 12. Submit a drawing using crayons, markers, colored pencils or watercolors on a 8.5" by 11" white paper showing "I keep healthy by…" and select one category: preventative health, mental health, nutrition, or physical activities.
The prize: First place winners in each age group will receive $100, and their teachers will receive $100 for their classrooms.
The deadline: Entries must be postmarked by March 1.
To enter and for all info: AlohaCare's contest page
—
The contest: Toyota Hawaii's "Dream Car" art contest
The mission: "The Toyota Dream Car Art Contest is intended to develop children's interest in cars through artistic creativity and imagination." –Toyota Hawaii
The scoop: All ages 15 and younger. Submit hand-drawn entries based on the theme of "your dream car." Must be in color, with a car and background setting, on tabloid-sized paper (11-12" by 16.5-18").
The prize: One winner in each age group will win an iPad Mini, two finalists in each category will receive $150, and finalists to the World Contest will win a trip to Japan.
The deadline: February 25.
To enter and for all info: Toyota Hawaii's contest page
—
The contest: Honolulu Zoo's amateur photography contest
The mission: "Our mission is to foster an appreciation of our living world by supporting and advocating environmental education, recreation, and biological study and conservation activities at the Honolulu Zoo. Any and all proceeds from this contest go directly to support of our Mission." –Honolulu Zoo
The scoop: Age categories are 4 to 11, 12 to 17, and 18 and over. Photos must be taken at the zoo between January and May 2013. No entry fee for keiki under 11, entry fee for teens is $7 and benefits the zoo's animal conservation fund.
The prize: Best in show receives $250 and a behind-the-scenes zoo tour. First place winners in each category receive $100 and a family membership. Runners-up receive a Twilight Tour for four, a $50 zoo gift card, or an animal adoption. Winning photos will be displayed at the zoo from July through August.
The deadline: Entries accepted on two days only, May 24 and 25, from 10 a.m. to 3:30 p.m. at the Honolulu Zoo.
For entry forms and all info: Honolulu Zoo's contest page
—
The contest: HMSA's Teen Video Awards contest
The mission: "The HMSA Teen Video Awards Contest gives students, working individually or in teams, the opportunity to create and produce their own public service announcement on health issues." –HMSA
The scoop: Open to middle school and high school students statewide. Create an original 27-second public service announcement in one of these categories: addiction prevention, healthy living, mental health, or teen safety.
The prize: Winners and their schools will receive cash to purchase video equipment or software, ranging from $250 to $1000.
The deadline: March 4.
For more info: HMSA's contest page
—
The contest: Zippy's annual drug-free drawing contest
The mission: "Zippy's is committed to being a drug-free company and teaching everyone that being drug-free is the only way to be!." –Zippy's
The scoop: Open to Hawaii students in kindergarten through 12th grade. This year's theme is "Shine Bright Like Me. Be Drug-Free!" Create a hand-drawn poster on the provided paper (pick up at Zippy's locations or download from link below).
The prize: The Grand Prize winner will receive a family trip for four to a California theme park, $200 cash, $300 in Zippy's gift certificates, Kumon 6-month scholarship, and will be featured in a Zippy's keiki menu. The teacher of the grand prize winner will get a $500 gift certificate from Fisher Hawaii. Category winners will get $150 gift cards to Toys 'R Us or GameStop, and their teachers will get $150 to Fisher Hawaii. The People's Choice Award winner will receive a Nintendo Wii-U.
The deadline: February 28
For more info: Zippy's contest page
Good luck!
Ashley de Coligny is the proud mother of Ella (5) and Charlie (2). She usually has applesauce in her hair and can name all of the My Little Ponies. You can reach her via email, Twitter, Facebook, or via her personalHonolulu Mom blog.