How to Create Lasting Family Holiday Traditions
by Carol Gioia
Customs and traditions give special meaning to the holidays. Events that family members can look forward to year after year add a deeper dimension to the holidays, strengthen the family bond and create lasting memories.
Some traditions are established, practiced for a couple of years, and then gradually fade away. Others have staying power from generation to generation, bringing the family closer together and allowing each individual member to gain a deeper appreciation of their family history.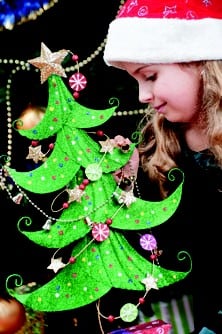 How to create lasting family holiday traditions
If you have ever asked yourself, "How can I create lasting family traditions for my family like others do," here are some guidelines for establishing traditions that might add an additional element of joy to the holidays and instill lasting memories.
Repeat Activities and Events
Observe the activities and events your family enjoys the most and repeat them year after year. If they enjoy going out to a restaurant on Christmas Eve, go to the same restaurant each year and soon they will be anticipating their annual, Christmas Eve dining-out tradition. If you allow the children to open one present from you on Christmas Eve, for example, a pair of Christmas pajamas, repeat the practice each year, and soon your family will look forward to gathering around the tree on Christmas morning in their new Christmas pajamas.
Involve the Whole Family
An activity can only become a family tradition if all family members participate. Baking batches of Christmas cookies for the holiday can be a chore. If the entire family gathers one weekend to bake and decorate Christmas cookies while listening to and singing Christmas carols, then you have initiated a fun and meaningful family tradition.
Keep It Simple
When you are trying to establish a new family holiday tradition, keep it simple. The more complicated or expensive your endeavor, the less likely you'll be able to sustain it year after year. Purchasing costly tickets and eveningwear for a theatrical production might not be sustainable year after year, but decorating the Christmas tree together, sharing Christmas dinner and caroling on Christmas Eve are all fun activities that are apt to bring the family closer together and create lasting memories.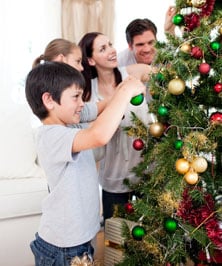 An activity can only become a family tradition if all family members participate.
Be Flexible
Family members grow and change. If a tradition wears out, be flexible enough to adjust and create a new one. Leaving cookies and milk for Santa when the children are young might give way during the teen years to helping serve Christmas dinner in a homeless shelter on Christmas Eve day as a family volunteer project. Helping others as a family tradition is a wonderful way to instill the true meaning of Christmas.
With thoughtful strategizing and using these tips to institute family activities your family members might embrace, you can add joy to your holidays and create lasting traditions that can strengthen and enhance your family's closeness.