HONOLULU Family Recipe: Crazy Cookie Tortilla Pizza
Spice up your meal and try this Mexican-inspired, layered treat.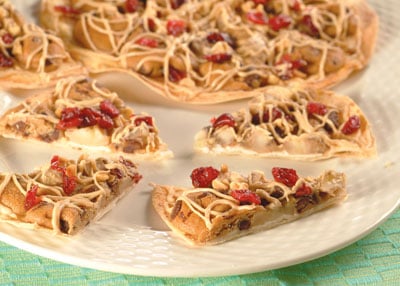 Ingredients:
(Unit) nonstick cooking spray
0 c (Cup) whipped cream cheese, divided
5 (Unit) 8-inch flour tortillas
1 c (Cup) granulated sugar
0 t (Teaspoon) ground cinnamon
1 (Unit) package Nestle Toll House refrigerated chocolate-chip cookie dough (16.5 ounces)
1 c (Cup) peeled, chopped banana, divided (2 to 3 medium)
0 c (Cup) sweetened, dried cranberries, divided
5 t (Teaspoon) chopped dry-roasted peanuts, divided
0 c (Cup) Nestle Toll House premier white morsels
2 T (Tablespoon) creamy peanut butter
Instructions:
Preheat oven to 350°F.
Spray three baking sheets with nonstick cooking spray.
Spread 2 tablespoons of cream cheese to edge of tortilla.
Combine sugar and cinnamon in small bowl. Sprinkle ¼ teaspoon of mixture over cream cheese.
Cut bar of cookie dough into five sections.
One at a time, cut each section into 16 pieces.
Arrange dough pieces 1 inch apart over top of tortilla, leaving a 1-inch border around the edge.
Sprinkle with 1/3 cup banana, 1 tablespoon cranberries and 1 teaspoon peanuts.
Repeat with remaining ingredients.
Arrange two tortillas diagonally on a baking sheet.
Bake for 20 to 25 minutes or until edges begin to brown.
Cool on baking sheets for 2 minutes; remove to wire racks to cool completely.
Place morsels and peanut butter in small, heavy-duty plastic bag. Microwave on medium-high power for 30 seconds; knead.
Microwave at additional 10- to 15-second intervals, kneading until smooth.
Cut tiny corner from bag; squeeze to drizzle over pizzas. Cool completely.
Cut pizzas into wedges using pizza cutter or sharp knife.
Preptime: 20
Source: Family Features
Cooktime: 20 minutes
Ready time: 1 hour