Cool Bar on Maui: Monkeypod Kitchen by Merriman, Wailea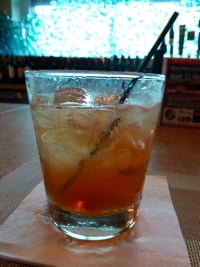 On Biting Commentary's last whirlwind tour of Maui, one place he had to at least drop in and see was Peter Merriman's new Monkeypod Kitchen.
Perched at the edge of the resort strip in Wailea, Monkeypod was packed, clearly a welcome refuge from the high-end resort eateries.
We took one look at the bar. It runs the length of the room, it's hung with surfboards, the window walls are filled with glass fishing floats and the early evening sunshine sparkles through them.
Even though this was supposed to be a quick visit, we had to stay, grabbing the last couple of stools, chatting up Julie the friendly bartender, and perusing the cocktail menus.
Biting Commentary is not exactly a fan of cocktail menus—too elaborate, too sweet. But this one was intriguing. It's the creation of Monkeypod's bar manager, Jason Vendrell. He did a good job.
Some highlights:
Makawao Avenue: a spin on the old bourbon and ginger ale highball. This uses a zingy housemade ginger syrup, balances it with a little muddled lemon and for an adult touch, Angostura Bitters. Maker's Mark and soda, it's that simple and that good.
Hoopona Potion starts with the traditional triad—tequila, lime and simple syrup. Then it adds complexity with Aperol, the Italian bitter orange aperitif, and a bit of muddled cucumber. This, which is hardly intuitive, works a lot better than your conventional margarita.
Sangria. Really? Yes, but I've never had sangria like this: muddled orange and pineapple, a touch of sweetness with Amaretto and Grand Marnier, filled up with Cava (the Spanish white wine sparkler). At the last minute, it gets a float of red wine. "Has to have at least a little red color or it would confuse people," said Julie.
We also couldn't resist the spicy ahi poke tacos with their squiggle of guacamole. So tasty, we wished we weren't scheduled for dinner elsewhere. Next time we will work our way through the pupu menu as well.
As it was, we spent hours, and so good were the cocktails, we were grateful we were cabbing it that night.
Monkeypod Kitchen by Merriman, 10 Wailea Gateway Place, Wailea, Maui, (808) 891-2322, website.