Cooking for the President: Obama Dines at Alan Wong's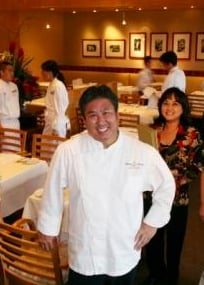 "It's not the first time I've cooked for the President," says chef Alan Wong. "But every time, it's a chicken skin moment."
Last night, Barack and Michelle Obama, Obama's sister and her husband and a half dozen friends dined at one of the President's favorite restaurants in Hawaii, Alan Wong's on King Street.
Born and raised in Hawaii, Obama has adventurous tastes, says Wong, and always orders the multicourse chef's menu. Michelle, who usually eats lighter, joined him last night. On the menu:
A trio of appetizers: Wong's seafood cake, a tomato with li hing mui dressing and Wong's famous "soup and sandwich," a two-color Big Island tomato soup and foie gras grilled cheese sandwich.
Lobster lasagna
Ginger-crusted onaga
The President's favorite entree, soy-braised shortribs.
And his favorite dessert, "The Coconut," coconut ice cream covered with dark chocolate, in a shape that looks exactly like half a coconut, served with a colorful array of tropical fruits.
Wong cooked for the Obamas personally. "A number of the staff, both in the kitchen and the front of house, had never served the President before. I thought it was cool they'd now have a story to tell their grandkids."
Michelle Obama, interested in healthy and natural foods, raises bees at the White House and makes her own honey. She's gifted Wong with a supply of White House honey.