Cooking Class: Russell Siu at 3660 On the Rise, Jan. 20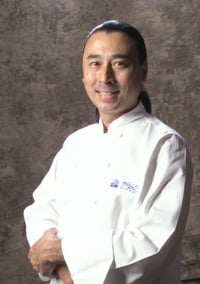 "I love cooking classes," says chef Russell Siu of 3660. "I've been giving them for 17 years now, so I'm sorta getting used to them."
If you'd just as soon eat as cook—especially when the food is Siu's—this is the class for you. It's a four-course dinner starting at 6 p.m., in 3660's banquet room, which is equipped with a cooking station.
Here's the menu:
• Black Mushroom Mezzaluna with Basil Cream Sauce. "I make the half moon mushroom pasta with mandoo wrappers, so people can make this at home without much fuss," says Siu. "Then reduce the cream with a basil chiffonade. We're already serving this as a vegetarian special at Kakaako Kitchen."

• Grilled Marinated Shrimp & Asparagus Brochette with Lemon Grass-Scented Risotto. "We'll just marinate the shrimp and start the risotto for the demonstration, have the one for dinner ready to go." Lemon Grass-Scented Risotto? "I steep the rice in chicken broth with ginger and lemon grass, then strain it," says Siu.

• Braised Short Ribs with Buttered Potato Puree. "By now, people are drinking wine and have loosened up. It's turned into a party," says Siu. "Short ribs take a long time to braise, so I'll demonstrate how to start them and then we'll serve ones we made earlier."

• Tiramisu Parfait. "It's a good dessert, and it's the only course we don't serve wine with. It comes with coffee."
There will be a wine paired with each of the first three courses. Siu brings in a wine pro to talk about each wine. His only priviso: "It has to be a wine people can buy at the store, in case they want to do this dinner themselves."
Even if we didn't cook ourselves, we'd be tempted. The cost for the cooking demonstration, the four-course dinner and wines? $65 including tax and gratuity. There's limited seating, and these tend to sell out, so call for a reservation.
3660 On The Rise, 3660 Waialae Avenue, (808) 737-1177, or click here.