Consolidated Theatres in Mililani Next to Receive Reclining Seats
When the Mililani theaters close for renovations on Aug. 13, families will find discounts on tickets and snacks at Kapolei 16.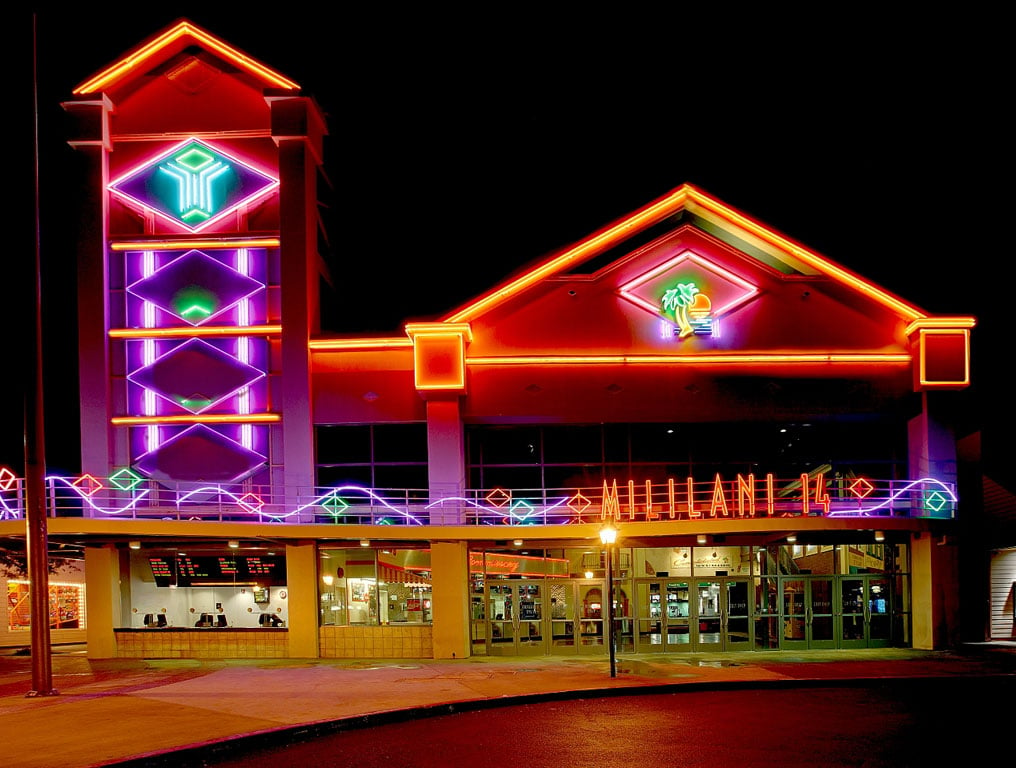 Photo: Courtesy of Consolidated Theatres
The 14-plex will remain closed through September and October for renovations.
Mililani families will need to drive a little farther to see films this fall. Monday, Aug. 13, Consolidated Theatres is closing the town's 14-plex for renovations and upgrades.
The theaters will all be switched over to the reclining seats similar to those at Ward, 'Olino at Ka Makana Ali'i and Pearlridge Center. Like the other locations, the concession stand will also be expanded to offer more than popcorn, hot dogs and nachos. When the movie theaters reopen some time before the holiday season, ticket prices will likely go up to match the prices at the luxury theaters. But it comes with the benefit of individual tables for kid snacks. The extra legroom in theaters with reclining seats also makes those mid-movie bathroom runs less harrowing (and makes it easier to pull that smuggled kaki mochi out of your bag to shake on your movie popcorn, not that we've ever done that).
---
See also: We Tried It: Are Luxury Movie Theaters Really Worth the Splurge?
---
For the final weekend before renovations begin, from Friday, Aug. 10 through Sunday, Aug. 12, Consolidated will donate some of the money made from concession stand sales to Mililani High School's marching band. And everyone will receive a voucher for a free small popcorn to the next two closest Consolidated locations at Pearlridge (which has recliners) and Kapolei (non-reclining).
Photo: Courtesy of Consolidated Theatres
The traditional seats in all 14 theaters at the Town Center of Mililani will be changed to reclining.
To sweeten the deal at Kapolei, Consolidated will also offer $8.50 movie tickets for all ages, all day, and endless popcorn for $6. Sundays will also come with $2 hot dogs and $10 for the 'Ohana Snack Pack with endless popcorn, two medium drinks and a candy.
As an added plus, Kapolei 16 will also have a family day on Sunday, Aug. 19 where kids can get their faces painted, glitter tattoos and balloons from noon to 6 p.m. Here's a parent tip: Bring a recyclable bag to tuck the balloons in, so they stay grounded instead of popping up into the sight line of little movie goers once the show begins.