Concierge Cavalry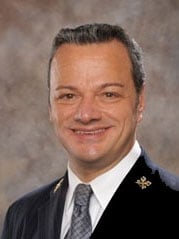 One of the many calls we received offering help came from Michael Romei. Michael is the Chef Concierge at the Waldorf Astoria in New York City. He is also the General Secretary UICH Les Clefs d'Or International Executive Committee, a professional association of concierges to which Yasue belongs. Michael had recently been in Hawaii and in a strange coincidence, was supposed to have dinner with her and other concierges the day she flew to Japan when her mother fell ill. Michael had already mentioned Yasue's plight in the association's blog and has other observations about Hawaii there as well.
I knew none of this as our phone call began.
I had never met Michael. And, his call came at a time in which I was beginning to think nobody would be able to get food to Yasue as quickly as we needed. New York City seemed to far away to be of much help. I explained to Michael all the challenges we were having and was basically letting him know that I was doubtful he could help.
In a firm but reassuring tone Michael said, "Scott, I think you might be completely underestimating how creative and resourceful a group we concierge can be."
Suddenly, he had my attention. Through a combination of old age and sleep deprivation, I kept calling him Robert. Undeterred, Michael kept insisting he could help.
I gave him Yasue's contact information and explained how difficult it was to reach her. "Just let me handle this from here," Michael said.
Shortly thereafter, word was spreading to all Les Clefs D'or members in Japan that Yasue needed help. Etsuko Higashide, a concierge from the Hotel New Grand in Yokohama, was the first to reach her. She reassured Yasue that when the roads opened, the concierges would send aid.
To Michael, Etsuko and all the creative, resourceful concierges in Japan and Hawaii trying to help Yasue, we would like to say welcome to The FAB 2. I am sorry we doubted you.