Coming Attractions: SALT, a new restaurant from 12th Avenue Grill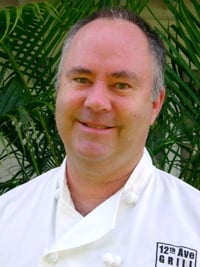 Here's something to look forward to.
Kevin Hanney, of 12th Avenue Grill, is quietly at work refurbishing the C&C Pasta location, 3605 Waialae Avenue.
He's not straying far. The back door of the new restaurant is right across the parking lot from 12th Avenue Grill.
The new name? SALT, and it is, says Hanney, "a kitchen and tasting bar." In other words, an upscale bar with a solid beer and wine list, and 20 different small plates on the menu at any time. Think 12th Avenue Grill's daily special appetizer menu writ large.
Think roasted beet salads with goat cheese, crab and corn fritters, wild things like ostrich, comfort food like mac and cheese with Hamakua Mushrooms. Who knows what Hanney will come up with given a bigger palette to play with?
Why SALT? Because Hanney and his chef Bob McGee attended the Hale Aina Foundation's charcuterie class with Bruce Aidells. Expect all sorts of housemade goodies: salamis, bacons, hams, pates.
We can hardly wait.
Opening in early May.
We'll let you know.