Hawai'i Comfort Food: Ribollita Soup Recipe
Add warmth to Hawai'i's rainy days at home with this rustic Italian soup.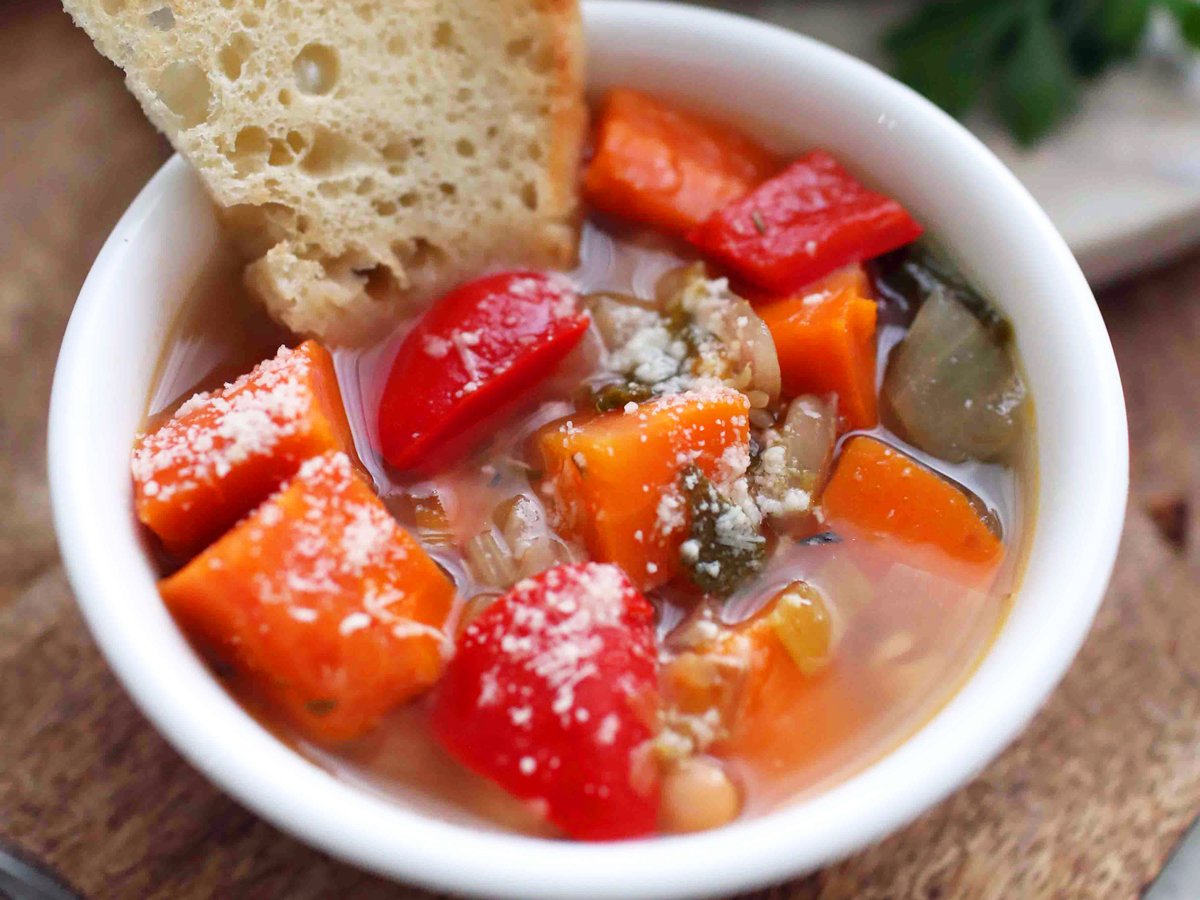 My mother-in-law learned to make a version of this peasant soup many years ago on a cooking trip in Tuscany. Our family isn't enthusiastic about vegetable soup, but they love ribollita, which means 'reboiled' in Italian.
SEE ALSO: 🥄 6 Local-Style Soup Recipes to Make at Home
Ingredients (serves 8)
2 tablespoons extra-virgin olive oil
1 onion, diced
2 cloves garlic, minced
4 carrots, peeled and chopped
4 parsnips, peeled and chopped
2 stalks celery, chopped
12 cups vegetable stock
8 stalks fresh thyme, tied with string
1 bay leaf
1 teaspoon Hawaiian sea salt
¼ teaspoon ground black pepper
2 to 3 Yukon Gold potatoes, peeled and chopped
4 cups chopped kale (remove "backbone" before chopping)
1 zucchini, chopped
2 cans cannellini beans, rinsed and drained
1 loaf day-old country bread, thinly sliced
2 cups freshly grated Parmesan cheese
Directions
In a large soup pot, heat oil over medium heat. Add onion and sauté until translucent. Add garlic, carrots, parsnips and celery and sauté for 5 minutes, stirring often. Add vegetable stock, thyme, bay leaf, salt and pepper.
Increase heat and bring to a boil. Lower heat so that stock boils gently. Cook for about 10 minutes.
Add potatoes and kale. Cook for 10 minutes. Add zucchini and cook for another 10 minutes. Add cannellini beans. Occasionally stir soup as it simmers.
When all vegetables are tender, remove from heat and adjust seasoning. Remove thyme and bay leaf. (The soup may be served immediately but benefits from standing in the refrigerator overnight.)
The next day, preheat oven to 375 degrees. Lightly oil a baking dish and place half the bread in the bottom. Ladle soup over the bread. Sprinkle with ½ cup Parmesan. Repeat the layers: bread, soup and Parmesan.
Bake at 375 degrees for about 30 minutes until bubbling.
Sprinkle with Parmesan before serving.