Cocktail Dinner: Beggars Banquet at Azure, Royal Hawaiian, Feb. 23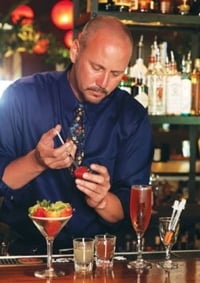 It's the kitchen teaming up with the "liquid kitchen" at the bar.
Azure chef Jon Matsubara and master mixologist "Dr. Joey" Gottesman are at work on a cocktail pairing dinner, inspired by the Rolling Stones and titled "Beggars Banquet," Feb. 23, Royal Hawaiian Hotel, $99.
"Give Jon a creative theme like this and he'll come up with some pretty great food," says Gottesman. "Then the pressure's on me, to work with the thousands of ingredients possible in a cocktail to get the right flavors, finishes and mouth feel to match the dish."
For the first course, "Start Me Up," Matsubara is roasting Kona lobster with Hamakua Springs tomato, tarragon and fresh Mozzarella. Gottesman came up with a Sage and Honey cocktail (those are accents only, he says). The heart of the cocktail combines the acidity of lemon juice and the botanicals of Bombay Sapphire.
The comes "Casino Boogie" from Exile on Main Street, that is, Matsubara's oysters casino. This dish is so rich with smoked pork belly, sake braised spinach, and béarnaise sauce, that Gottesman came up with a lighter drink of sochu and chili-peppered yuzu, with accents of shiso leaves he picks out of his garden.
Matsubara pulled out all the stops for his main course. He was inspired by "Little Red Rooster" from The Rolling Stones Now and "Get Off of My Cloud" from December's Children. He's turned that inspiration into a dish he's already master of, coq au vin, chicken with foie gras, red wine and brandy. He supplements it with a "cloud" of Yukon gold potatoes with Italian black truffle.
"That dish is so intense, I don't mess with it," says Gottesman. "I just try to come up with something that will stand up to it." He's flash infusing Gentleman Jack bourbon with Fuji apples smoked over kiawe fire. He combines the infused bourbon with sweet vermouth and bitters, and finishes the drink with a puff of smoke garnish—a technique he stole from Matsubara in the first place.
Matsubara serves his kiawe-grilled ribs in Azure in a glass bell. Lift it and you get a puff of smoke he's introduced with his tiny kitchen smoke gun. "Joey kept borrowing my smoke gun, so I finally told him to get one of his own. Of course, I ended up paying for it," says Matsubara.
Matsubara has yet to tell Gottesman what his "Sticky Fingers" dessert will be. "I'll probably have to come up with something on the spot," says Gottesman. "Iron Chef style. I love doing that."
Told Gottesman I was disappointed that they weren't doing a course called "Let It Bleed." Beef tartar maybe, with a Bloody Mary. "Done," said Gottesman. "Tell you what, when the guests arrive, I'll present them with a "Let It Bleed" Bloody Mary shooter."
The Rolling Stones (pictured here in the promo poster from English photographer Michael Josephs' legendary 1968 "Beggars Banquet" shoot) won't be attending, of course. But one hopes they will be there in spirit(s).
Azure, Royal Hawaiian Hotel, 2259 Kalakaua Ave. For reservations (808) 921-4600 or e-mail