CNBC: Hawaii has best quality of life, most expensive cost of living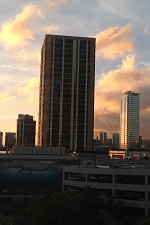 Last week, CNBC labeled Hawaii the worst place to do business in the nation.
And then yesterday, CNBC released another report that says Hawaii has the highest cost of living in the United States.
You might have to click around a bit to discover that CNBC also labeled Hawaii No. 1 for quality of life, stating "Hawaii's top-ranked quality of life for a second straight year makes it easy to forget about the state's overall ranking," which is No. 50.
Hawaii topped the quality of life list for its environment and attractions, offering something for everyone except maybe those who prefer polar climates. Also, "Hawaii is a healthy state, with low instances of cancer and heart disease and few residents without health insurance."
That's the good.
The state's cost of living hits the other end of the spectrum, unless being No. 1 for cost of living is considered a victory. The factors CNBC took into account include the price of an average home ($742,166); a half gallon of milk ($3.41); a pound of ground beef ($3.99); the monthly energy bill ($333.51); and a doctor visit ($101.80).
And according to last week's report, Hawaii has the worst business climate in the nation for several factors, including the cost of doing business, the local economy and lack of infrastructure. Aside from taking the top spot for cost of living and coming in 39th for access to capital, Hawaii consistently ranked in the bottom in all categories.

At least we're happy and healthy.