Advice from Hawai'i Leaders: How to Teach Your Kids Leadership Skills for Life
Even if your child doesn't want to be a CEO, grit, a broader perspective and communication skills can help them on whatever path lies ahead.
If you look into your child's not-so-distant future, the same little mind that creates castles with building blocks today will someday be running a business, leading a community project or working in technology. In a blink, today's keiki become tomorrow's workforce. It may seem a tall order to get a toddler ready for his or her first job right this very moment; but many of the things your children need to know are fundamentals, updated for tomorrow's economy. So what does a business leader of tomorrow look like as a child today? We talked to local leaders about the skills they credit for their success, and to educators about how we can best prepare our kids for their futures.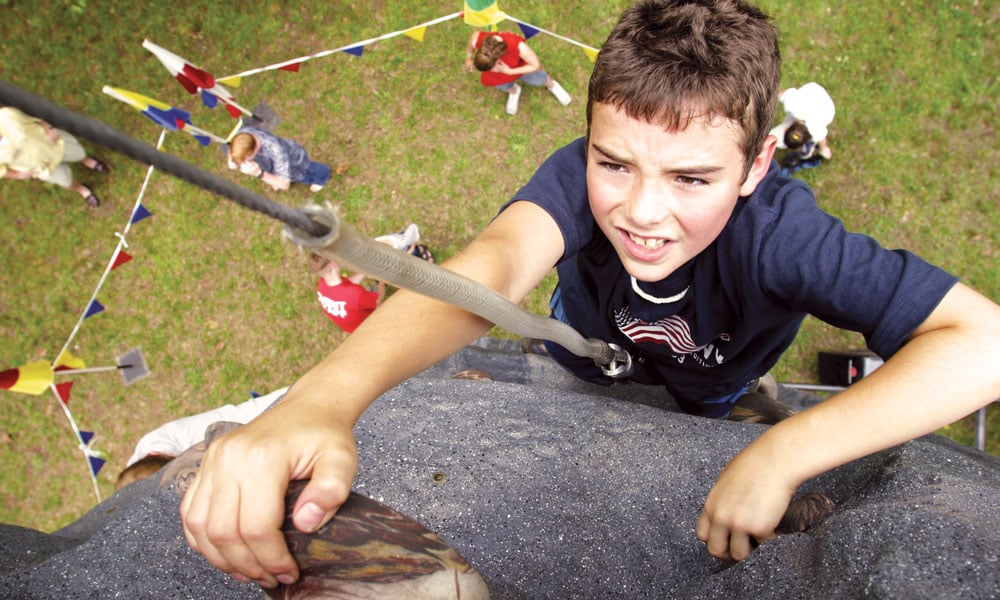 They have grit
Grit is the ability to fail and still keep going. It's a combination of passion and persistence that translates into the hard-working spirit we so often admire in successful people. Kids who aren't gritty tend to be discouraged easily or constantly distracted by new interests.
"What creates the grit and hard work is being able to see the longer view," says James Scott, Ph.D., president of Punahou School. That long view is a child's (and parent's) knowledge that persistence and tolerance of setbacks add up to future gain. Scott believes developing grit means having both humility and self-confidence. This may cause cognitive dissonance, since those two traits seem to be at odds. "It causes some stress," says Scott. "If they're able to move through those moments with some success, then they build more confidence."
Grit also means you have to be able to tolerate your child's failures. Business leader Christine Camp immigrated to Hawai'i from Korea when she was 9 years old. "I had a hard time that first year," she says. "Kids can be mean when you're different. They called me 'F.O.B.'—fresh off the boat.  Every day, I said I didn't want to go to school and my mom said, 'Find a way to get along.'" Camp persisted, she said, because her mother was committed to making her an independent person. "She tried to tell me how, through positive action, [I could] make friends and learn how to be a friend; how to roll with the punches and adjust. My mom said I had no choice—I had to go back and try again."
"If you leave your child to allow them to make mistakes, have their own fights and resolve them in their own ways, then they find the positive. That became my model. It was, 'What's the worst that can happen if I keep going back and show these kids who were teasing me that I didn't care?'" It wasn't easy, but, eventually, Camp says, she found friends and gained confidence in the process. "As I got older and when I became an entrepreneur, that independence helped; it's not something you learn overnight." As the founder and CEO of Avalon Group, a real estate development and management company, Camp has raised more than $500 million in capital and is currently developing more than $200 million in projects.
She uses her mom's advice with her own 6-year-old son, Ethan. "Confidence is something we can't give to them; it's something they learn on their own through trial and error. If someone is there to pick up the pieces all the time then you can't learn to pick them up yourself."
---
"If you leave your child to allow them to make mistakes, have their own fights and resolve them in their own ways, then they find the positive."
---
Parent Homework
Are you a grit role model? Find out your "grit score" and see how you measure up to other test takers at angeladuckworth.com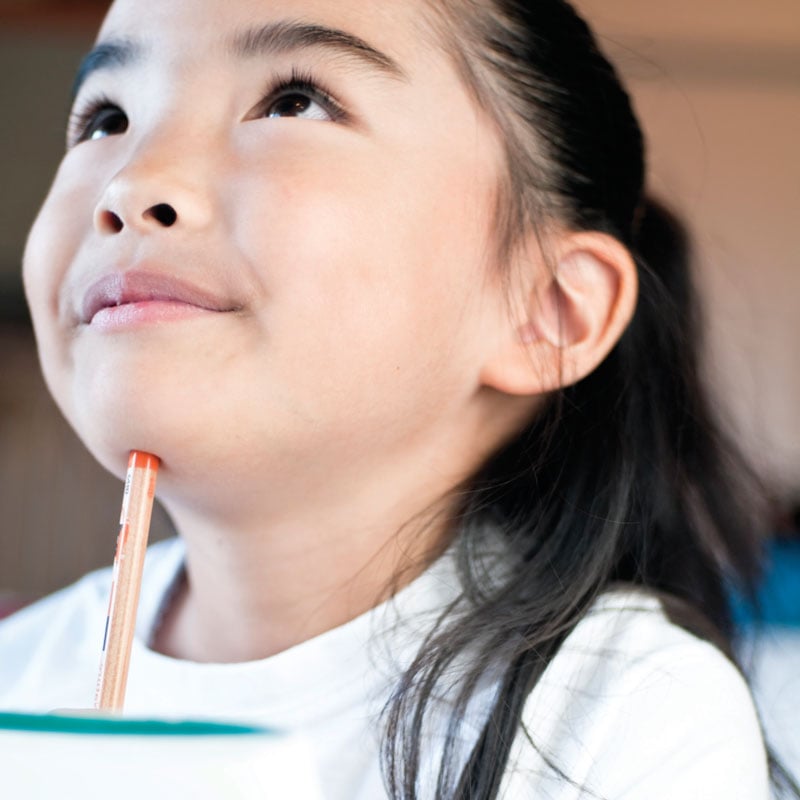 They can look beyond themselves
There's a reason community service is so important on college applications: It shows that a child is exposed to diverse perspectives. But rather than just checking that box in high school, encourage your child to become part of community service early. At the youngest ages, this means simply building empathy for those around you. 'Iolani teacher Allison Ishii taught a class on community service that specifically addressed the elderly community.
"[My students] don't know what it feels like to be an older adult. It's foreign to them, because they don't think they're ever going to get old," says Ishii. In fact, when her high school students were asked what words they'd use to describe the elderly, they said things like: "'grumpy, wrinkly, smelly, slow,' which was kind of shocking to us," says Ishii. "They're stereotypes that have been perpetuated."
---
"[You need] to be able to conceive of the world differently. That's what great leaders do: Create value where no one else sees it."
---
"We spend a lot of time doing 'empathy challenges'—they actually experience what it is to be older adults," It's a simple exercise you can do at home. "We mimic hearing loss and have them wear wax earplugs and then wear glasses with clear lenses and put Vaseline on the lenses. To mimic arthritis, you put gloves on them. We have them do everyday tasks over a couple of days and have them watch a video. We have them button an aloha shirt, dial a cell phone, tie their shoes, type or just try to walk," Ishii says. Afterward, she has a debriefing session to see how the kids felt about being elderly for a while. "Most of the time they say, 'It's so frustrating.' One of the kids said, 'I just felt like taking a nap.'"
Empathy leads to little "aha" moments, where a child might see an older person struggling and then offer to help.  Ishii's students also do community outreach or just spend time talking story with older folks. By the end of the semester, Ishii says, kids describe the elderly with words like "hero, wise, wonderful." "It took them meeting and interacting with the population they were judging to realize they were wrong."
"Don't you wish everybody that was the head of any hospital or company was an empathetic person who knew who they were serving?  In our changing world, it's easier than ever to work with people across the globe. You're going to need those skills to work with people who are different from you.  It has to be taught," says Ishii.
Connie Lau is president, CEO and director of Hawaiian Electric Industries, a company with more than $3 billion in annual revenue that supplies energy to 95% of Hawai'i. Lau says her ability to see from alternative perspectives has enhanced her career, and she's tried to encourage that trait in her own three children. "It's so simple. [You need] to be able to conceive of the world differently. That's what great leaders do: Create value where no one else sees it. You see it over and over in the tech world."
Lau says kids who can adjust rapidly are going to have a much easier time in their professions. The way to do this is to look at both problems and solutions with fresh eyes, or different perspectives. "Every day at work I have to be able to do it. I call it constructive destruction," Lau says. "You have to address a problem every day and then create a new solution every day because the world is changing around you.
"It's not the strong who survive, it's the ones who adapt who survive."
Parent Homework
Try doing an "empathy challenge" with your keiki. You can choose anything—poverty, old age, physical disability—and try to mimic the physical obstacles involved for a period of time, then discuss afterward. For the littlest ones, you can delve into social issues using appropriate children's books. Ishii suggests a book on childhood homelessness used at 'Iolani called A Shelter in Our Car by Monica Gunning. $10.95, Lee & Low Books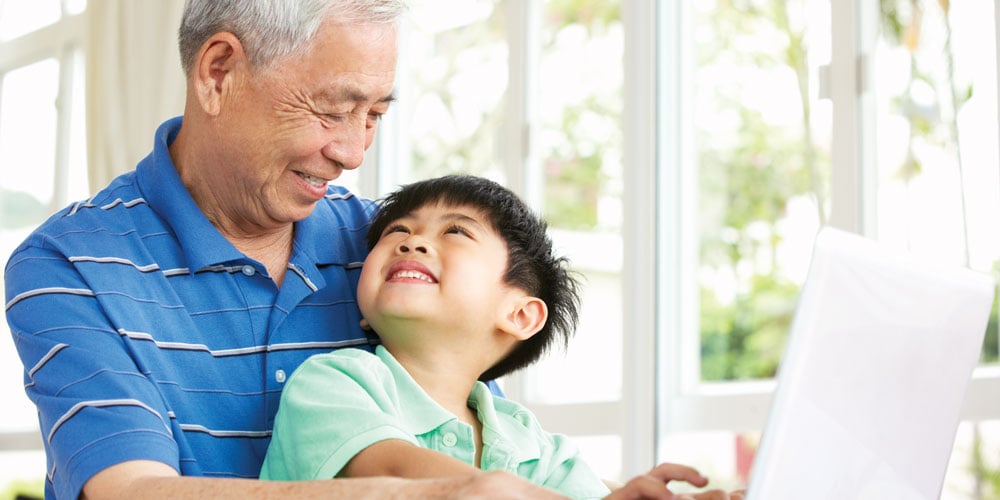 They can communicate, no matter the medium
When Lincoln Elementary won an Artists in Schools grant from the Hawai'i State Foundation on Culture and the Arts, principal Shannon Goo chose to bring in a drama teacher for a specific reason. "[Education] standards call for communication in writing and orally. When we're so focused on tests and bookwork, communication in real-life situations is left to the wayside. This gave [students] the opportunity to explore [verbal] expression," says Goo.  The drama teacher taught voice projection, gestures, facial expressions.
Most schools have some opportunity for drama education, and there are ample programs in the community for your child. Even if your keiki isn't the centerstage type, supporting roles behind the scenes teach collaboration and communication toward a single goal. "When employers are surveyed, the things they find that are lacking in college grads are communications and soft skills," such as attitude and social graces. "If you have [those skills] you're able to learn and collaborate and you become the better employee and better person," says Goo.
---
"It's not the strong who survive, it's the ones who adapt who survive."
---
This may mean overcoming a bit of shyness, says businesswoman Camp. "Kids get so shy and so complacent, they're afraid to fail," Camp says. "It goes into college and then their jobs and they become the quiet people who aren't able to argue their points.  Without those skills, no matter how smart you are, you aren't going to get ahead." She feels that having kids in any forum in public view is beneficial. "You can try to have them in the performing arts and have them do sports in front of an audience. All these are little things that build courage."
Teaching your child this kind of courage starts young, she says.  "At my son's preschool every Friday they have sharing time.  It's a public presentation." Communicating isn't just how you say something; it's what you're choosing to say, too. "Even at home [you can] get them in front of the family to perform," she says. That means the standard, "What did you do at school today?" or other probing questions. But Camp also encourages Ethan to think about the things he says. For example if he wants his mom to do something, she teaches him to take one extra crucial step: "If he's asking me something, he has to justify it."
Anticipating the "why" and addressing it before she asks is part of him becoming more thoughtful in his communication. "It's giving him the ability to think critically. He said: 'I want to play soccer because it's healthy and I have to run and my friends are playing.' I'm really proud of him—it was an experiment." It's an experiment that seems to work, and could easily be adopted by any family, says Camp. "You teach your child to say things that are meaningful."
Parent Homework
Teaching your children how to communicate with adults provides benefits well into adulthood. Kirk Uejio, who teaches leadership classes at 'Iolani, says kids can start with a simple handshake. "Have them face a partner, and tell them you're not going to extend your hand 30 feet in advance." Make sure hands meet, web to web, and shake three times. An earnest handshake from a child will always gain great feedback from adults.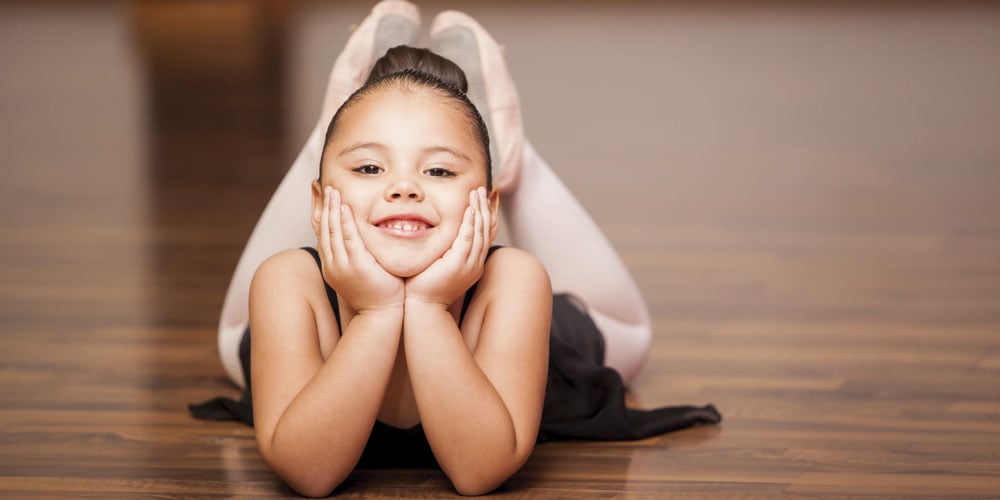 They have leadership qualities (even when they're followers)
As it turns out, being a leader doesn't mean your kid needs to be organizing board meetings in the sandbox. Leadership starts with creating the right culture, says Kirk Uejio, who teaches the Foundations in Leadership class at 'Iolani. First, take a look at your child's attitude. "We call it being a zapper versus a sapper—the zappers, when they enter the classroom, people are excited to see them. They're respectful when they enter a room, they smile, they're polite, know when they should be contributing and when they shouldn't.  A sapper drains the energy from the room—their mood sticks on you in a negative way."
Decide what sapper traits your kid has that could be replaced by better ones and then set some clear expectations. "Younger kids [do well with] role playing, stories. If you have certain expectations at the dinner table, set them out upfront, versus getting irritated by a kid who's doing something against your wishes," says Uejio.
Integrity is a big word for a little kid, but Uejio says it's important to get your little leader to think through what's right and what's wrong. "We throw out scenarios and have them discuss the right thing to do. It's 50 yes or no questions—'Do you use offensive language? Do you spit on the lawn? Do you download music illegally?' As a leader you need to think through all your decisions," he says. One opportunity that presents itself perennially is this: Your child comes home talking about a classmate's misbehavior. Instead of just commenting on the other child's behavior, ask: "What are you going to do about it? Is your sense of doing right telling me, the adult? Do you want me to do something about it?' That gets them to process," Uejio suggests.
It also means the child could surprise you by saying: "I should have told them that wasn't OK." Most children (and grownups) know the difference between right and wrong, and a leader is an agent for positive change to the people around them. "As a leader, you need to think through all your decisions," says Uejio, and offers parents this warning: "If you're thinking through it for them, it won't stick."
That's one common theme throughout all the advice—that we as parents need to lay the groundwork and then step back for the growth to occur. Then, when the time comes for them to leave us and forge their own paths, they will have the skills you've taught and the confidence they developed to make their own ways.
Parent Homework
Explore a one-mile radius around where you live and look for ways you can help. Identify problems and find solutions, whether with trash pickup, raising money for the needy or helping the elderly.
---
Key Student Skills
The National Association of Independent Schools created a list of "essential capacities" for students to succeed in the school. It's a great way for parents to assess their schools and home education efforts.
Analytical and creative thinking and problem solving
Complex communication—oral and written
Leadership and teamwork
Digital and quantitative literacy
Global perspective
Adaptability, initiative and risk-taking
Integrity and ethical decision making
---
9 jobs that don't exist yet
Our kids will be applying for (and hopefully landing) jobs that don't even exist yet. We wanted to look into our crystal ball and see what those jobs might be. We got some help from New York-based ad agency and cultural strategy firm Sparks and Honey, which put together
a list of these kinds of jobs late last year. Here we've picked a few of the best predictions:
1. Personal Digital Curator:  A person who recommends and maintains your suite of apps, hardware, software and information sources.
2. Printing Handyman: A 3-D printing specialist, akin to the local handyman, who can help with all your micro-manufacturing needs.
3. Microbial Balancer: Someone who assesses the composition and microbial makeup of an environment or individual and recommends ways to balance ecosystems for enhanced health.
4. Corporate Disorganizer: This job would shuffle hierarchies in companies to create a startup culture or organized chaos.
5. Curiosity Tutor: A personal adviser who provides inspiration and content to spark curiosity and teaches the art of discovery.
6. Alternative Currency Speculator: Bitcoins and the like open up a whole world to future financial prospecting jobs.
7. Urban Shepherd: Plant specialists who focus on small-scale gardens and plots that exist in unusual urban areas.
8. Privacy Consultant: This consultant reveals vulnerabilities in an individual's personal, physical and online security points.
9. Drone Driver: Expanding outside of the military, as demand for commercial and private drone use increases, experienced drone drivers will be sought.