Choosing the Right Elementary School
Picking the right elementary school for your kids will have a major impact on their education. The following tips will help you choose a school where they will thrive.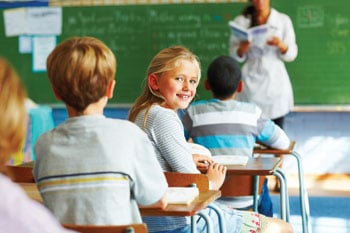 Choos the Right Elementary School
One of the biggest education decisions you'll ever make for your kids is deciding on which elementary schools to send them. There's no quick and easy way to decide which school is "best;" it depends on what you want out of their education, and also the temperament and learning styles of your kids.
Kelly Monaco, associate director of admissions at Iolani School, says most adults have experienced shopping for a car and know what their needs are when they walk into a dealership.
Similarly, prior to a school visit, parents should have an idea of what they want in an education for their child. Ask yourselves the following questions and the value you place on them. This may help guide you through the process. Is the commute an issue? What will my child's environment/setting be like? Will my child have opportunities to run and play? What kinds of art and music programs are offered? Are there social and sports opportunities my child will appreciate?
What do I expect my child to be able to do at the end of his or her experience at this school? Too many times, parents have no idea of what they want or need for their child and end up feeling overwhelmed by the process.
In addition to the teacher-to-student ratio and curriculum, Star of the Sea principal Carola Souza also recommends that parents inquire about afterschool care programs, dress codes, tuition and fees, as well as payment options and scholarships.
Here are some other important considerations:
Class Size
Class size is always an issue. Many people assume that smaller is better, but this isn't always the case. It depends on how your kids learn and which would benefit them. Some kids thrive in bigger classes, while others do better when the teacher-to-kid ratio is smaller.
School Philosophy
Each school has its own approach to education, typically expressed in its "school philosophy." There are lots of ways of teaching and managing classes. Some schools group kids of different ages together so they can learn from each other. Some follow the traditional model of clear instruction and grading along strict lines. Others offer students lots of freedom and evaluate them in a more open way.
Strengths and Weaknesses
Most elementary schools have the same basic education objectives; some are stronger in certain subjects. There are schools that are stronger in math and science, while others may have an exceptional art or music program. This is something to consider if your kids have certain interests or talents.
Visit the School
It is important to visit and spend time at the schools you are considering, for several reasons. First of all, you'll want to meet staff and teachers. They should be friendly and welcoming. If they make you feel as though you're interrupting or inconveniencing them, you'll want to look elsewhere for your kids' educational needs.
You should also have a look at the facilities. Just because a school is modern and expensive-looking doesn't necessarily mean that the quality of education is higher. What you should really be looking for are the tools and resources that the kids will use to learn. One example is computers. Check out how many computers they have for the students and how much time is used on them.
Check Out the Curriculum
Have a look at the curriculum. The school should be able to provide you with a written curriculum of what will be studied in each grade. Having a look at this will help you decide if it will present enough of a challenge for your child. It will also give you an idea of the school's teaching philosophy.
Teacher Enrichment Programs
Ask the school about its teacher-enrichment opportunities. Really good schools offer continuing training for their teachers so they can improve their classes and also learn to work with new challenges. Teacher enrichment is always the mark of a good school.
Picking the right school to meet your kids' education needs isn't difficult. It just requires some time and energy to check things out and to see if your child will be comfortable and thrive there.
Beyond the Classroom
To build a strong base for your child's early-learning environment education and to reinforce basic skills taught in the classroom, you may want to consider supplemental programs for math and reading. Fortunately, there are some great local programs available. One program that is more than just math is the India Education Methods program.