Recipe: Chocolate Layer Crumb Bars
Chunky, crumbly, chocolatey deliciousness.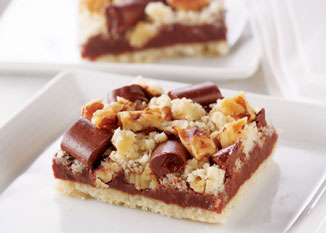 Chocolate Layer Crumb Bars
Ingredients
1 cup Diamond chopped walnuts
1 1/2 sticks of softened butter or margarine
1 cup all-purpose flour
Granulated sugar
A pinch of salt
1 cup Nestle Toll House semi-sweet chocolate chunks
1 14-ounce can Nestle Carnation sweetened condensed milk
1 teaspoon vanilla extract
Instructions
Preheat oven to 350 degrees. Grease 13-by-9-inch baking pan.
Beat butter in large mixer bowl until creamy. Mix in flour, sugar and salt until crumbly.
With floured fingers, press 2 cups of the crumb mixture on to the bottom of the prepared baking pan. Save remaining mixture.
Bake for 10 to 12 minutes or until edges are golden brown.
Combine 1 cup chunks and sweetened condensed milk in small, heavy-duty saucepan. Warm over low heat, stirring until smooth. Stir in vanilla extract. Spread over hot crust.
Stir walnuts and remaining chunks into reserved crumb mixture and sprinkle over chocolate filling.
Bake 25 to 30 minutes or until center is set. Cool in pan on wire rack.
Cut into bars.
Prep Time: 30 minutes
Cook Time: 45 minutes
Ready Time: 1 1/2 hours
Source: Family Features. Find more holiday recipes and ideas at diamondnuts.com.