Chocolate, Chocolate and More Chocolate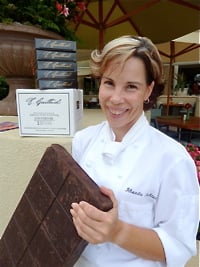 Rhonda Ashton-Chavez's office is piled with chocolate, stacks of one-pound boxes, hefty slabs of chocolate that weigh more than 10 pounds.
"You ever get tired of chocolate?" I ask.
She looks shocked at the concept. "Never," she says. "I love this job."
Ashton-Chavez is the pastry chef of the Four Seasons Maui. And tonight she expects 400 people at the hotel's annual Taste of Chocolate, one of the parties that swirl around the edges of the Maui Film Festival.
Ashton-Chavez starts thinking about this party a year ahead, as soon as the previous one is finished. Six months out, she begins trying out new recipes, "things I research, some crazy things I come up with."
"I don't want things too plain, because some people come every year," she says. "I try to put together flavors that work, that people don't normally think of."
There's the traditional chocolate fountain, for which, in addition to strawberries, bananas and pineapple, the chef has made her own marshmallows and chocolate chip cookies on a stick, ready for dipping in more chocolate.
There's also spiced chocolate in which to dip berry skewers and a whole table of desserts like lemon cheesecake wrapped in chocolate streusel, chocolate shortbread with raspberry fluid gel, and chocolate crinkles, powdered sugar cookies that look they've exploded with chocolate inside.
"It gets kind of boring just to have someone hand you a dessert," she says, "so I've added four action stations."
White chocolate mousse frozen with liquid nitrogen and drizzled with salted caramel. Paired with a made-on-the-spot strawberry and elderflower soda.
Chocolate custard made with Oahu's Waialua Estate chocolate, topped with a pomelo confit and Earl Grey tea bubbles.
Dark chocolate ganache which she's paired with an orange mousse that's going to be served carbonated, "like it was a soda."
Mini doughnuts. "I bought a new toy," she says. "It's a machine that can make fresh mini doughnuts all night long." You can take the doughnuts still warm and dip them in your choice of dark, milk or white chocolate.
Sound good? Biting Commentary intends to be there, if only for the doughnuts.
Taste of Chocolate ($125, includes admission to the three films at the Maui Film Festival's Celestial Cinema) is tonight, 10 p.m.
If you can't make it to Maui in time for this year's party, next year's Taste of Chocolate is scheduled for June 15, 2012. You know that tomorrow morning Ashton-Chavez is going to start thinking about what goodies she can come up with for next year.
Four Seasons Resort Maui at Wailea, 3900 Wailea Alanui, Wailea, (808) 874-8000, website.